1 Tea Time Green tea and Mint T DISC
Wouldn't some homemade Christmas tea be delicious? With TASSIMO Christmas tea, it's quick and simple. Tea is always lovely, any time of year, but it's especially nice on cold days. While you might use a teabag, at Christmas take your time and use fresh ingredients for the best Christmas tea.
Ingredients
For 1 Christmas Tea:
You'll need
1 Tea glass
2 Knives
1 Chopping board
1 Spoon
How to make Christmas Tea
Be sure your TASSIMO machine is on
Select a nice tea glass or cup for your Christmas tea
Use a knife to cut the cinnamon stick into small pieces
Put 3 little pieces of cinnamon in your tea glass
Now, trim off 5 cm of orange rind and put it in your tea glass
Insert the Tea Time Green Tea & Mint T DISC in the machine
Put your tea glass in the right position and press the button to brew your tea
Stir through the tea with a spoon to blend the flavours into your Christmas Tea!
Is cinnamon not your favourite? No worries, just leave it out. The same is true of the orange. Have fun customising this Christmas tea recipe with the fruit or spice of your choice!
FEELING INSPIRED?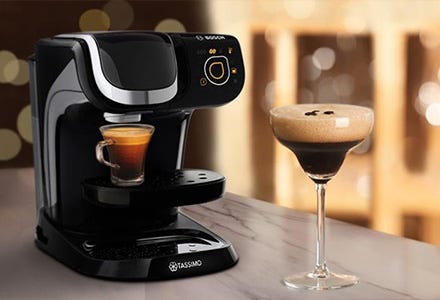 Non-alcoholic Espresso Martini
Coffee cocktails are gaining popularity. No wonder: they're tasteful, energizing and an impressive appearance. Create this Virgin Espresso Martini and impress your guests.
Creamy Toffee Cappuccino recipe
Toffee and coffee are a match made in flavour heaven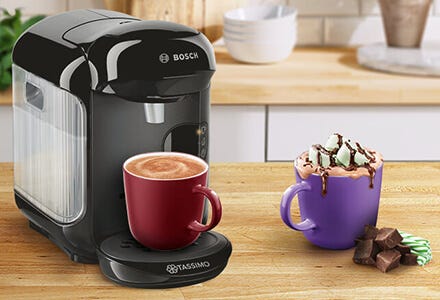 Peppermint Hot Chocolate recipe
This drink will give a festive touch to your day. Easy to prep. Beginning to feel like Christmas already?