RECIPES FOR CHRISTMAS & FESTIVE DRINKS
The holidays are just around the corner! Now is the perfect time to find some new Christmas drink recipes to serve your friends and family. TASSIMO has quite a few holiday drink recipes to help you celebrate together! Whether it's a traditional Christmas drink or a new festive treat, you are
sure to please your guests.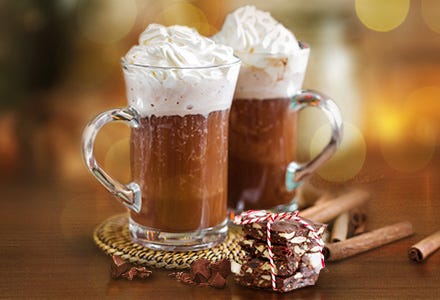 Prep Time: 5 à 10 minutes • Serves: 1
Hot chocolate is a Christmas classic, are you looking for the best Christmas Cocoa recipe? TASSIMO has an easy recipe that only takes 10 minutes to make! Find our holiday Hot Chocolate recipe here.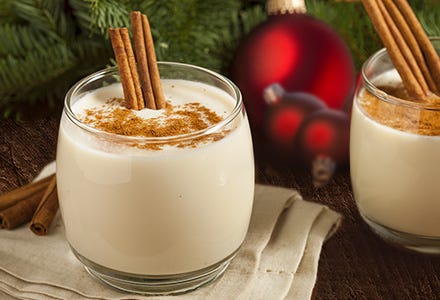 Prep Time: 10 + 60 minutes • Serves: 1
Have you been searching for a Vegan Eggnog recipe? Check out this delicious Eggnog Recipe from TASSIMO and serve it at Christmas or any time during the holidays. Find our festive Eggnog recipe here.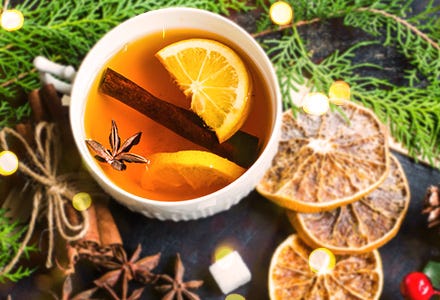 Prep Time: 10 minutes • Serves: 1
Are you a tea lover who wants to make a special Tea for Christmas? Try this lovely holiday tea recipe from TASSIMO. Make your own Christmas Tea with this festive recipe.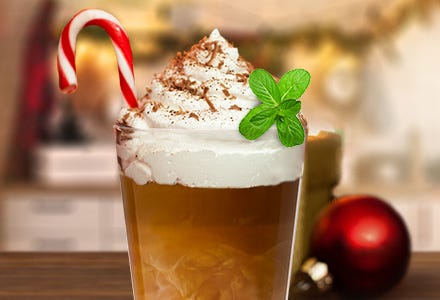 Prep Time: 10 minutes • Serves: 1
There's a chill in the air and that means it's the right time for a holiday treat: Mint Choco Latte! Your holiday guests will love the delicious flavour of this festive drink recipe. Find it here!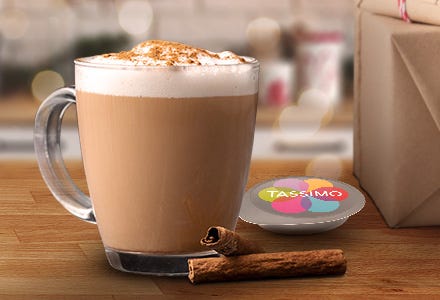 Prep Time: 5 minutes • Serves: 1
Have you ever tried to make your own Cinnamon Coffee? Follow TASSIMO's recipe for Cinnamon Coffee and enjoy sharing this cosy, festive drink with friends and family.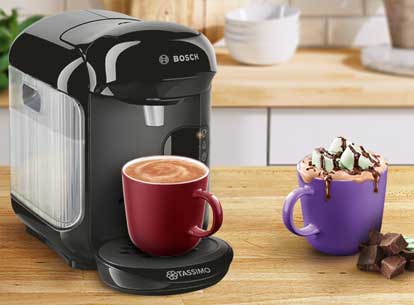 Prep Time: 5 minutes • Serves: 1
This drink will give a festive touch to your day. Easy to prep. Beginning to feel like Christmas already?
---
Christmas coffee drinks
A chill is in the air and we're all in the mood to enjoy a hot drink. And, the holiday season is the perfect time for delicious hot Christmas drinks. Festive hot drinks include hot chocolate drinks as well as Christmas coffee drinks. Do your friends and family like coffee, tea, or hot chocolate when they come to visit? If your guests are coffee lovers, try our coffee Christmas recipes for drinks. Are they hot cocoa fans? They'll love our Mint Hot Chocolate. For those who prefer tea, check out our Cinnamon Christmas Tea recipe. TASSIMO has a great festive hot drinks to suit every taste!
Try our easy Christmas coffee drink recipes, all you need is your TASSIMO machine and a T DISC. TASSIMO helps you become a true home barista.
Non-alcoholic Christmas drinks
Would you or your guests prefer an alcohol-free holiday drink? TASSIMO has the perfect festive recipe that's just as tasty but without the alcohol. Non-alcoholic Christmas drinks are a delicious way to celebrate together. Try our non-alcoholic espresso martini recipe, it's sure to be popular with your friends and family. With such a great flavour, they won't even notice that it was made without alcohol!
Now that it's the holiday season, stock up on all the ingredients for your favourite festive drink. That way you'll be sure to have what you need at hand when unexpected guests drop by for some Christmas cheer.