Deliciously Creamy Toffee Cappuccino Recipe
Costa Cappuccino, but you can also opt for Jacobs Cappuccino Classico
Looking for the perfect flavour pair? Coffee and toffee are at the top of the list. A spoonful of 'dulce de leche', literally caramelised condensed milk, makes this dreamy toffee cappuccino an intensely creamy, sweet surprise. It's the perfect autumn treat, especially with a sliver of pecan tart on the side. Do you not find dulce de leche in your local supermarket? Try substituting caramel ice cream!
Ingredients
For 1 Toffee Cappuccino Recipe
1 serving of your favourite TASSIMO cappuccino, we recommend our Costa Cappuccino, but you can also opt for Jacobs Cappuccino Classico
1 tablespoon caramel ice cream or 'dulce de leche'
3 teaspoons cream
A sprinkle of ground cinnamon to dust over the top
Would you like to taste this creamy coffee treat in warmer weather? Try the version with caramel ice cream instead of 'dulce de lece'.
Preparation
Use the coffee T DISC first and brew up a cappuccino. You'll be using the milk T DISC later.
Add a full tablespoon of 'dulce de leche' or caramel ice cream to your coffee and stir it up until it's completely blended.
Now, grab the milk T DISC and finish up your toffee cappuccino with a creamy layer of milk froth.
A quick sprinkle of ground cinnamon makes your toffee coffee complete. Want to make it look extra special? Use one of our coffee stencil.
Sit back and savour your dreamy creamy toffee cappuccino!
Feeling inspired?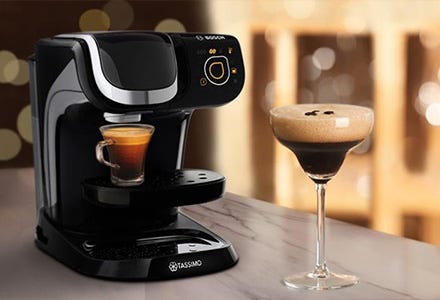 Alcohol-free Espresso Martini
Have you noticed that coffee-based cocktails are getting even more popular? Impress your guests with this Virgin Espresso Martini.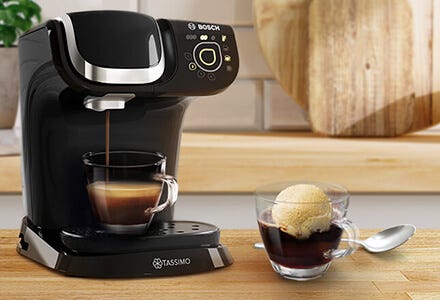 This combination of two tasty Italian specialties—gelato and espresso—make it the perfect treat for any time of day.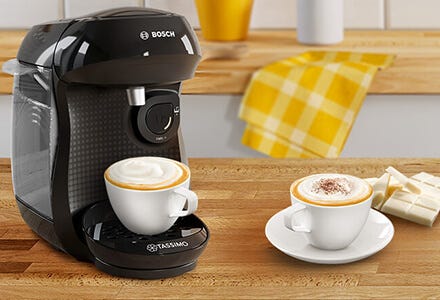 White Chocolate Cappuccino
It only takes a few extra minutes to make your daily cappuccino extra special: just add a luscious touch of chocolate.