TASSIMO MACHINE BUYER'S GUIDE: CHOOSING THE RIGHT COFFEE MACHINE
ASearching for a new TASSIMO machine, but aren't sure which one is right for you? No problem! We're here to help you pick the TASSIMO machine that suits your lifestyle. Just take a look at the TASSIMO machine comparison below, learn what differences there are, and find the one that best suits your needs.
TASSIMO MODELS: AVAILABLE BOSCH TASSIMO MACHINES 2020
When it comes to coffee pod machines, you have so many choices that it can be difficult to figure out which machine is the perfect match. TASSIMO offers reasonably priced, great quality machines that are also easy to use. You'll be able to make fabulous coffee with any TASSIMO machine you choose, but did you know that you can also make loads of tasty hot drinks like hot chocolate, lattes and all kinds of teas? Nowadays, you've got a great range of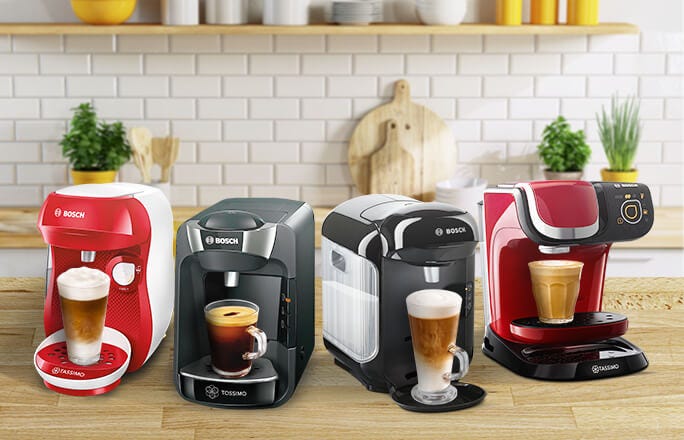 TASSIMO Machine comparison
Every coffee pod machine by TASSIMO is completely automatic, really easy to use, and offer a broad selection of hot drinks that you can prepare in the blink of an eye. They all have the Intellibrew feature, which gives you perfect results every time. However, every model has unique features and advantages that help you get just what you're looking for. Ready to make the perfect match? Following is a summary of the special features offered by different TASSIMO machines to help you make the right choice.
Are there any major differences between TASSIMO coffee machines?
All of the TASSIMO coffee makers by Bosch feature Intellibrew technology, which means they can brew a wide variety of hot drinks perfectly every time. They all use the same type of coffee pods, called T DISCs—the only ones that are compatible with these machines. Choose any one of them and you find that it's never been simpler to create a delicious coffee, tea or hot chocolate. They're all available in a selection of different colours. So, are there any major differences between Bosch TASSIMO machines? The simple answer is yes! You'll find that each machine has a different design, water reservoir size, operating method, as well as unique personalization options. We've compared the most popular TASSIMO coffee machine models to help you decide which one is right for you.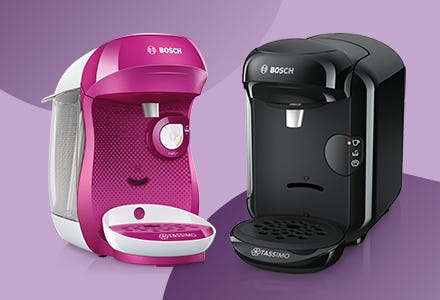 Happy and Vivy 2 are both very popular coffee pod machines. That's not surprising, both are reasonably priced, compact and simple to use. So, what's the difference between TASSIMO Happy and Vivy 2? They have a very different look and feel. TASSIMO Happy has a fun, contemporary look, while TASSIMO Vivy 2 offers simple elegance. So, it's simple! You just need to decide which look is the best fit for your personality and your kitchen!
Biggest difference Happy and Vivy 2:

Playful vs. neutral design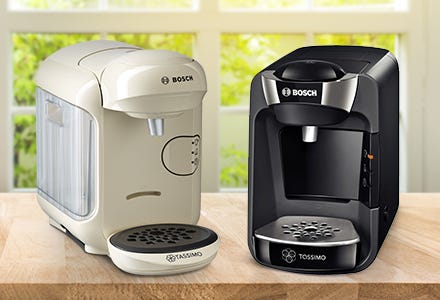 While Suny has been around longer, Vivy 2 is a more innovative version of the original TASSIMO Vivy coffee machine. TASSIMO Suny & Vivy 2 machines can both brew up 40 different hot drinks at the touch of a button. However, the big difference is how the machines work, and that has to do with how the buttons activate the coffee pod machines. TASSIMO Suny is the only machine that features Smart Start technology: as soon as you push your cup or mug against the Smart Start button, Suny starts brewing your drink. On the other hand, with TASSIMO Vivy 2 you choose when to start brewing by pressing the one touch button after you've placed your cup on the holder. Then, Vivy 2 has 5 led status icons. The size of the water tank is another major difference: TASSIMO Suny has a bigger water reservoir (0.8l) vs. the Vivy 2 (0.7l). So, Suny can brew more cups before it needs refilling, making it a better choice for larger households on the go.
Differences Vivy 2 and Suny:
One button operation vs. Smart Start

0,7l watertank vs. 0,8l watertank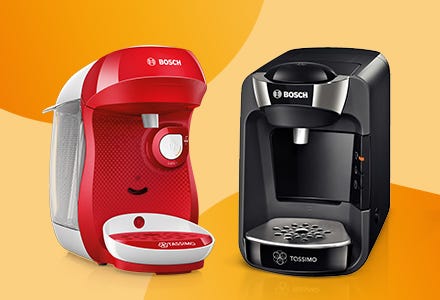 Making a cup of coffee, tea or hot chocolate is simpler than ever with either one of these automatic, coffee pod machines. That said, the bold design of TASSIMO Happy is an eye-catching addition to any kitchen while it's compact size makes it a great fit. On the other hand, TASSIMO Suny is more understated, its neutral design harmonizes easily with a wide variety of kitchen styles. It's a pleasant surprise to see how quickly Suny's Smart Start System gets a hot drink in your mug, while Happy offers easy one touch operation. The TASSIMO Suny can make more cups with one full tank, because its water reservoir is a bit larger.
Differences Happy and Suny
Bold vs. neutral design

One touch operation vs. Smart Start

0,7l watertank vs. 0,8l watertank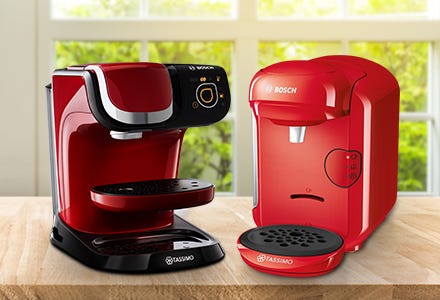 Two of the latest additions to the TASSIMO line. The most innovative TASSIMO coffee pod machine yet, My Way allows you to truly personalize your drinks—you can adjust the settings to get the exact strength, size, and temperature you want. The Vivy 2 doesn't offer these features, however it does have a compact design, making it more versatile and the perfect fit for smaller spaces. The chrome details and modern look of the TASSIMO My Way are complimented by an elegant touchscreen interface and a 1.3l water reservoir, so that you can make coffee and hot drinks for the whole family without needing to refill. In order to keep the TASSIMO Vivy 2 conveniently compact, it has a 0.7l, space-saving water reservoir.
Differences My Way and Vivy 2:
Smart Machine with personalization options vs. standard pod machineBold vs. neutral design

Modern look vs. compact design

1,3l water tank vs. 0,7 water tank
Which TASSIMO coffee machine is right for me?
Of course, in the end it's your taste and your lifestyle that will determine which TASSIMO coffee pod machine is the perfect match for you. Want to make a bold and colourful design statement or looking for something simple in black with a touch of chrome? Perhaps you'd prefer a coffee pod machine that allows you to customise your drinks? Take a look and find the perfect match for your kitchen. The major differences are in how the models look and how they work. You'll be able to choose the style and colour that are just right for your kitchen because TASSIMO machines by Bosch are all available in a range of colours. Be sure to ask yourself what's most important to you in a coffee maker. Is it simplicity, personalisation options, compactness, or speed? Once you've answered that, have fun and choose the one you like best! If cost is important to you, be sure to check out our machine deals.