TASSIMO Gifts
At TASSIMO, we love gifts. Finding the perfect gift makes us happy. On this page you'll find the right presents for every TASSIMO lover. Buy your Christmas Gifts during our Black Friday Sale for the best price.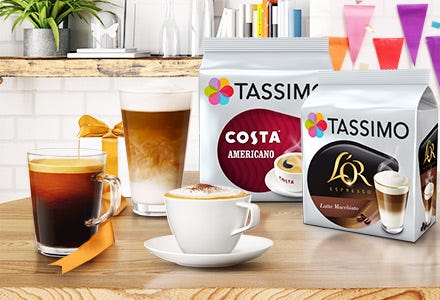 What's a better gift than coffee? Nothing! Every coffee lover will be happy with their favourite coffee pods. Discover all TASSIMO pods and create your own gift set.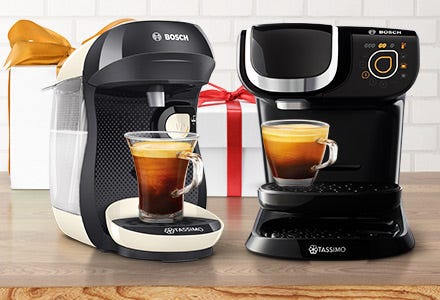 A coffee machine as a gift? TASSIMO makes it possible. With our machine deals, you can give your loved one a machine as a present. Starting from only £49.99, including coffee pods!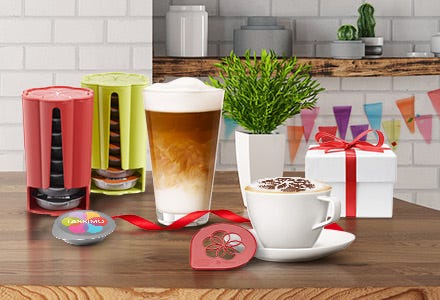 The right accessories can enhance your coffee experience. Enjoy a latte in a nice glass or show off all the TASSIMO pods in a fancy TASSIMO pod holder.
To give you some more ideas, we've listed our favourite TASSIMO gifts below:
Coffee from home
Are you even busier than usual in your working from home routine? Do you wish to have a break and enjoy a delicious cup of coffee? Our TASSIMO bundles come to the rescue! At the touch of a button, TASSIMO serves your favourite coffee just how it should be! Check out our machine bundles that will give you a well-deserved break with coffee shop style drinks during your hectic day. Perfect, easy, every time!
Favourites for your favourite
Surprise your loved ones with their favourite drink bundles! Is black coffee preferred? Or rather have a sweet or milky coffee? Check out our favourite drink bundles from the 'best of black coffees' to our "heavenly hot chocolates"! Do your loved ones need a coffee machine first? Make them smile by getting them our Happy Machine!
Stylish sippers
Sip your TASSIMO drinks in style with our trendy espresso or latte glasses, give your coffee a little finishing touch with our Latte art maker, or give the kitchen, coffee corner or home office a makeover with the stylish TASSIMO My Way machine. This one will never go out of style!
Treats at home
Has it been a while since you've seen your loved ones? Tell them you miss them by sending them a surprise gift of TASSIMO! TASSIMO has a drink for everyone. We offer strong espressos or luscious lattes for working from home parents or hot chocolates for the little ones.
Keep it tidy
Do you need help for organizing through busy days of working from home? TASSIMO is here to help! The TASSIMO pod holders are a perfect way to start organizing your kitchen! You can create a TASSIMO gift set with a machine, a pod holder and their favourite TASSIMO pods. Our sleek Vivy 2 will easily fit into your kitchen.