TASSIMO MACHINE SUBSCRIPTION
You can now enjoy your favourite coffee at the touch of a button.
TASSIMO coffee machine included

Become a TASSIMO machine owner for just £1.
Large selection of coffees and hot drinks

Explore the wide range of TASSIMO and have the opportunity to change your T DISCs per delivery.
Free automatic coffee delivery

Get your coffee delivered automatically every 2, 3 or 4 months (depending on your plan).
How does a machine subscription work?
3 easy steps to subscribe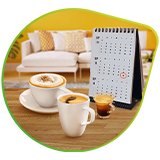 Choose your plan
Are you a light or a heavy drinker?
Choose the plan that matches your coffee consumption to enjoy your favourite coffee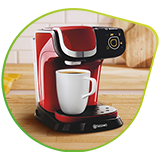 Select your machine colour
For just £1 you can become a TASSIMO machine owner
We offer you the option to choose your coffee machine with every plan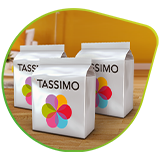 Manage your coffee selection
Choose from our wide range of coffees and hot drinks
Select your favourite T DISCs for your first delivery. Afterwards, you can change your selection per delivery
Coming soon...
The TASSIMO machine subscriptions are based on a one year contract.
After these 12 months the contract will terminate, you will also need to have a valid creditcard, because the payments are automated (Maestro credit card, VISA and Mastercard).
Benefits of a TASSIMO Machine Subscription
Enjoy the benefits of a coffee machine subscription and receive a TASSIMO machine for only £1,-! Whether you want to treat yourself and discover new coffees with great discounts, or simply tick coffee off your weekly shopping list, sign up for one of our automatic TASSIMO Machine subscriptions today.
With the TASSIMO Machine subscription you can receive a coffee machine for the cheapest price. This way, we make lovely TASSIMO coffee available for everyone. If you've been hesitant to sign up for a Coffee Machine Subscription, you don't have to worry anymore. Coffee Machine subscriptions make it much easier and more affordable to enjoy high-quality coffee pods designed expressly for our reputable TASSIMO Coffee Machines.
Coffee Machine Subscription as a gift
Are you looking for a present for a coffee lover? A TASSIMO Coffee machine subscription would be a great gift. Our subscriptions are convenient for coffee lovers as they receive a TASSIMO coffee machine and automatic pod delivery.
Who doesn't like delicious coffee delivered straight to their door? It's a great way to help your friends or loved ones expand their horizons beyond the supermarket coffee aisle. To give you some more gift ideas, find out a list of our favourite coffee gifts to surprise your coffee lover. We have a selection of coffee pods, machines or even accessories that can be a perfect gift.
Frequently asked questions
Plan info
What are the TASSIMO coffee machine subscription plans about?
We are bringing your favourite TASSIMO coffee directly to you in just a few simple steps! You will receive either the TASSIMO Happy or the TASSIMO My Way coffee machine for just £1. Depending on your daily consumption, you can choose the plan that best suits your needs. My Way model may vary due to stock
Does the coffee machine belong to me after a year?
YES, it does!
Can I choose out of all coffees and hot drinks?
You can choose from a large variety of T-Discs with your subscription plan. This excludes seasonal and limited edition products. This means that you can choose between packs with 8, 16 or 24 drinks. The plans are based on packs and not on the number of drinks within a pack, so you are free to pick any pack you like.
Why do I need to create an account?
It's important we update you throughout the coffee plan program about the status of your planned order. Additionally, by creating an account you will be able to update your choices, monitor the status of your coffee plan and receive offers.
I already own a TASSIMO coffee machine. Are there any subscription plans without a machine?
YES! Whether you're new to TASSIMO or an established customer, you can enjoy the benefits of the TASSIMO Coffee Machine Subscription Plans. However, if you are a existing customer you might also be interested in our
Coffee Subscription Plans
.
Not sure if a coffee subscription is for you? Have a look at our
Subscription Plans
.
Are promotions compatible with TASSIMO Coffee Machine subscription plans?
TASSIMO Coffee Machine Subscriptions Plans are customized only for you and are not compatible with other promotions or promo codes.
Who can subscribe?
The coffee plans are available to persons over the age of 18 years with a delivery address in the United Kingdom (excluding the Channel Islands, the Isle of Man or foreign-based UK military bases or embassies). Please, check our T&Cs for more info.
Delivery options
Do I have to pay shipping costs?
No, you won't have to pay any shipping cost in the year of your contract.
Can I choose the frequency of my orders?
The frequency is fixed for each plan: every 4 months for TASSIMO Starter, every 3 months for TASSIMO Saver and every 2 months for TASSIMO Super Fan.
What are the estimated delivery times?
Your first order will be delivered 3-5 business days after you have signed up for your coffee plan. Depending on your chosen coffee plan, your subsequent recurring orders will be delivered every 4, 3 or 2 months.
Example:
Your first order is placed on the 10th and the standard delivery 3-5 business days will apply. Recurring order: your payment will be taken on the 10th calendar day of the following 4, 3 or 2 months depending on your TASSIMO Coffee Machine Subscription Plan. Once the payment has gone through successfully your order will be processed and delivered to you within the standard delivery time frame of 3-5 business days.
Costs
What are the costs?
To join our programme, we are offering you a machine for only £1. This amount will be charged on your first bill. Depending on which plan you choose, the recurring charge varies:
TASSIMO Starter: delivered and invoiced £39,96 every 4 months (this means an amount of £9.99 monthly. This plan will cost £1 + £119.88 for one year.)
TASSIMO Saver: delivered and invoiced £59,97 every 3 months (this means an amount of £19.99 monthly. This plan will cost £1 + £239.88 for one year.)
TASSIMO Super Fan: delivered and invoiced £59,98 every 2 months (this means an amount of £29.99 monthly. This plan will cost £1 + £359.88 for one year.)
Plan change
Can I easily adjust my coffee selection per delivery?
YES! You can change your coffee selection per delivery until the next shipment date. This means, depending on your plan, every 4, 3 or 2 months.
You can do this within the TASSIMO My Account section after logging in.
Click here to log in.
After you log in to My Account you will find the Manage coffee plan item in the Account Details section. Here you will find your coffee plan order, where you can manage your upcoming orders.
Can I change my coffee machine plan with a different one?
It is not possible to upgrade or downgrade your TASSIMO Coffee Machine Plan once you have subscribed for a specific one. You are able to change your coffee selection per delivery though.
Can I cancel my TASSIMO coffee machine subscription plan?
TASSIMO Coffee Machine Subscription Plans are concluded for a fixed period of 12 months after which the contract will automatically terminate. You do have the statutory right to withdraw from your Machine Subscription Plan within 14 days of the receipt date of the first goods (machines and/or coffee).
Payment methods
Which payment methods can be used for Subscriptions?
You can subscribe for one of the TASSIMO Subscription Plans if you have a credit card. A credit card (VISA and Mastercard) is the only legitimate payment as we need to withdrawl the subcription amount from your bank account every 4, 3 or 2 months automatically.
Please, make sure that your credit card is valid for another year once you subscribe for a TASSIMO Subscription Plan.
Unfortunately, a debit card is not a valid payment method for a subscription as we cannot save your payment details for a recurring automatic payment.
My TASSIMO Subscription seems to be cancelled. What can I do?
Your credit card probably got expired. If that is the case, we have sent you an email to update your payment details. In case you don't update your payment details within the set 14 days, your TASSIMO Subscription gets cancelled and a cancellation fee will apply according to the terms and conditions of the TASSIMO Subscription Plans. If your credit card is not expired, please contact customer care.
My payment method doesn't update.
If you have recently updated your payment method, note that the change won't be visible immediately. Your new payment method will be checked and updated within 24 hours after your amend.
Help
My subscription account is shown as suspended
It can happen that one or more items of your order are out of stock. In order to restart your subscription you can edit your next delivery and replace the out of stock product(s).
You can do this within the
TASSIMO My Account
section after logging in.
After you log in to My Account you will find your coffee plan order, where you can manage your upcoming orders.
If you are having trouble with your payment method, make sure your Credit Card has funds and has not expired. If the error message persists, try to use another valid payment method, remove cache and cookies. It is recommended to wait up to 24 hours for the changes to be applied.
Can't find the answer you are looking for?