Can you hear the sleigh bells ringing? It's Christmas time! TASSIMO celebrates Christmas with up to 20% off on your TASSIMO Christmas pods. The best Christmas deals include TASSIMO Machine offers, starting from £29.99 and great discounts on T DISCs. Maybe a little something for yourself, and your family & friends for their coffee Christmas presents. Merry Christmas!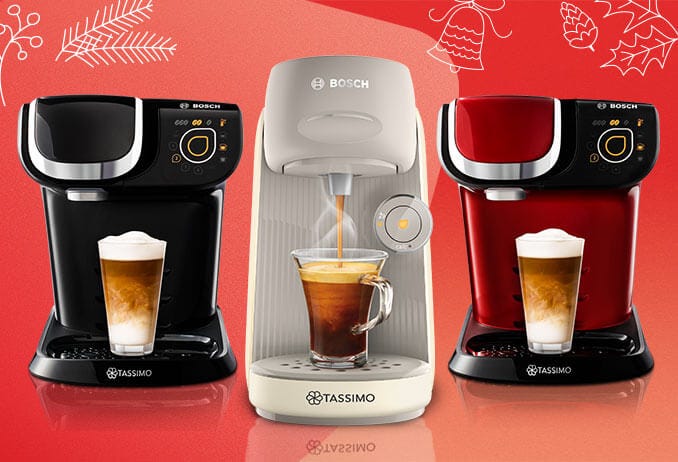 CHRISTMAS COFFEE MACHINE DEALS
A coffee pod machine too expensive as a Christmas gift? Not with TASSIMO! Machine offers start from only £29.99 If you're on the hunt for a coffee machine creating over 50 different hot drinks, TASSIMO can offer you the best deals!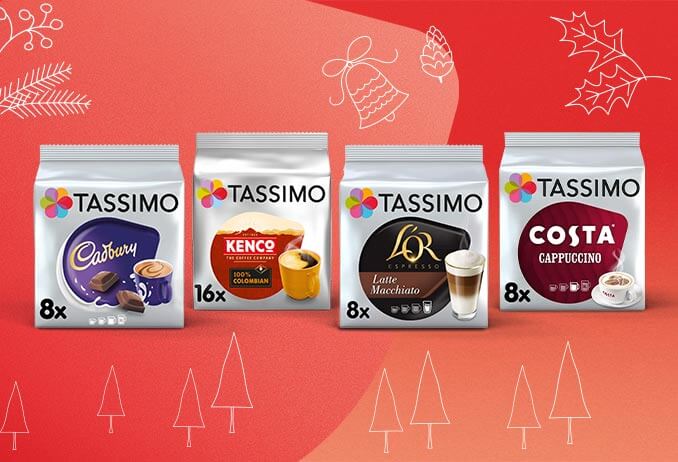 TASSIMO COFFEE PODS FOR CHRISTMAS
Hot TASSIMO drinks will help keep your warm this winter. Create your own selection of TASSIMO Christmas coffee pods, hot chocolate and tea as a gift set or enjoy your favourite hot drink during Christmas together with family and friends. Tip: TASSIMO Christmas T DISC package deals make the perfect Christmas coffee capsules gift set.
Looking for Christmas gifts?
TASSIMO is here to help. Our offers make great gifts for coffee lovers. Ranging from coffee pod machines to Christmas coffee capsules and coffee accessories: we'll make sure you can create your own coffee gift set.
Save on your Christmas coffee capsules
Save this Christmas with TASSIMO. You can get great discounts on TASSIMO pods. The TASSIMO coffee pods for Christmas can be easily ordered online and will be delivered to your home. When they arrive, all you have to do is wrap them up nicely and put them under the Christmas tree. How easy can it be?
TASSIMO Advent calendar
Can't decide what kind of coffee to give at Christmas? No problem at all! To countdown to Christmas and enjoy a new type of coffee every day you can make your own TASSIMO coffee advent calendar. Buy different products and pack them separately, stick a number on them and you have your own TASSIMO coffee Advent calendar. So you can easily keep track of how many days are left before Christmas. In addition, you can enjoy a delicious cup of coffee with TASSIMO every day.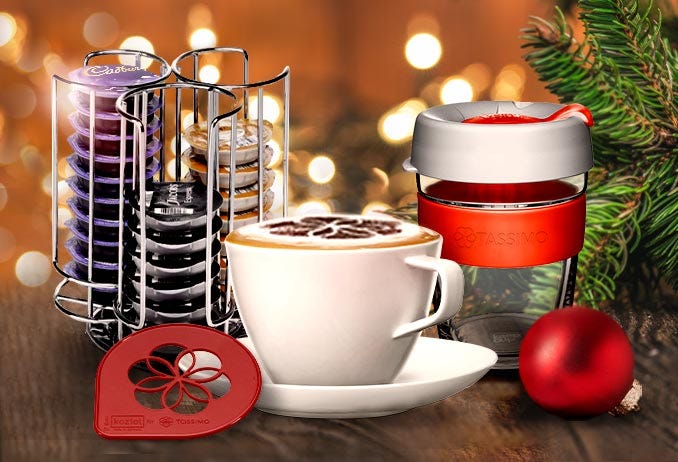 COFFEE ACCESSORIES & GIFTS
Coffee accessories are a great gift idea for the home barista, so make sure to have a look at TASSIMO accessories. Coffee glasses make your drink taste even better. Often on the go? A coffee to go cup is ideal to enjoy coffee while commuting. Or give a TASSIMO coffee pod holder to store T DISCs in a colourful dispenser. Brighten up the kitchen with TASSIMO accessories.
RECIPES FOR THE PERFECT CHRISTMAS COFFEES & DESSERTS
Festive recipes, perfect for the holidays. Try a delicious Affogato as Christmas dessert or surprise your guests with a festive peppermint hot chocolate. Going all out? Create a Christmas version of our TASSIMO Coffee Cake! Have a look at all TASSIMO recipes. Happy holidays!