Compare TASSIMO machines: which coffee machine to buy?
Are you looking for a new TASSIMO machine, but not sure which one to choose? We will help you select the right TASSIMO machine for you. Compare the TASSIMO machines below, discover the differences and find your perfect match!
TASSIMO MODELS: AVAILABLE TASSIMO BOSCH MACHINES
With so many coffee pod machine choices it can be helpful to have some recommendations to find the right one for you. TASSIMO offers affordable, high quality and easy to use machines. With your TASSIMO machine, you can make not only delicious coffee, but an extensive variety of hot drinks including tea and hot chocolates as well as coffee brewed over ice at the touch of a button. Today, there is a broad range of TASSIMO models to choose from: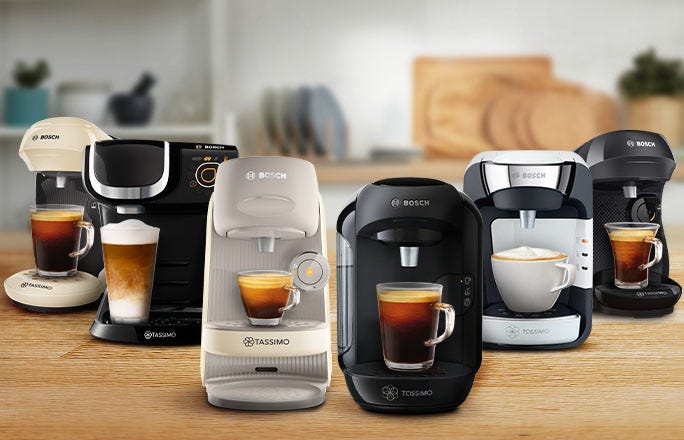 All TASSIMO coffee pod machines are fully automatic, really easy to use, can create a broad variety of hot drinks at the touch of a button and serve it perfectly tthanks to the smart capsule recognition technology INTELLIBREW™. Every model has its own advantages and features.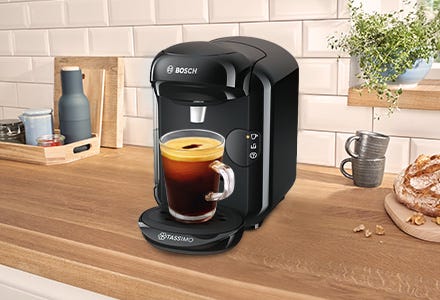 TASSIMO VIVY 2 – THE COMPACT ONE
Advantages of TASSIMO Vivy 2:
Easy to use, with only one button

Fits in every kitchen, due to the small size

Intellibrew technology to ensure high quality
Discover TASSIMO Vivy 2
Small in size, big in taste. TASSIMO Vivy 2 is the most compact coffee pod machine you will find. With the adjustable, removable cup stand, it will fit every mug or cup. Over 40 different hot drinks can be made with this small machine. Innovative Intellibrew technology makes sure every drink tastes just perfect.
Creating coffee, tea or hot chocolate has never been easier. Simply insert a T DISC of your choice, press the button and enjoy. With One Touch Operation everyone can make their favourite drinks. No need to adjust any settings. Intellibrew will do the thinking. Enjoy!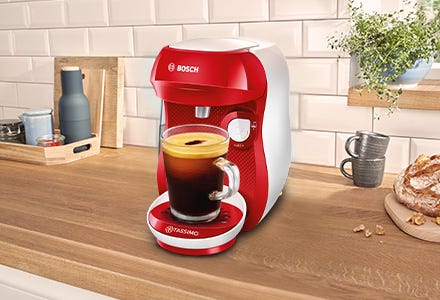 TASSIMO HAPPY – THE ESSENTIAL ONE
Advantages of TASSIMO Happy:
One touch operation to get drinks quick & easy

Fits in small places

Playful, two-coloured design
Discover TASSIMO Happy
A playful design, fully automatic with one touch operation, the TASSIMO Happy has everything a coffee pod machine should have. Create your hot drinks quick and easy. Just insert a T DISC, place a mug and pres the button. Thanks to Intellibrew technology, your machine will recognize which drink it should make, resulting in perfect taste and quality.
The Happy has a two coloured design, making a bold statment in your kitchen. Its compact size means it can fit in most corners. Perfect for those who want to save enough space on their kitchen counter. Want something more simple? Happy also has a full black model.
TASSIMO SUNY - THE QUICK ONE
Advantages of TASSIMO Suny:
Heats up extremely fast; prepares your drink immediately

Easy to use with the Smart Start button

Compact & stylish design with wide cup holder
Discover TASSIMO Suny
The nickname of the Suny is 'The Quick one' for a good reason. When you're in a hurry in the morning, you don't want to have to wait for your coffee. This coffee machine enables you to make your drinks really fast. With the Smart Start button, preparing your hot drink gets a whole lot easier. Simply push your mug or cup to the front and your drink will be prepared. Furthermore, the Suny has almost no heat up time. It will start running the moment it feels your cup.
Simple, stylish and compact, the Suny makes a great addition to any kitchen. Choose from four colours to match with your other appliances. TASSIMO Suny has a wide cup holder, offering enough space for large cups and mugs. The removable water tank in the back has a capacity of 0,8l. The perfect machine for smaller households, often in a hurry.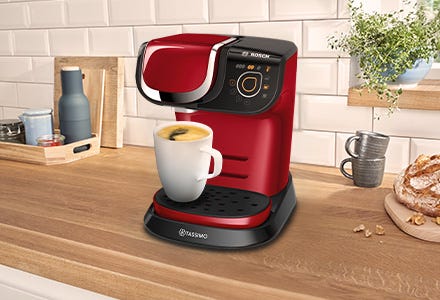 TASSIMO MY WAY - THE PERSONAL ONE
Advantages of TASSIMO My Way:
Personalization settings to adjust volume, temperature & intensity

Smart coffee pod machine memorizes up to 4 personalized settings

Innovative design with large water tank
Discover TASSIMO My Way
Drinks prepared exactly how you like them? Now there's finally a machine that caters specifically to you! TASSIMO My Way allows you to personalize all your drinks. An extra strong espresso? A large cappuccino? Or a hot chocolate you can drink immediately? You can adjust strength, size and temperature to create your perfect coffee, tea or hot cocoa. Store up to four personalized settings to create everyone's favourite drink at the touch of a button. Have it your way!
The innovative My Way has a contemporary design, with a sensor touch interface and chrome details. The large, removable water tank and energy saving possibilities, make the My Way perfect for every household. A smart coffee machine, offering personalization options with no taste transfer of your previous choice. Enjoy your coffee with a pure coffee taste directly after serving a delicious hot chocolate for your children.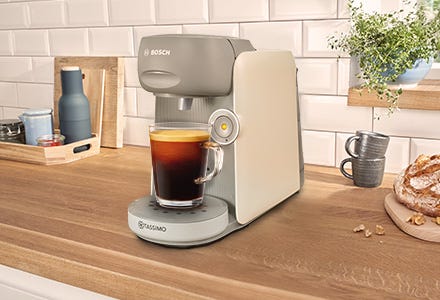 TASSIMO FINESSE - THE INTENSE ONE
Advantages of TASSIMO FINESSE:
IntensityBoost for more intense flavor

The TASSIMO FINESSE takes up very little space

The flexible cup stand is suitable for all cups

INTELLIBREW™ for brewing your drink perfectly, every time!
Discover TASSIMO FINESSE
The TASSIMO FINESSE is a compact coffee machine with an attractive, modern design and is available in stylish colours. This coffee machine features IntensityBoost. With IntensityBoost, you can make your coffee stronger and achieve a more intense flavour. With the TASSIMO FINESSE, you can make up to 70 types of drinks to suit every taste. Have fun preparing your favourite drink with your TASSIMO FINESSE and then relax with a cup of coffee that is perfectly brewed, every time.
The TASSIMO FINESSE coffee machine is equipped with INTELLIBREW™ technology. This machine also features OneTouch operation which allows you to just press the button and your favourite hot drink is ready in no time.
What are the main differences between TASSIMO Machines?
All TASSIMO Bosch coffee makers can create a broad variety of drinks, with perfect quality thanks to INTELLIBREW™. They all work with T DISCs, the only compatible coffee pods for your machine. Making coffee, tea or hot chocolate has never been easier. Every machine is available in different colours. The main differences between Bosch TASSIMO machines are the design, the size of the water tank, the way they operate and the personalization options. To make your decision easier, we compared the most popular TASSIMO models.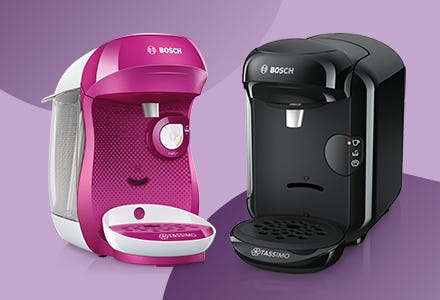 The Happy and the Vivy are two of our most popular coffee machines. No wonder; both machines are affordable, compact and easy to use. But what is the difference between TASSIMO Happy and Vivy 2? The look and feel of the machines. The TASSIMO Happy has a modern, playful look, whereas the TASSIMO Vivy has more simple beauty. Now all you have to do is decide which look fits better in your kitchen – we told you it was easy!
Biggest difference Happy and Vivy 2:

Playful vs. simple design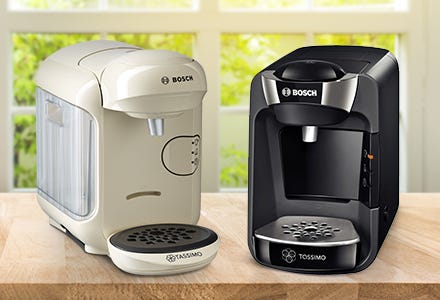 Our TASSIMO Suny & Vivy 2 machines both create our 40 different hot drinks at the touch of a button. The Suny has been out on the market for a longer time. The Vivy 2 is a more innovative TASSIMO machine, the revamped version of the original Vivy. Besides the look of the machines, the big difference is how the machines work. TASSIMO Suny is the only Smart Start machine, starting to run by pushing your mug against the front. TASSIMO Vivy 2 starts working after pressing the button. The 5 led icons tell you the status of the Vivy. Another difference is the size of the water tank. The TASSIMO Suny has a bigger water tank (0,8l) vs. the Vivy 2 (0,7l). This means it can make more cups before refilling, making it suitable for bigger households.
Differences Vivy 2 and Suny:
One button operation vs. Smart Start

0,7l watertank vs. 0,8l watertank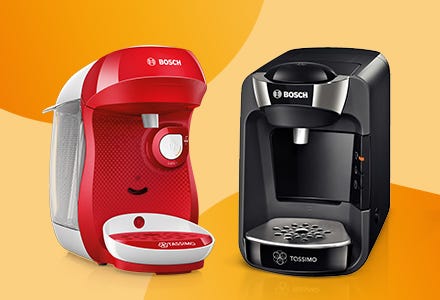 Fully automatic, these two pod machines make brewing a cup of coffee, tea or hot chocolate easier than ever. TASSIMO Happy is a very compact coffee machine, but its bold design makes it a true eye-catcher in the kitchen. Contrary, TASSIMO Suny has a more simple design, fitting every kitchen style. Suny surprises everyone with its Smart Start System, while the Happy has an easy one touch operation. The TASSIMO Suny can make more cups with one full tank, as it has a somewhat larger water tank.
Differences Happy and Suny
Bold vs. neutral design

One touch operation vs. Smart Start

0,7l watertank vs. 0,8l watertank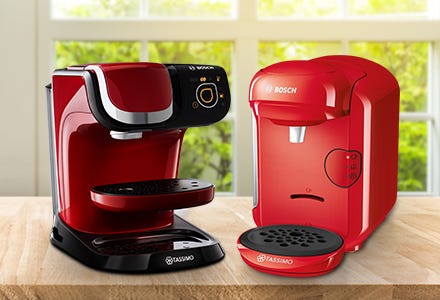 Two of our most recent additions to the TASSIMO family. The My Way is the most innovative TASSIMO machine, enabling you to personalize your drinks. You can set the size, temperature and strength of your drinks. The Vivy 2 does not have this functionality. A touchscreen interface and chrome details give a modern look to the TASSIMO My Way, whereas the Vivy 2 has a more compact design allowing it fit perfectly in smaller spaces. The TASSIMO My Way has a 1,3l water tank, enabling you to create a lot of drinks without refilling. TASSIMO Vivy 2 has a 0,7l water tank, fitting with the compact coffee machine.
Differences My Way and Vivy 2:
Smart Machine with personalization options vs. standard pod machineBold vs. neutral design

Modern look vs. compact design

1,3l water tank vs. 0,7 water tank
What is the best TASSIMO coffee machine for me?
Which machine is the best choice for you, depends on your personal taste and preferences. Are you looking for a bold statement with a colourful design, or for a stylish black coffee machine with chrome details? Or would you prefer a coffee pod machine with personalization options? See what would suit your kitchen. The big difference between the models is the design and way of operation. All Bosch TASSIMO machines are available in multiple colours, so you can pick your favourite style. Ask yourself what you are looking for in a coffee maker and pick the one which appeals to you the most. If price is an important factor, have a look at our machine deals.