How do you use a TASSIMO Machine?
Congrats! You've purchased a new TASSIMO coffee machine!
Are you ready to give it a go? To get started, just read the TASSIMO Machine instructions and you'll be taking your first sip in no time. If this is your first time using your new TASSIMO machine, or if you haven't used it for a week or two, you need to set-up the machine to ensure that you're always making quality coffee. Watch our video 'How to use a TASSIMO Machine' below to watch the step-by-step instructions on how to make your first TASSIMO coffee, or keep reading.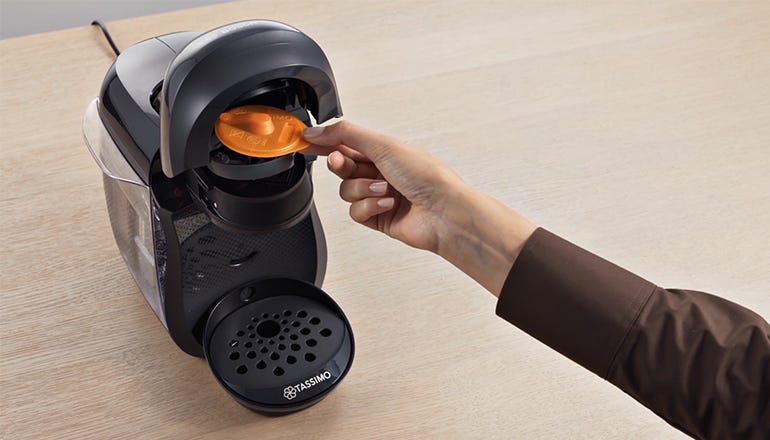 How do you set up your TASSIMO Coffee Machine?
Check that your TASSIMO machine is plugged in and push the power button.
Take out the yellow Service Disc stored in your machine, then place the Service Disc in the brew head.
Fill the water tank with fresh water and push the start button.
A short cleaning cycle will start, as soon as it's finished, your TASSIMO is ready to go.
Would you like to see specific instructions for the TASSIMO machine you purchased? Here you'll find manuals, instructions and how to's for every model TASSIMO makes.
How to use TASSIMO & TASSIMO pods?
It's never been simpler or quicker to make coffee, tea or hot chocolate! You'll find that all TASSIMO coffee machines are super easy to use. Just follow the steps listed below to create your favourite drink:
Check that the power is on and the water tank is full.
Choose a T DISC and load it into the machine's disc compartment, with the barcode facing down. T DISCs are the official TASSIMO pods.
Firmly close the lid and make sure it's shut. Position a cup on the cup stand and push the start button. A delicious drink will be ready in seconds!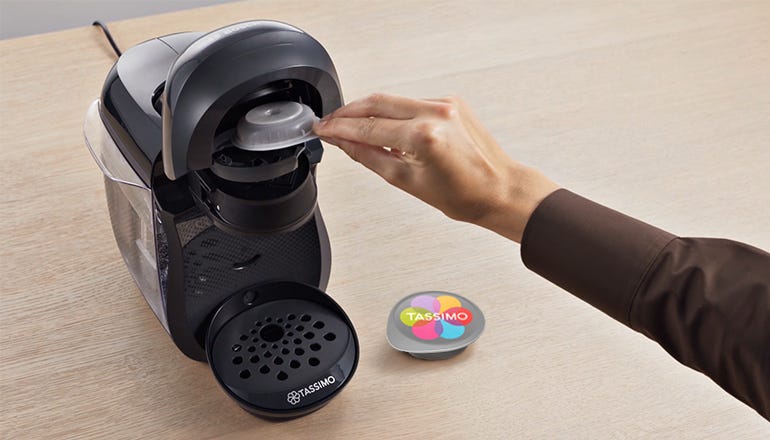 A wide variety of Coffee pods
TASSIMO offers an extensive range of T DISCs, that's short for TASSIMO pods. TASSIMO T DISCs help you create your favourite hot drinks. It's possible to purchase coffee pods from multiple brands, offering a broad range of coffee types, flavours and styles.
T DISCs are easy to use! Discover how to use your TASSIMO pod on the dedicated product page. Do you love coffee with creamy froth? For cappuccino's, lattes and flat whites, you'll probably need two T DISCs: one for the coffee and on for the milk. Most of the time, you'll use the milk pod first.
Maintaining your TASSIMO Coffee Machine