How to clean a TASSIMO Machine?
CLEANING & DESCALING INSTRUCTIONS
Cleaning your TASSIMO coffee machine regularly will make sure you can keep on enjoying the best quality coffees and teas. To properly clean your TASSIMO coffee machine we recommend the following:
Clean your machine with a soft cloth every week
Follow the cleaning cycle at least once every month
Descale your TASSIMO when needed
Watch the video and/ or read how to clean your TASSIMO below.
Weekly quick TASSIMO cleaning (2-3 minutes)
After use, wipe your TASSIMO coffee machine clean with a soft cloth. Make sure to remove spilled coffee or tea and don't forget to clean the barcode reader in the head of the machine.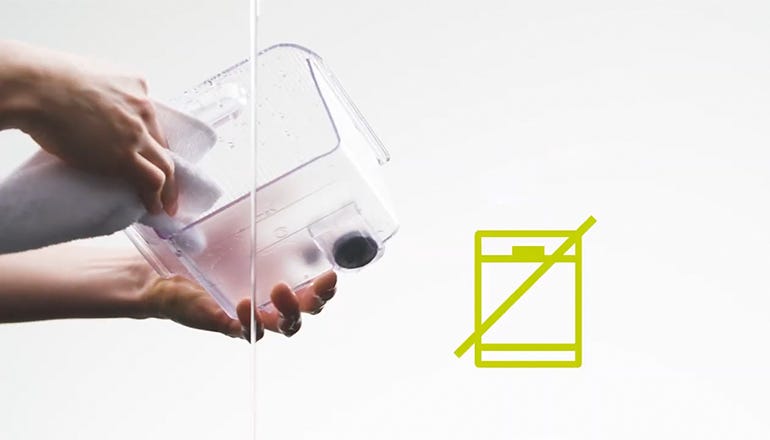 Quick TASSIMO cleaning instructions (+/- 5 minutes)
Start the cleaning cycle of your TASSIMO machine at least once every month to rinse the coffee machine thoroughly. Unplug your machine, remove all detachable parts of your machine and wash and rinse them. Also clean the outside and head of your machine with a soft cloth. To start the cleaning cycle, you only need the Service Disc and water. Turn the machine back on and follow the instructions:
Fill the water tank of your TASSIMO coffee machine until the maximum mark and take out the yellow Service Disc (the cleaning disc) from the bottom or side of your TASSIMO machine.
Open the head and place the Service Disc inside and close it. The barcode on the Service Disc will tell your TASSIMO it's time for the cleaning cycle.
Place a container under the coffee outlet and press start. The cleaning process will now begin. Wait 2-3 minutes and allow the machine to clean on its own.
When the status light lights permanently, the TASSIMO cleaning process is finished. Pour out the water that came from your TASSIMO coffee machine and place the Cleaning Disc back in its holder.
The TASSIMO cleaning cycle is now completed. Fill your water tank again. Now your TASSIMO is ready to make delicious brews again!
The cleaning cycle might differ per TASSIMO model. You can find specific cleaning instructions for your TASSIMO machine on our Machine Maintenance page.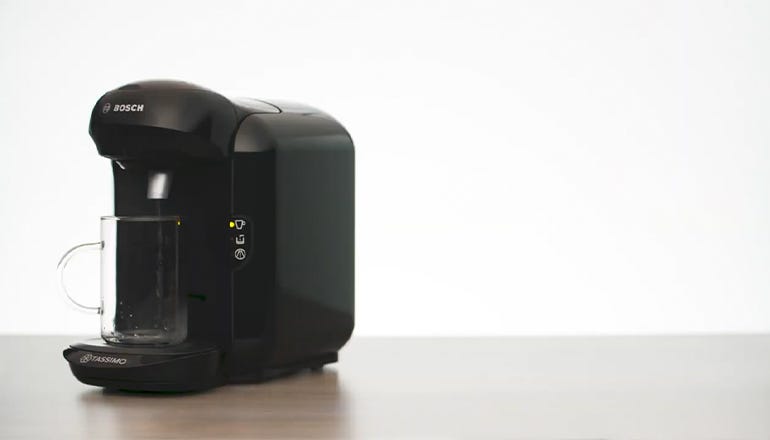 TASSIMO Cleaning and Descaling instructions (20 – 30 minutes)
You need to descale your TASSIMO machine approximately 4 times per year, depending on how often you use it. The descaling cycle is the most extensive cleaning cycle of TASSIMO. It will remove limescale and calcium deposits. Descaling your machine will keep it in top condition, so you can continue to make your favorite high-quality beverages. Your TASSIMO coffee machine will let you know when it needs to descale by illuminating a red descale indicator light (spray icon or 'calc'). Watch the TASSIMO descaling video to find out how to start the descaling cycle.
How often should you clean your TASSIMO machine?
It is recommended to clean your TASSIMO machine with the quick cleaning cycle at least once per month. Make sure to clean spilled coffee and tea and to keep the barcode reader clean. You need to descale your TASSIMO whenever the red light is illuminating.
Why is it important to clean your TASSIMO machine?
To stop the build-up of limescale residue, calcium deposits and bacteria it is recommended to clean and descale your TASSIMO machine on a regular basis. This way you will keep your TASSIMO in the best condition so you can keep on enjoying high quality drinks in the long run.
How to clean with TASSIMO descaling tablets?
Descaling is the most extensive cleaning cycle your TASSIMO offers. To descale, take two official TASSIMO by BOSCH descaling tablets and dissolve them in the water from the water tank. Never use vinegar or acetic acid-based descalers because these can harm your machine and the taste of your drinks.