LATTE MACCHIATO: HOW DO I MAKE IT?
Three lovely, perfect layers: milk, espresso and milk foam. That's what the latte macchiato is known for. Just like a latte, it's a carefully balanced ratio of milk and espresso. But, how do you make a latte at home? With a little bit of help from TASSIMO!
Preparing a latte macchiato with TASSIMO
TASSIMO has made creating a latte macchiato easy. Are you curious about how to make a latte at home? Just follow the instructions listed below.
What you'll need to make a Latte Macchiato:
A set of TASSIMO Latte T DISCs
1 latte glass
1 TASSIMO Machine
Firstly, you want to make this in a latte glass because the finished drink is so attractive

Next, give the milk T DISC a good shake and insert it into your TASSIMO coffee machine

Then, take out the milk pod and pop in the espresso pod

Watch the espresso flow through the milk and create those lovely layers

Experience all three layers of your latte macchiato!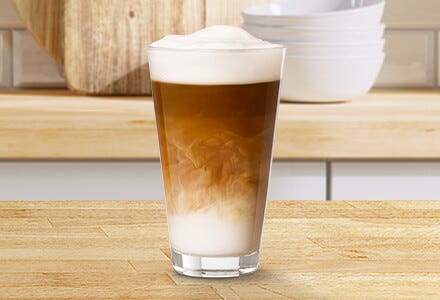 How to brew the best caffe latte:
So, how do you prepare a TASSIMO latte? Just follow the steps or check out our 'how to' video.
What flavour options are available?
Caramel latte macchiato: how to make it with TASSIMO
Open up your TASSIMO latte macchiato caramel package and you'll see two different boxes. One of them has 8 coffee T DISCs while the other has 8 concentrated ultra-filtered cream T DISCs – these also have the delicious sugar and caramel flavour. These two boxes provide you with all the T DISCs you need to make 8 cups of caramel latte macchiato. There are no special instructions, just prepare it as you would a regular latte macchiato: first, insert the milk pod and push the button. When you see that the milk is ready, take the milk pod out and pop the coffee pod in. Now, sit back and watch the perfect coffee flow into your glass. Voila! The caramel-flavoured latte macchiato you were craving.
How do you make a TASSIMO Baileys Latte Macchiato at home?
That unmistakable cream liqueur flavour makes your latte macchiato extra special. Baileys Latte Macchiato creates a tasty instant coffee treat by blending espresso, creamy milk foam and that delicious Baileys flavour. In this package you'll also find 8 coffee T DISCs and 8 T DISCs containing milk flavoured with sugar and cream liqueur. Just like the other types of latte macchiato, pop in the milk T DISC first and then the coffee T DISC when it's done. A quick and simple way to enjoy a deliciously different latte macchiato.
How do I make a 'skinny' latte macchiato that's less sweet?
Do you love the rich latte macchiato flavour but want a bit less sugar or fewer calories. No problem! TASSIMO has the right options for you. Our regular L'OR Latte Macchiato is delicious, but why not try our L'OR Skinny Latte Macchiato, it has 46% fewer calories and still tastes great. You might enjoy Gevalia Latte Macchiato Less Sweet even more, it has 30% less sugar than the average Latte Macchiato but still satisfies your creamy cravings. Both of these options are super easy to prepare, just like the others. Open the package, select the milk T DISC and use it first; then, pop in the coffee T DISC and enjoy a lighter version of this famous three-layered combination!