Coffee Pod Subscriptions
Discover all of our TASSIMO coffee pod subscription plans! Do you already own one of our great TASSIMO coffee machines? Now you can get your favourite coffees and drinks delivered straight to your doorstep at a time that's convenient for you.
You're just 3 quick steps from having your favourite coffees and drinks delivered to your home: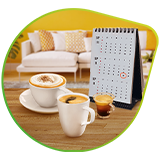 Select your plan
Select a plan that meets your coffee consumption needs and how often you'd like your drinks delivered.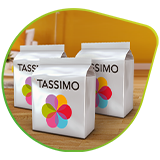 Choose the drinks you love
Choose your preferred T DISCs, from more than 14 famous brands. You can order coffee, hot chocolate or tea drinks and you can also mix & match your TASSIMO pods for a customised drink selection.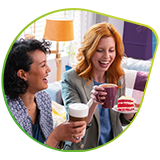 Enjoy!
Wasn't that easy? Now you can enjoy the beverages you've ordered as soon as your first shipment arrives and you can also manage your coffee selections for the next scheduled delivery.
Coming soon...
FAQ
PLAN INFO/DESCRIPTION
What is a TASSIMO coffee subscription plan?
It's as easy as one-two-three! In just a few quick steps you can get your favourite TASSIMO coffee delivered directly to you. Choose the plan that best matches your daily coffee consumption.
Can I choose from any of the coffees or hot beverages?
Your subscription plan offers a wide range of T-Discs to choose from; however, it does exclude selections from our seasonal or limited-edition products. You'll be able to pick packs of 9, 12 or 15 beverages. Subscription plans are based on the number of packs and not on how many beverages are in each pack - so choose the pack which suites your taste.
Why is it necessary to create an account?
We need to keep you up-to-date about the status of your coffee plan subscription. Also, when you create an account it will be easy for you to update your selections, review your coffee subscription plan and order status, and you'll be the first to know about special offers.
What machines are compatible with my plan?
The only machines compatible with our coffee subscription plans are TASSIMO Coffee Machines. If you don't have a TASSIMO Coffee Machine yet, check out our
TASSIMO Machine Subscription Plan
.
If I don't have a TASSIMO coffee machine. Can I get a subscription plan that includes a coffee machine?
Absolutely! Whether you are a new or an existing TASSIMO customer, there's a subscription plan that's just right for you. TASSIMO Coffee Subscription Plans and Coffee Machine Subscription Plans have so many benefits, it's certainly worth taking a look at the different options. Curious? Check out
Subscription Plans
.
Can I combine other promotions with a TASSIMO Coffee Subscription Plan?
We customise each TASSIMO Coffee Subscription Plan to meet your needs, these plans cannot be combined with other promotional codes or special offers.
Am I eligible to subscribe?
If you are over 18 years of age and have a delivery address in the Republic of Ireland, you are eligible to participate in a Coffee Subscription Plan. Please check our Terms & Conditions for more information.
Can I choose any drink/-discs with a subscription plan?
You can choose from a large variety of T-Discs with your subscription plan. This excludes seasonal and limited edition products.
DELIVERY OPTIONS
Will I have to pay for shipping?
No, you won't have to pay any shipping cost.
Can I decide how often my coffee will be sent?
YES! You can choose to have your coffee delivered every 1, 2 or 3 months.
How long will it take for my delivery to arrive?
After you've signed up for your coffee plan, your first order will arrive within 3-7 business days. Depending on the coffee plan you've chosen, you'll receive your coffee packs every 4, 3, or 2 months.

For example:
You've placed your initial order on the 20th so your order will arrive within 3-7 business days. After this, your recurring payment will be debited on the 20th day of the following 4th, 3rd, or 2nd month, depending on which TASSIMO Coffee Machine Subscription Plan you've chosen. Once your payment has been credited successfully, your order will be processed and delivered within our standard time, which is 3-7 business days.
COSTS
How much does a subscription cost?
Join the club and subscribe to one of the following plans:
TASSIMO STARTER: you qualify for a 25% discount on your choice of 10 coffee and hot drink packs. Prices will vary depending on the products you select, prices start from €43.13 and go up to a maximum of €59.85.
TASSIMO SAVER: you qualify for a 30% discount on your choice of 15 coffee and hot drinks packs. Prices will vary depending on the products you select, prices start from €60.38 and go up to a maximum of €83.79.
TASSIMO SUPERFAN: you qualify for a 35% discount on your choice of 20 coffee and hot drinks packs. Prices will vary depending on the products you select, prices start from €74.75 and go up to a maximum of €103.74.
You will be invoiced and your selected drinks will be shipped every 1, 2 or 3 months, depending on the plan you've chosen.
PLAN CHANGE
Is it easy to change my plan?
Sure! All you need to do is elect the coffees you prefer for each delivery before the shipment date. So, depending on the plan you've chosen, every 1, 2 or 3 months. Start by logging on to your TASSIMO account. Click here to log on. Once you are on the My Account page, choose 'Manage Coffee Plan' in the Account Details section. This is where you'll find the details of your plan and can easily manage any upcoming orders.
Is it possible to pause my subscription?
No. But you can skip one or more deliveries and you schedule that change as little as two days before your scheduled delivery.
Is it possible to cancel my TASSIMO Coffee Subscription plan?
Certainly! It's no problem if you'd like to cancel your TASSIMO Coffee Subscription Plan; but that means you'd miss out on all of the great TASSIMO Subscription benefits.
PAYMENT METHODS
What payment methods are accepted for subscription plans?
TASSIMO Subscription Plans can be paid for with a credit card. It is necessary to pay with a credit card (VISA and Mastercard) because it is the only way that an automatic withdrawal can be made from your bank account for the cost of your chosen subscription every 1, 2 or 3 months.
It is important to ensure that your credit card will be valid for at least one year from the date you subscribe to a TASSIMO Subscription Plan. Unfortunately, debit cards cannot be used as a valid subscription payment method because they do not allow us to save your payment details in order to establish an automatic, recurring payment.
It looks like TASSIMO subscription has been cancelled. What should I do now?
It's likely that your credit card has expired. If this is the case, we've already sent you an email request to update your payment method. If you haven't updated your payment method within a set term of 14 days, your TASSIMO Subscription will automatically be cancelled, after which a cancellation fee will be charged according to the TASSIMO Subscription Plan terms and conditions. If your credit card has not expired, please contact customer service.
I'm unable to update my payment method.
If your payment method has been updated recently, the change won't always be visible immediately. The new payment method that you entered will be checked and updated within 24 hours.
HELP
It looks like my subscription has been suspended.
Sometimes one or more items that you've ordered are out of stock. You can reactivate your subscription by editing your next delivery to replace the product(s) which are out of stock.
To do this
log into TASSIMO
and go to the My Account section.
In the My Account section you can see your coffee plan order and manage any upcoming shipments. It may also be that there is a problem with your payment method. Please make sure that there is available credit on your Credit Card and that it has not expired. Still getting the error message? Try entering another valid payment method, and clear your browser's cache and cookies. You may need to wait up to 24 hours for the changes to be registered.
Haven't found the answer you're looking for?