TASSIMO MACHINE SUBSCRIPTIONS
Enjoy all of your favourite coffees and hot
beverages at the touch of a button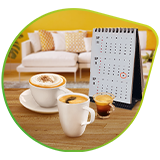 Select your plan
How many cups of coffee do you usually drink? Select the subscription plan that matches your level of coffee consumption and order your favourite coffee.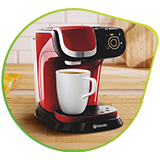 Choose your preferred machine colour
You can become the proud owner of a TASSIMO machine for just €1. Each plan offers you the option to select your preferred coffee machine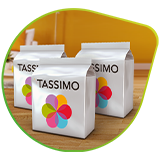 Select your preferred beverages
Choose your favourites from our broad selection of coffees and hot drinks. Pick your favourite T DISCs and schedule your first delivery. You can always change your selection for the next delivery
Coming soon...
The TASSIMO machine subscriptions are based on a one year contract.
After these 12 months the contract will terminate, you will also need to have a valid creditcard, because the payments are automated (Maestro credit card, VISA and Mastercard).
Advantages of a TASSIMO Machine Subscription
A coffee subscription offers loads of great benefits and you'll get a TASSIMO machine for only €1,-! Enjoy the best discounts, discover new types of coffee, or just enjoy the relief of ticking coffee off your weekly shopping list. Join the club and sign up for one of our coffee subscriptions today!
A TASSIMO Machine subscription offers you the cheapest price on a new coffee machine. We want to make great TASSIMO coffee something everyone can enjoy. Have you been hesitant to commit to a Coffee Machine Subscription? Don't worry! TASSIMO Coffee Machine subscriptions make it so much easier (and more affordable) to enjoy high-quality coffee packed in T-Discs especially designed to make the most of our TASSIMO Coffee Machines.
Coffee Machine Gift Subscription
Do you need a special gift for the coffee lover in your life? A TASSIMO Coffee Machine gift subscription is the perfect choice. With a beautiful new coffee maker and automatic coffee pod delivery, it's a present that's sure to please every coffee lover.
Who wouldn't love to have delicious coffee delivered right to their doorstep? Help your friends or loved ones by offering them something much better than standard supermarket coffees. Looking for more gift ideas? Discover all of our favourite coffee gifts to surprise the coffee lover in your life. We offer a wide range of coffee pods, coffee machines, or great accessories that would make a perfect gift.
Frequently asked questions
Plan info
What is a TASSIMO coffee subscription plan?
It's as easy as one-two-three! In just a few quick steps you can get your favourite TASSIMO coffee delivered directly to you along with a TASSIMO VIVY 2, TASSIMO SUNY or TASSIMO MY WAY coffee machine for only €1. Choose the plan that best matches your daily coffee consumption. Availability of the My Way machine may vary.
After one year, is the coffee machine mine to keep?
Certainly! After one year the coffee machine belongs to you.
Can I choose from any of the coffees or hot beverages?
You can choose from a large variety of T-Discs with your subscription plan. This excludes seasonal and limited edition products. This means that you can choose between packs with 6, 8, 16 or 24 drinks. The plans are based on packs and not on the number of drinks within a pack, so you are free to pick any pack you like.
Why is it necessary to create an account?
It's important that we update you throughout the coffee plan program about the status of your planned order. Additionally, by creating an account you will be able to update your choices, monitor the status of your coffee plan and receive offers.
If I already own a TASSIMO machine, can I get a coffee only subscription?
Absolutely! Whether you are a new or an existing TASSIMO customer, there's a subscription plan that's just right for you. TASSIMO Coffee Subscription Plans and Coffee Machine Subscription Plans have so many benefits, it's certainly worth taking a look at the different options. Curious? Check out our
Coffee Subscription Plans
.
Not sure if a coffee subscription is for you? Have a look at our
Subscription Plans
.
Can I combine other promotions with a TASSIMO Coffee Machine Subscription Plan?
We customise each TASSIMO Coffee Machine Subscription Plan to meet your needs, these plans cannot be combined with other promotional codes or special offers.
Am I eligible to subscribe?
If you are over 18 years of age and have a delivery address in the Republic of Ireland, you are eligible to participate in a Coffee Machine Subscription Plan. Please check our Terms & Conditions for more information.
Are all of the drinks/T-Discs included in a machine subscription plan?
You'll find a broad range of T-Discs and beverages to choose from. Seasonal and Limited Edition products are excluded from subscription plans.
Delivery options
Will I have to pay for shipping?
No, for the duration of your one-year contract, you will not be charged for shipping.
Can I decide how often my coffee will be sent?
Each plan offers a different schedule. The TASSIMO Starter plan ships every 4 months, the TASSIMO Saver plan ships every 3 months, and for the TASSIMO Super Fan, drink packs go out every 2 months.
How long will it take for my delivery to arrive?
Your first order will be delivered 3-5 business days after you have signed up for your coffee plan. Depending on your chosen coffee plan, your subsequent recurring orders will be delivered every 4, 3 or 2 months.
Your first order is placed on the 10th and the standard delivery 3-5 business days will apply. Recurring order: your payment will be taken on the 10th calendar day of the following 4, 3 or 2 months depending on your TASSIMO Coffee Machine Subscription Plan. Once the payment has gone through successfully your order will be processed and delivered to you within the standard delivery time frame of 3-5 business days.
Costs
How much does a subscription cost?
When you take out a subscription, we give you a coffee machine for a cost of just €1. You'll be charged this amount on your first invoice. The periodic charges will depend on which plan you choose:
TASSIMO STARTER: your drink pack will be delivered every 4 months and you'll be billed €69.50 (that amounts to €17.39 monthly. The total annual cost of this plan will be €1 +208.68.)
TASSIMO SAVER: your drink pack will be delivered every 3 months and you'll be billed €104.25 (that amounts to €34.75 monthly. The total annual cost of this plan will be €1 +€417.)
TASSIMO SUPERFAN: your drink pack will be delivered every 2 months and you'll be billed €139.00 (that amounts to €69.50 monthly. The total annual cost of this plan will be €1 +€834.)
Plan change
Can I change my coffee selection for each delivery?
YES! You can change your coffee selection per delivery until the next shipment date. This means, depending on your plan, every 4, 3 or 2 months. You can do this within the TASSIMO My Account section after logging in.
Click here to log in.
After you log in to My Account you will find the Manage coffee plan item in the Account Details section. Here you will find your coffee plan order, where you can manage your upcoming orders.
Is it possible to change from one coffee machine plan to another one?
It is not possible to upgrade or downgrade your TASSIMO Coffee Machine Plan once you have subscribed for a specific one. You are able to change your coffee selection per delivery though.
Is it possible to cancel my TASSIMO Coffee Machine Subscription?
TASSIMO Coffe Machine Subscription Plans are concluded for a fixed period of 12 months after which the contract will automatically terminate. You do have the statutory right to withdraw from your Machine Subscription Plan within 14 days of the receipt date of the first goods (machines and/or coffee).
Payment methods
What payment methods are accepted for subscription plans?
You can subscribe for one of the TASSIMO Subscription Plans if you have a credit card. A credit card (VISA and Mastercard) is the only legitimate payment as we need to withdrawl the subcription amount from your bank account every 4, 3 or 2 months automatically.
Please, make sure that your credit card is valid for another year once you subscribe for a TASSIMO Subscription Plan.
Unfortunately, a debit card is not a valid payment method for a subscription as we cannot save your payment details for a recurring automatic payment.
It looks like TASSIMO subscription has been cancelled. What should I do now?
Your credit card probably got expired. If that is the case, we have sent you an email to update your payment details. In case you don't update your payment details within the set 14 days, your TASSIMO Subscription gets cancelled and a cancellation fee will apply according to the terms and conditions of the TASSIMO Subscription Plans. If your credit card is not expired, please contact customer care.
I'm unable to update my payment method.
If your payment method has been updated recently, the change won't always be visible immediately. The new payment method that you entered will be checked and updated within 24 hours.
Help
It looks like my subscription has been suspended.
Sometimes one or more items that you've ordered are out of stock. You can reactivate your subscription by editing your next delivery to replace the product(s) which are out of stock.
To do this, log on to TASSIMO and go to the
My Account section
.
In the My Account section you can see your coffee plan order and manage any upcoming shipments. It may also be that there is a problem with your payment method. Please make sure that there is available credit on your Credit Card and that it has not expired. Still getting the error message? Try entering another valid payment method, and clear your browser's cache and cookies. You may need to wait up to 24 hours for the changes to be registered.
Haven't found the answer you're looking for?
No problem,
click here
to contact Customer Service.