1 T DISC – we recommend L'OR Espresso Splendente
White chocolate coffee on ice. A delicious cold coffee and white chocolate combination that you're sure to love. With just a few ingredients it's easy to prepare a tasty white chocolate mocha frappuccino any time of year.
Ingredients
1 shot of intense espresso, try L'OR Espresso Splendente
2 tablespoons of chopped white chocolate
2 teaspoons granulated sugar
135 ml milk
Ice cubes or crushed ice
Whipped cream
You'll need:
How to make an iced white chocolate mocha:
Press your TASSIMO machine's ON button to warm it up.
Put your favourite espresso T DISC into the machine and brew. When the coffee is ready, pop it in the freezer to cool down.
Put 50 ml of the milk in the small saucepan.
Now add the 2 tablespoons of chopped white chocolate and the 2 teaspoons of granulated sugar and warm over medium heat.
Stir constantly until the sugar and chocolate have melted and blended completely with the milk.
Remove the saucepan from the heat and pour in the remaining 85 ml of milk and the cold coffee.
Place ice cubes or crushed ice into the glass or mug in which you plan to serve your white chocolate coffee.
Pour the contents of the saucepan over the ice in the glass.
Top with a nice dollop of whipped cream and you're ready to relax and enjoy this delicious iced white mocha.
Would you rather avoid caffeine? No problem! It's simple to make a caffeine-free iced white chocolate mocha. You'll just need to use a L'OR Espresso Decaffeinato T DISC. Interested in preparing a white chocolate mocha frappuccino? Add the coffee mixture and ice to your blender and pulse 5 or 6 times and then pour it out into your glass. It's quick and easy to make white chocolate frappuccino at home. Iced white chocolate mocha or white chocolate frappuccino are both delicious on a hot summer day. Serve this coffee to your guests or enjoy a cold coffee at work or in the evening.
Feeling inspired?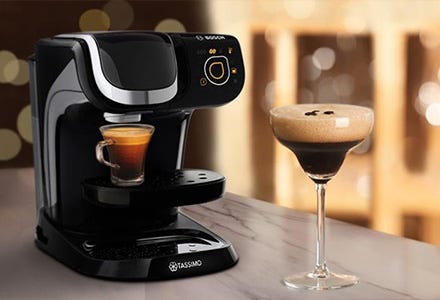 Alcohol-free Espresso Martini
Have you noticed that coffee-based cocktails are getting even more popular? Impress your guests with this Virgin Espresso Martini.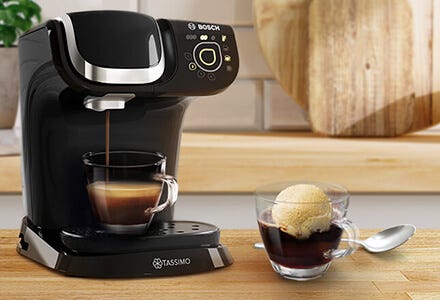 This combination of two tasty Italian specialties—gelato and espresso—make it the perfect treat for any time of day.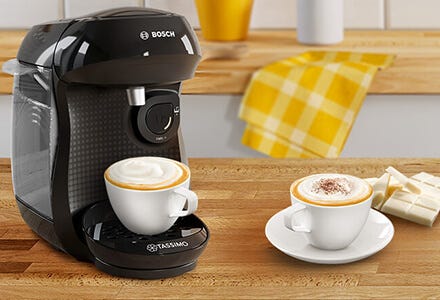 White Chocolate Cappuccino
It only takes a few extra minutes to make your daily cappuccino extra special: just add a luscious touch of chocolate.