French Vanilla Latte Recipe
Jacobs Latte Macchiato Vanilla
We love this French Vanilla Latte recipe! A luxurious pairing that blends the rich aromas of vanilla and coffee with thick, delicious whipped cream. Beware, this amazing latte will leave you craving another cup! With its impressive look, you'd never know it was so easy to prepare. Friends or family coming for a visit? Greet them with this perfect treat. That's not to say that you couldn't curl up in your favourite chair and enjoy one on your own. TASSIMO is happy to share this delicious, easy recipe!
Ingredients
For 1 French Vanilla Latte
1 T DISC TASSIMO Jacobs Latte Macchiato Vanilla
3 teaspoons cream
3 teaspoons brown sugar
6 teaspoons of whipped cream
Cinnamon (for dusting)
1 cinnamon stick to decorate (optional)
Preparation
Try making this in a fun container, like a trendy glass 'drinking jar' with handle, also called a Mason Jar. This will make your French Vanilla Latte look even more eye-catching.
Whip up some fresh cream (although the prepared kind that comes in a tub will do just as well).
Brew up a nice hot cup of TASSIMO Jacobs Latte Macchiato Vanilla. Stir in the cream and the brown sugar.
Top it all off with some whipped cream and dust with cinnamon. Pop in a cinnamon stick for an even more luxurious look.
Get comfortable and take a sip of your French Vanilla Latte!
Feeling inspired?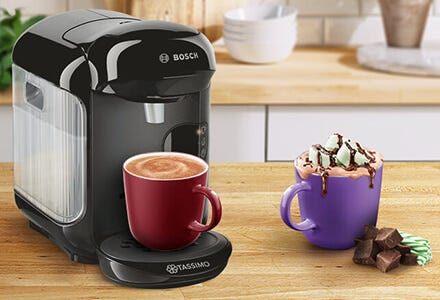 Peppermint Hot Chocolate Recipe
Add a festive touch to your day with this Peppermint Hot Chocolate.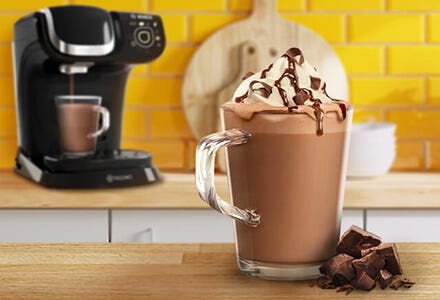 Easily create a Chocolate Mocha at home with TASSIMO. Perfect for whenever the wind's blowing hard off the sea.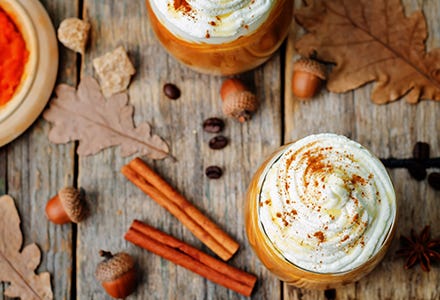 Easy Pumpkin Spice Latte Recipe
TASSIMO is going to share a super easy pumpkin spice latte recipe with you!