Use your preferred black coffee, we recommend Costa Americano
Are you feeling the heat this summer? Try a new, refreshing taste sensation: black coffee and lemon juice. All you need is lemon, coffee, and hot water! Our coffee with lemon recipe gives you great coffee flavour along with an invigorating splash of lemon juice.
Preparation
Grab your favourite mug for your coffee with lemon
Slice the lemon in half and squeeze the juice into the small bowl
Switch on your TASSIMO machine and pop in your favourite T-DISC
Brew the black coffee into the mug, and then stir in 1 tsp. of lemon juice
Now stir in the ½ tsp. of honey
Make sure the honey, coffee and lemon are well blended
If desired, you can add a little hot water to the black coffee and lemon juice or serve over ice for an even more refreshing drink
Your TASSIMO machine will ensure that the coffee is properly brewed. The coffee and lemon juice creates a pleasingly fresh taste. Lemon, coffee and hot water is surprisingly cooling on warm days. Would you like something even cooler? Serve your coffee and lemon over ice for an invigorating iced lemon coffee! Black coffee with lemon is a fun recipe to surprise your family and friends. The next time you have a summer picnic, this refreshing flavour combo is sure to please.
Feeling inspired?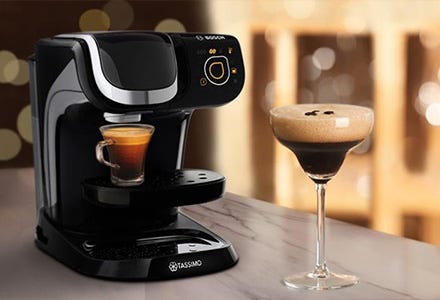 Alcohol-free Espresso Martini
Have you noticed that coffee-based cocktails are getting even more popular? Impress your guests with this Virgin Espresso Martini.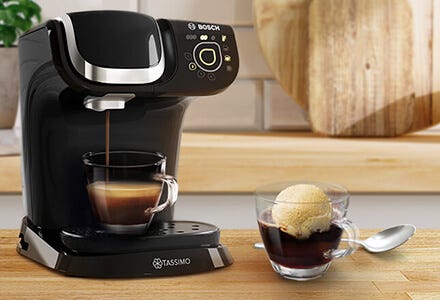 This combination of two tasty Italian specialties—gelato and espresso—make it the perfect treat for any time of day.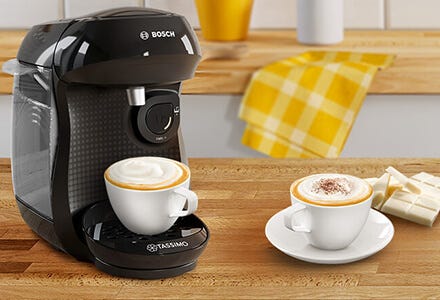 White Chocolate Cappuccino
It only takes a few extra minutes to make your daily cappuccino extra special: just add a luscious touch of chocolate.