DISCOVER OUR NEW COFFEE SHOP SELECTIONS!
Become a true home barista with our Coffee Shop Selections: Toffee Nut Latte, Chai Latte & Hot Chocolate Salted Caramel. Discover all Coffee Shop Selections coffee pods for TASSIMO.
HOT CHOCOLATE SALTED CARAMEL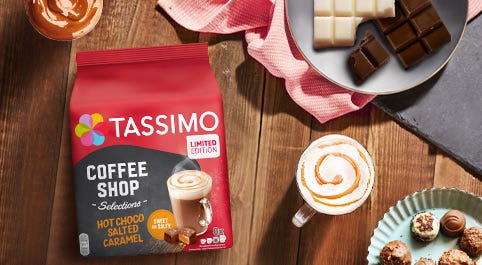 A seductive combination of chocolate and salted caramel. TASSIMO Coffee Shop Selections Hot Chocolate Salted Caramel is the chocolate sensation you've been waiting for: a hot chocolate drink with caramel flavour, a pinch of salt and a velvety foam layer.
TOFFEE NUT LATTE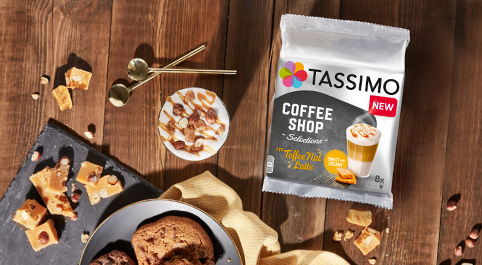 Discover our Toffee Nut Latte with its exciting combination of espresso, creamy caramel nut flavour, and soft milk foam. You no longer need to make your way to your local coffee shop to experience this sweet and creamy treat. The full-bodied taste of TASSIMO Coffee Shop Selections Toffee Nut Latte is perfect for a cosy afternoon at home.
Discover our Chai Latte: a seductive tea specialty, flavoured with Indian Spices, and a delicious milk foam layer. Transform your daily break into an exotic, relaxing moment. It's sweet & spicy!