DISCOVER OUR NEW COFFEE SHOP SELECTIONS!
Become a true home barista with our Coffee Shop Selections.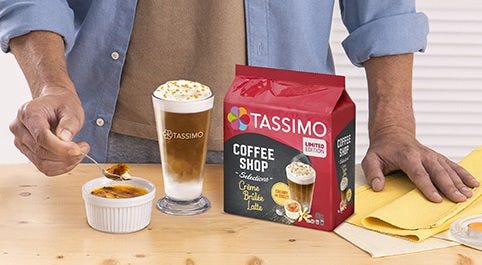 Have you been looking for a coffee that tastes as delicious as a dessert? Then you'll love our limited-edition Crème Brûlée Latte! The luscious flavours of TASSIMO's Crème Brûlée Latte combine perfectly roasted coffee with the rich and creamy taste of caramel and vanilla. Inspired by your favourite dessert, discover our new, limited-edition Crème Brûlée Latte and enjoy the perfect treat-yourself moment. Try one today!
HOT CHOCOLATE SALTED CARAMEL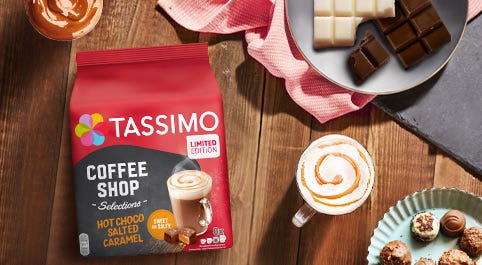 A seductive combination of chocolate and salted caramel. TASSIMO Coffee Shop Selections Hot Chocolate Salted Caramel is the chocolate sensation you've been waiting for: a hot chocolate drink with caramel flavour, a pinch of salt and a velvety foam layer.
HAZELNUT PRALINE LATTE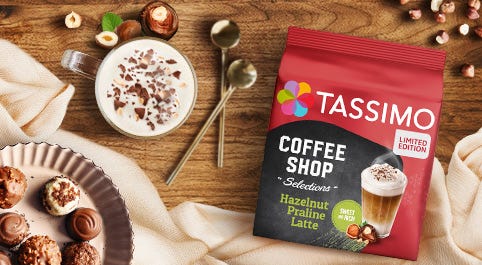 A rich and sweet experience awaits with our hazelnut praline latte coffee pods! A delicious combination of espresso with hazelnut praline flavour and velvety milk foam. No need for a coffee shop: enjoy this Coffee Shop Selection latte from the comfort of your home.
WHITE CHOCOLATE COCONUT LATTE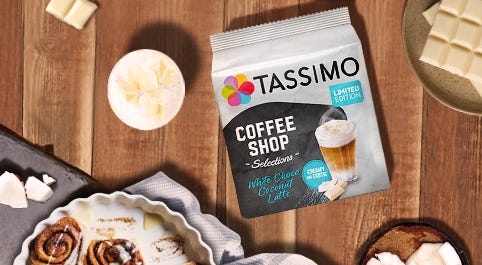 Take a break with our tasty White Chocolate Coconut Latte coffee pods. Enjoy a sweet, creamy and exotic coffee experience with a dash of coconut flavor. This latte is quick and easy to make, bringing the taste of the tropics to your home. The subtle coconut flavour blends beautifully into the sweet creaminess of white chocolate and rich, flavourful espresso.
TOFFEE NUT LATTE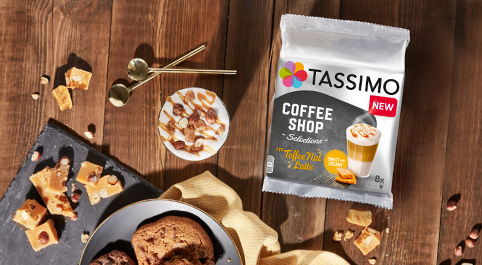 Discover our Toffee Nut Latte with its exciting combination of espresso, creamy caramel nut flavour, and soft milk foam. You no longer need to make your way to your local coffee shop to experience this sweet and creamy treat. The full-bodied taste of TASSIMO Coffee Shop Selections Toffee Nut Latte is perfect for a cosy afternoon at home.
Discover our Chai Latte: a seductive tea specialty, flavoured with Indian Spices, and a delicious milk foam layer. Transform your daily break into an exotic, relaxing moment. It's sweet & spicy!