1 Hot Chocolate T DISC, we suggest TASSIMO Suchard Hot Chocolate.
The end of the year is upon us and right now everyone is getting ready for Christmas. Without a doubt, we're all in the mood for some Christmas Hot Chocolate. Looking for a way to treat your family and friends this holiday season? Try some homemade Hot Chocolate as a special festive treat. Now's the time for a great Hot Chocolate recipe, check this one out!
How to make Christmas Hot Chocolate
Pick out your favourite mug for the Christmas Hot Chocolate

Switch on the TASSIMO Machine and open the T DISC compartment
Insert the Suchard Hot Chocolate or the Cadbury Hot Chocolate T DISC in your machine and place the mug below.
Push the button and, while it's making, whip the cream
Put a heaping spoon of whipped cream on top of the Christmas Hot Chocolate
Top with the mallows
Decorate with sprinkles or chocolate vermicelli if desired
Now it's time to enjoy your Christmas Hot Chocolate! Home-made Hot Chocolate is so easy to make! This recipe will be ready in 10 minutes. Your family and friends will love it. Would some of them enjoy a vegan hot chocolate? That's simple to do, just use the kind of vegan whipped cream which is available at your local supermarket.
Don't forget to replace the regular mallows with vegan ones. That you're your friends can also enjoy this vegan Hot Chocolate recipe!
FEELING INSPIRED?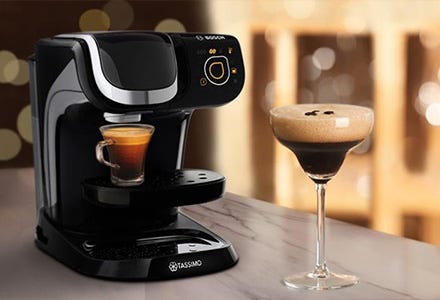 Non-alcoholic Espresso Martini
Coffee cocktails are gaining popularity. No wonder: they're tasteful, energizing and an impressive appearance. Create this Virgin Espresso Martini and impress your guests.
Creamy Toffee Cappuccino recipe
Toffee and coffee are a match made in flavour heaven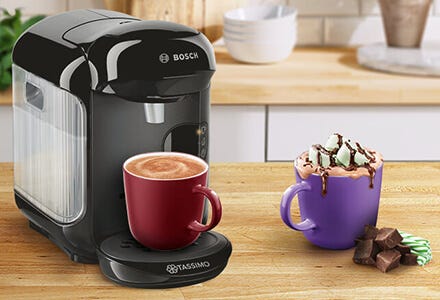 Peppermint Hot Chocolate recipe
This drink will give a festive touch to your day. Easy to prep. Beginning to feel like Christmas already?