Your favourite TASSIMO espresso, for example Gevalia Espresso
Affogato is a coffee-based Italian treat, made with a shot of strong expresso and creamy gelato. In Italy it's known as 'affogato al caffé', often translated as 'drowned in coffee'. An affogato is the ideal quick dessert. Why ideal? Because, your family and friends will love it and it takes just a few minutes to make! This combination of two tasty Italian specialties—gelato and espresso—make it the perfect treat for any time of day. Once you try it, affogato al caffé could become your favourite dessert.
Ingredients
For 1 affogato
1 cup of espresso
1 scoop of ice cream, classic vanilla or another flavour that you like
Optional: syrup or other toppings
Preparation
Make a cup of strong espresso. We recommend TASSIMO Gevalia Espresso pods or L'OR Espresso Fortissimo T DISCs.
Put a scoop of your favourite ice cream in a glass
Pour the prepared espresso over the ice cream
Additional: add toppings like syrup to your ice cream
Now, sit down and start enjoying one of the world's tastiest, and fastest desserts: Italian Affogato!
A study in simplicity, as are many Italian recipes, this tasty treat has only two ingredients. However, the flavourful blend of strong, hot coffee and cold, sweet gelato make it a perfectly delicious combination. In Italian, 'affogato' literally means 'drowned', because the scoop of ice cream is drowning in the hot espresso. Worried about spending time away from your guests while you prepare a complicated after-dinner treat? With an affogato you'll be sitting down with your guests after dinner in no time.

All you need in this dessert is a nice scoop of ice cream, classic vanilla or any flavour you'd like. If you want to make your affogato a bit different, try adding toppings. You could add a piece of dark chocolate in the bottom of your glass, splash in a shot of liquor (amaretto or other liquors), drizzle the gelato with syrup, or garnish with a biscotti for dipping. The basic recipe is still the same: expresso and ice cream.
Feeling inspired?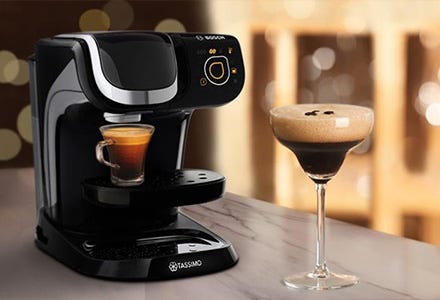 Alcohol-free Espresso Martini
Have you noticed that coffee-based cocktails are getting even more popular? Impress your guests with this Virgin Espresso Martini.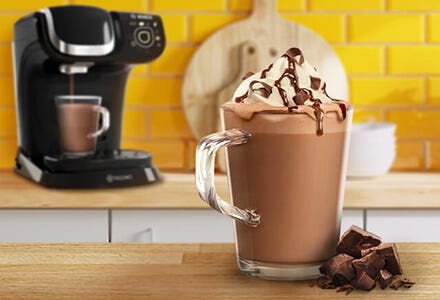 Easily create a Chocolate Mocha at home with TASSIMO. Perfect for whenever the wind's blowing hard off the sea.
Dreamy Creamy Toffee Cappuccino Recipe
Looking for the perfect flavour pair? Coffee and toffee are at the top of the list.