Hot chocolate, also referred to as hot cocoa, drinking chocolate or hot cocoa drink, is a warm, chocolatey drink. Usually this drink is a combination of milk and chocolate or cocoa. A winter favourite, perfect for those cold days. Hot chocolate is oftentimes topped off with whipped cream or marshmallows. Rich and creamy chocolate flavours make hot chocolate beloved all over the world.
How to make hot chocolate with TASSIMO?
The easiest way to make quality hot chocolate is with your TASSIMO machine. TASSIMO makes delicious hot chocolate at the touch of a button. To make a hot chocolate drink, you only need your TASSIMO machine and a hot chocolate pod (T DISC). These pods are somewhat bigger than the regular T DISCs, but will fit perfectly into your machine. Instructions can be found on the package of your T DISCS. Pop in the hot chocolate T DISC, place your cup and press the button. Can you smell the indulgent hot chocolate drink? Your hot chocolate is ready before you know it. Most TASSIMO hot chocolate pods, such as Cadbury, Milka or Suchard, can be made easily with one hot chocolate pod. Exclusives, such as TASSIMO Oreo and TASSIMO Baileys Hot Chocolate need two pods: one for the milk and one for the chocolate. Insert the milk T DISC first, for an even creamier cocoa. Please follow the instructions on the packaging for a perfect hot chocolate.
How to make TASSIMO Oreo drink?
When you open the TASSIMO Oreo package, you'll find two boxes with pods. One containing milk pods and the other containing the Oreo pods. First insert the Milk T DISC Place your mug, and press the button. When the milk has finished flowing, replace the Milk T DISC for the Oreo T DISC. Press the button and Oreo will flow. Watch how the Oreo mixes with the milk. A delicious Oreo drink. Fast and easy.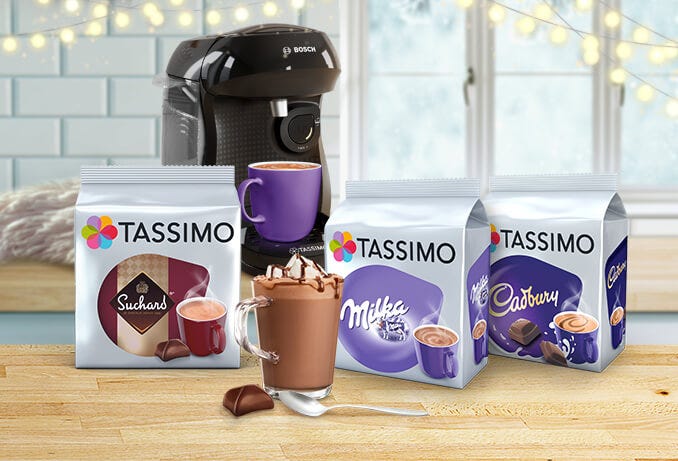 How to make TASSIMO Baileys Hot Chocolate?
The Baileys Hot Chocolate is also made with two different pods: one milk T DISC and one Baileys hot chocolate T DISC. For the best result, use the milk pod first, followed by the Baileys Hot Chocolate pod. In this way, the mixture enhances the flavour. Indulge in a warming Hot Chocolate with the flavour of Baileys.
TASSIMO Hot Chocolate Recipes
Hot Chocolate for TASSIMO: T DISCS & Pods
TASSIMO offers multiple hot chocolate pods, ranging from Cadbury Hot Chocolate pods to Baileys Hot Chocolate pods. All official TASSIMO chocolate T DISCs are compatible with your TASSIMO machine. The best TASSIMO hot chocolate? Decide for yourself and try them all. Our bestsellers include Oreo, Cadbury, Suchard & Baileys.