White Chocolate
Cappuccino
Your favourite TASSIMO cappuccino
It only takes a few extra minutes to make your daily cappuccino extra special: just add a luscious touch of chocolate. Do you have a soft spot for sweets? Try white chocolate and coffee, for a flavour adventure! This quick and simple recipe is even tastier with a chocolate chip cookie.
Ingredients
For 1 white chocolate cappuccino:
1 cup of your favourite TASSIMO cappuccino, for example our Costa Cappuccino
1 tablespoon of chopped white chocolate
Need a vegan-friendly version of this sweet cappuccino? Pop in an espresso pod, like TASSIMO's L'OR Forza

, then use vegan white chocolate and your preferred dairy substitute.
Preparation
Finely chop a tablespoon of your favourite white chocolate (bar or chips). Grab your favourite cup and pop the chopped chocolate into the bottom.
Brew up the cappuccino of your choice in the same cup using the coffee T DISC. We suggest you try our Costa espresso cappuccino, you'll love the flavour combination!
Stir it all up until the chocolate is fully melted.
Now, to top your cappuccino, pop in a milk T DISC.
Garnish your white chocolate coffee with cocoa powder or shaved white chocolate cappuccino.
Finally, just sit and sip your delicious white chocolate
Feeling inspired?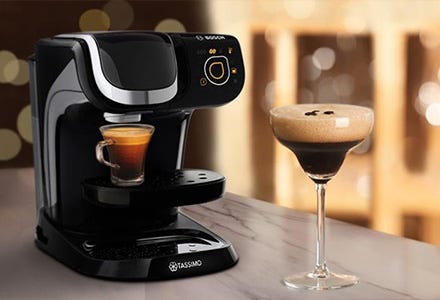 Alcohol-free Espresso Martini
Have you noticed that coffee-based cocktails are getting even more popular? Impress your guests with this Virgin Espresso Martini.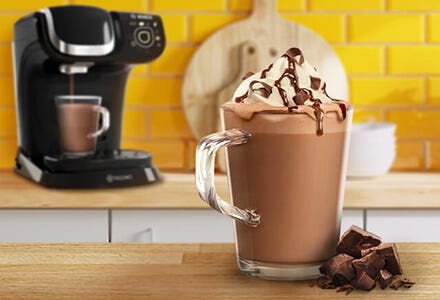 Easily create a Chocolate Mocha at home with TASSIMO. Perfect for whenever the wind's blowing hard off the sea.
Dreamy Creamy Toffee Cappuccino Recipe
Looking for the perfect flavour pair? Coffee and toffee are at the top of the list.