Just two ingredients go into making a cappuccino: milk and espresso. Great cappuccino is made with high-quality espresso topped with silky foamed milk. How do you like your cappuccino? Sweet, smooth, balanced, or intense? You're sure to find your preferred cappuccino pods at TASSIMO.
How do you make TASSIMO cappuccino?
It's simple and easy to make your own TASSIMO cappuccino. Just choose your favourite TASSIMO cappuccino product. You'll see that there are two types of TASSIMO pods in the package: a milk T DISC and an espresso T DISC.
Once your favourite cappuccino cup is ready, insert the milk pod in your TASSIMO coffee pod machine

Close the machine's pod compartment and press the button on your TASSIMO machine to fill your cup with a dense milk foam

Now, take out the milk pod and insert your espresso pod. Espresso will then flow into your cup

Sit back and savour your first sip of TASSIMO cappuccino
What types of cappuccino pods are available from TASSIMO?
How do I make a TASSIMO Costa cappuccino?
Create a genuine Costa cappuccino in the convenience of your own home. Then sit back and sip this perfectly crafted blend, effortlessly combined with silky milk foam. You'll find 16 T DISCS in the TASSIMO Costa Cappuccino package, enough to create 8 drinks. There are two boxes: one with espresso pods, the other with milk pods. First, put a milk T DISC in your TASSIMO machine, once the milk is in the cup, replace the milk T DISC with the espresso pod. In no time you'll be enjoying your Costa cappuccino created with TASSIMO.
Prepare all of the TASSIMO cappuccino varieties the same way. From Costa to L'OR, from Kenco to Jacobs: milk pod first, coffee pod second—enjoyment at the touch of a button.
Want to try something besides your usual cappuccino? If you like cappuccino, you'll love trying out our other espresso-based milk coffee's. Try Gevalia Café au Lait, TASSIMO Latte pods or enjoy a taste of Kenco Flat White.
---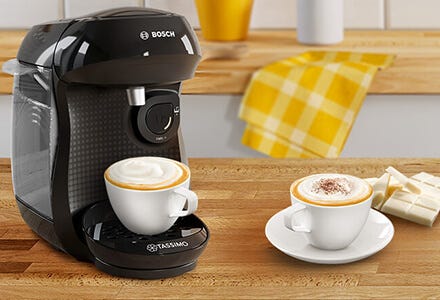 White Chocolate Cappuccino Recipe
It only takes a few extra minutes to make your daily cappuccino extra special: just add a luscious touch of white chocolate.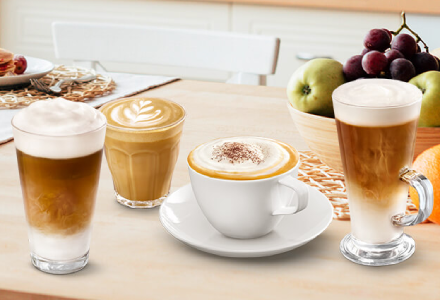 Discover All Milky Coffees
We are here to help you discover the differences between the milky coffees: latte, latte macchiato, cappuccino and flat white.
Dreamy Creamy Toffee Cappuccino Recipe
Looking for the perfect flavour pair? Coffee and toffee are at the top of the list.