THE BEST COFFEES TO GET YOUR DAY STARTED
Can't get started without a coffee? No? We neither. Coffee is the best way to wake you up, start your day or get ready for work. The rich taste, great smell and the boosting effects make coffee the perfect drink during your morning routine. Don't know which coffee to start you day with? We'll help you choose your coffee for in the morning!
Why does coffee make you feel awake?
Coffee contains a higher level of caffeine than other food or drinks. The amount of caffeine in your coffee is influenced by:
Cup size. A larger coffee drink will contain more caffeine.
Coffee type. Ristretto and espresso have the highest caffeine to water ratio.
Coffee roast. Dark roast coffee contains less caffeine, although it tastes stronger. More caffeine has been burned away, as the beans have been roaster longer.
Brewing method. The longer the brewing time, the more caffeine your coffee is likely to contain. Contact with water will extract caffeine.
Which coffee should you drink in the morning?
The best advice is to drink your favourite coffee. What's better than waking up with a cup of coffee you like the most? If you don't have a lot of time in the morning, you should choose a coffee that is ready fast. With TASSIMO you can create all types of coffee really fast. Whether you prefer a latte macchiato, cappuccino, lungo or espresso, you can make them all with only a push of the button!
You can even enjoy coffees from your favourite coffee shop or brand without leaving your house. It doesn't get easier to make your morning coffee. Not sure which coffee to start your day with?
We've listed our favourites!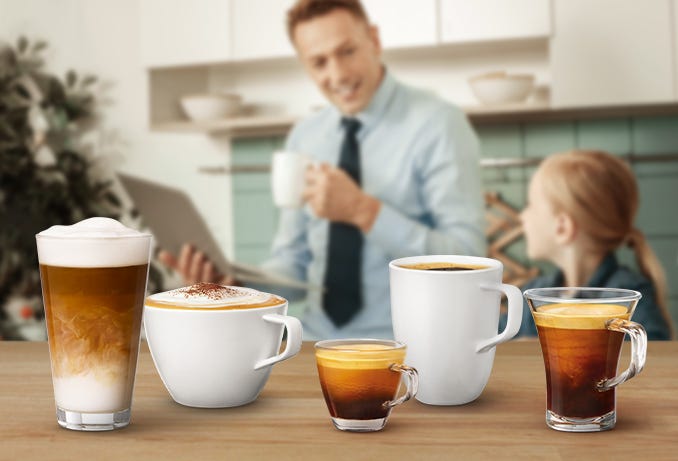 Top 5 TASSIMO coffees to start your day
Can't choose which coffee you would like to enjoy in the morning? Your day will definitely start off right with the following coffees. Our morning coffee top 5:
A large cup of black coffee. Strong and fierce, exactly how we want it. Early mornings were the inspiration for this blend. The perfect AM-pick-me-up.
You don't have to leave your house to get your Americano. Enjoy Costa Americano with TASSIMO. The perfectly roasted beans in this blend will give you the energy you need.
A high-quality coffee without caffeine, but with the perfect crema layer. This decaf coffee does not compromise on taste. Start your day without caffeine with this balanced blend.
Enjoy a great start of your day with Jacobs Café au Lait. A delightful combination of coffee and milk. Milk-lovers, this is your coffee!
Rather get yourself going with a cappuccino? Try our Kenco Cappuccino TASSIMO pods! Well-balanced and smooth, finished with frothy milk foam.

Looking for something stronger? Try one of our espresso pods or find your own favourite coffee within our broad range of T DISCs. Enjoy your day!