Black coffee, what is it?
Black coffee is a no-frills cup of coffee. No milk foam, no cream, just hot water and coffee. However you prepare your brew: fresh ground coffee beans, filter coffee, instant or coffee pod – it's all 'black coffee' until you add something to it. Why do people like it so much? It's easy, it offers pure coffee flavour and it's just the right size. An ordinary black coffee normally fills a large cup you can take your time to enjoy. There are so many kinds of coffee at TASSIMO, you're sure to find a favourite!
How many different kinds of black coffee are there?
Every culture around the world brews and drinks coffee differently. In each country, different coffee beans are preferred, and coffee is roasted and brewed in unique ways. Diverse cultures have a variety of flavour preferences; after all, everyone has their own personal taste! Some truly enjoy strong, bitter coffee, while others prefer smoother, sweeter notes. TASSIMO has more than 25 kinds of black coffee so each cup can offer a different strength, flavour, size and appearance. We can categorise these into five types of black coffee:
Espresso: This black coffee is the strongest and shortest. It offers the most intense coffee flavour and features a thick crema layer.

Black Coffee: This is the 'classic' black coffee that everyone's familiar with. Tastes just like filter coffee or drip coffee.

Caffè Crema: A black coffee that's longer than an espresso but still features a velvety layer of crema. You'll find that if you order a 'coffee' in many countries, you'll be served a caffè crema.

Americano: This is a long coffee made by adding hot water to espresso. It has a more intense espresso flavour (compared to a Black Coffee or a Lungo) and a thin crema layer on top.

Lungo: Caffè Lungo, also known as a long black or café largo is made like an espresso but with more water and a longer brewing time, so you end up with a larger cup of coffee.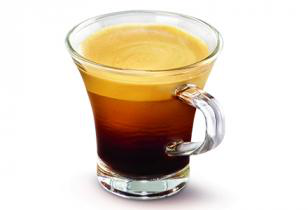 Which TASSIMO coffee pods are right for me?
You can choose from over 25 different TASSIMO black coffee pods, so there's sure to be one (or more) that's just right for you. Just check out your TASSIMO coffee pod options in our T DISCs guide where you'll find all of our bestsellers and a variety of sizes and flavours. Our black coffees come in four sizes: small, medium, large and extra-large.
Making great coffee with TASSIMO!
Great coffee has never been easier to prepare. All you have to do is switch on your TASSIMO coffee machine, pop in your favourite T DISC, set your cup on the tray and push the button. Now, enjoy watching the coffee flow into your mug or glass. It's ready in seconds! Sip and relax.