Romantic Ideas for Valentine Surprises
Searching for romantic Valentine's Day ideas? Try a few of these fun Valentine's gift and date ideas with the one you love. For many of us, lockdown is still part of our lives, but don't let that put a damper on your Valentine's! Most of these romantic ideas are things you can do at home. Celebrate in whatever way makes the two of you happiest and you're sure to have an unforgettable Valentine's Day. TASSIMO is also here to help with the perfect Valentine's Day gift!
Of course, February 14th is the ideal moment to sip a delicious coffee with your Valentine. Why is coffee the perfect drink for lovers? It's a natural aphrodisiac! So, get comfortable with your favourite brew and read TASSIMO's best hints on how to please your coffee lover along with great valentines drink suggestions.
Are you in love with a coffee lover? Then we've got the perfect valentine tips and coffee-inspired ideas to help you express your feelings and surprise the one you love!
1. Special homemade Valentine's Day breakfast
What sweeter way to start the day than with your lover's favourite breakfast! You're sure to know what he or she likes best; be it pancakes, eggs and bacon, a fruit smoothie, juice or champagne — be sure to remember the best part: special valentine's coffee! Coffee lovers always want to start the morning with an aromatic cup of their favourite pick-me-up. Want to add a romantic valentine coffee gift? Serve it in a special cup or mug!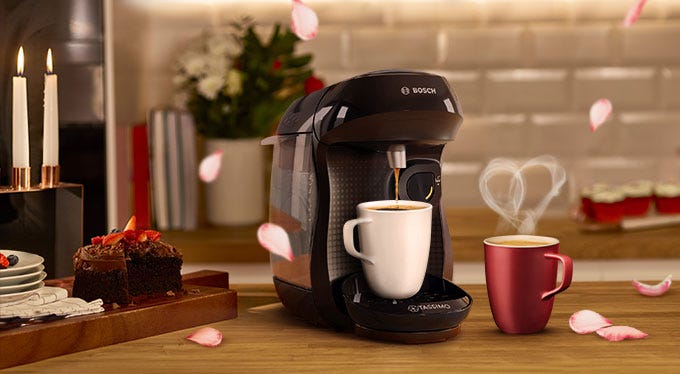 2. Love note and fresh coffee
No time to linger over breakfast together? Leave a cup of his or her favourite coffee with a love note! If your special someone prefers tea, you can also surprise him or her with a lovely valentine's tea. Is your sweetheart already at work? Try stopping by with fresh coffee and a little note. You're sure to make your loved one's day special. Try expressing your sentiments in a sweet or funny way:
You're the cream in my coffee
I can never espresso how much you mean to me
I love you a latte
3. Make a gift of the coffee pods they like best
You can never have too much coffee! So why not stock up on your coffee lover's favourite coffee pods now? Showing that you know his or her preferred coffee is proof of true love. Does your lover like trying something new? A TASSIMO Variety Box offers adventure and surprises and it's the perfect coffee valentine's day gift. Still not sure? Check out our helpful T DISC guide.
4. Take a romantic walk and pick up a coffee
Relax on Valentine's Day by taking a romantic walk. Ask around about good places to walk or hike where you live, or try looking online to find more interesting options. After you've stretched your legs, pick up a take-away coffee at your favourite coffee shop to warm up!
5. Mix it up with coffee-based cocktails
Coffee-based cocktails make Valentine's Day special! Spend quality time together learning to make one of these delicious coffee cocktails: Chocolate Coffee Martini, White Russian, or Espresso Martini.
6. Bake coffee-inspired sweets for your sweetie
Does your sweetheart have a sweet tooth? TASSIMO has lots of easy coffee for valentine's day recipes to spoil your lover. If the way to your loved one's heart is through his or her stomach, a coffee-based dessert is sure to impress! Whip up an Affogato, it's quick to prepare but simply sumptuous. If you have more time try a Valentine's coffee cake or one of our other delicious coffee-based recipes !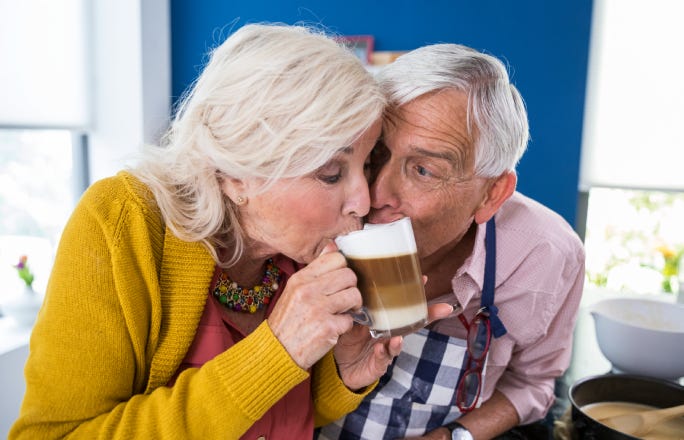 7. Coffee Tasting for Two
Try exploring new flavours à deux with a private coffee tasting in the comfort of your own home. Have fun refining your palate while sipping new blends with your special coffee lover. TASSIMO offers a broad variety of valentine coffee flavours to create your favourite valentine's day drinks. Is your sweetheart a tea-lover? Cuddle up on the sofa and go for a lovely valentine tea tasting instead.
8. Coffee & chocolate for dinner
Do you and your special someone enjoy spending time together in the kitchen? Cooking together is even more fun when it's an aphrodisiac inspired dinner! Chocolate and coffee are both known to keep the flame of love burning strong. There are so many exotic options to choose from: mole sauce, coffee rubs and marinades for meats, as well as luscious desserts like Tiramisu.
9. Take a romantic virtual holiday to Italy
Wouldn't a romantic Italian holiday be the perfect way to spend Valentine's Day? You may have to stay home, but you and the love of your life can take a virtual vacation with an Italian-themed date night. Imagine you're in Rome by sipping a fine Italian wine, enjoy a delicious pasta by candlelight and Italian gelato for dessert. Remember to end your meal with something Italy is famous for: a delicious Italian coffee!
10. Get coffee-art tips (online)
Learning together strengthens your bond. Try asking the local barista from your favourite coffee shop for private (online) coffee-art lessons for you and your sweetheart!
Need some other ideas for Valentine's Day fun? Let us inspire you!
Have a romantic dinner delivered by your favourite local restaurant

Catch a live concert online

Enjoy an at-home beer or wine tasting

Get playful with a game night

Kick back and enjoy a comedy show online

Create a painting together to remember the day

Trade massages

Try online dance lessons

Enjoy a Trivia Night at home

Take a romantic bike ride

Do an online yoga class together

Have fun competing with a cook-off

Find some excitement with a virtual escape room

Karaoke night at home with love songs

Hold hands and take a scenic walk to discover your town
Gift Ideas for Valentine's Day
Need fresh ideas for Valentine Gifts for coffee lovers? TASSIMO has you covered! Here are a few fun Valentine's Day gift inspirations for that special someone.
1. Personalised Valentine's Day Gift Sets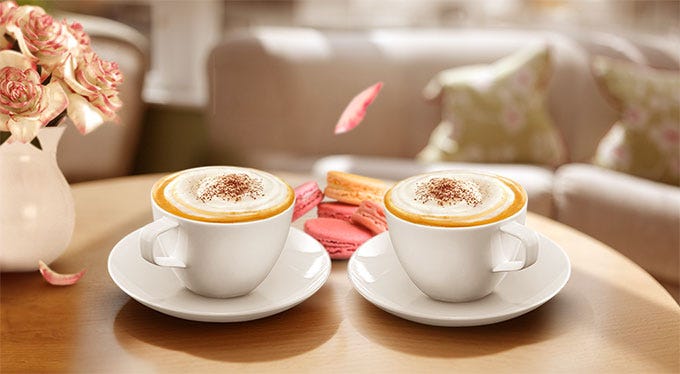 2. Online barista and brewing courses
Let your partner take their coffee obsession to the max! Wouldn't online barista and brewing classes be the perfect Valentine's Day gift? Once your sweetheart has learned the art of the perfect cup, along with the different brewing methods and techniques, you'll get to enjoy the results too: professionally prepared coffee!