PLEASE YOUR COFFEE LOVER WITH 5 VALENTINE'S IDEAS
Show your love with coffee on Valentine's day. Did you know why coffee is the perfect drink for lovers? It's a delicious aphrodisiac! So, February 14th is a great day to share an inviting cup with the love of your life. Want to surprise your favourite coffee lover? TASSIMO is here to help.
1. Start with a SPECIAL breakfast
Start the day in a loving way by preparing your lover's favourite morning treats. What does he or she like best? Is it eggs or pancakes? Smoothie or champagne? Don't forget the best part: coffee! A coffee lover's day is never complete without a good cup of coffee. Brew up what your special someone loves to drink in the morning and bring it in a distinctive mug. What a romantic gift!
2. Coffee with a love note
Don't have time for breakfast together? Leave a love note with their favourite coffee! Have a chance to stop by their workplace? Bring a quick coffee with a little note. A great way to make your loved one's day. Make it short but sweet (or funny). Here's a few amusing ideas:
I love you a whole latte
You're the cream in my coffee
I can never espresso how important you are to me
3. Make a gift of their favourite coffee pods
Can you ever have too much of a good thing? Certainly not if you're talking about coffee! Your coffee lover is sure to be pleased with this special gift. Knowing his or her coffee preferences shows that you really care. Does your lover have a taste for adventure? Try something new with the TASSIMO Variety Box or take a look at our helpful T DISC guide.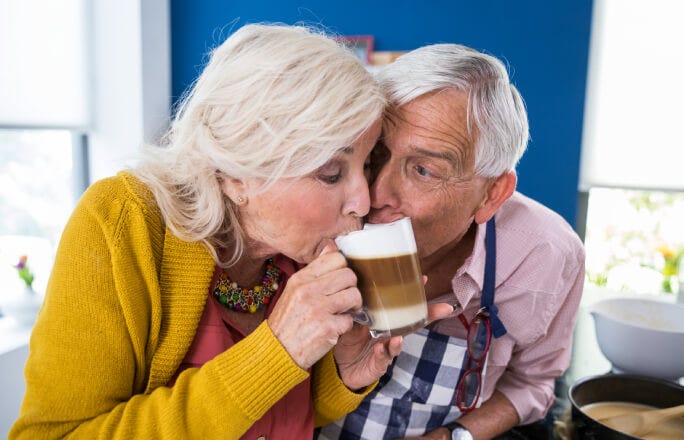 Does your special someone have everything they need to brew the perfect coffee? Treat them with a personalized gift set that makes it all possible! There are so many options: a convenient 'to-go' cup, elegant espresso glasses, or a TASSIMO pod holder. Want to make a big impression? A TASSIMO machine would be a great gift. Or mix and match coffee products for a personal gift set.
5. Sweets for your sweetheart, recipes to surprise your special coffee lover
Try our easy coffee recipes to surprise your sweetheart and he or she is sure to feel extra loved. They say that the way to the heart is through the stomach. For those with a sweet tooth, a coffee-based dessert should do the trick! Try baking a coffee cake or making a quick and easy (but delicious) Affogato. Have a go at our delicious coffee-based recipes or create your own!