This Easter try an eggspresso
TASSIMO L'OR Espresso Fortissimo
This coffee recipe is sure to become one of your favourites. Why? It features two amazingly delicious ingredients: chocolate and coffee! Coffee and cocoa beans have a lot in common. For both of them, aroma is key. Certainly, we all know that coffee and chocolate go great together and they still manage to maintain their unique qualities. During the Easter holidays you'll probably already have the ingredients you need at home, just combine them to create this luxurious Easter treat. Serve it as a dessert or just enjoy it when you take a moment for yourself.
Simply put, an eggspresso is a shot of espresso served in a hollow chocolate Easter egg. The coffee will melt the chocolate, creating a delicious drink. Make your own eggspresso with this recipe!
Ingredients
For 1 eggspresso
1 shot of espresso, we suggest TASSIMO L'OR Espresso Fortissimo
1 hollow chocolate Easter egg of a size that fits inside your cup
Extra: whipped cream topping
Use one large chocolate Easter egg or several small chocolate Easter eggs. Depending on the size of your cup, you can use as many small dark or milk chocolate eggs as you'd like.
Love the taste of coffee and chocolate together but haven't got any chocolate Easter eggs at home or maybe you don't have time? Try one of our chocolate coffees, like: Jacobs Cappuccino Choco.
Preparation
Cut the top off of a hollow chocolate Easter egg
Place the chocolate egg in a coffee or espresso cup. Try using a glass cup. If you use a TASSIMO espresso glass you'll be able to watch the creamy chocolate as it melts!
Insert your preferred TASSIMO espresso T DISC in your TASSIMO coffee machine
See if you can pour your shot of espresso directly into the chocolate egg
Extra: top with luscious whipped cream
The espresso will start to melt the chocolate egg as you drink it, creating a delicious taste combination. Try stirring your coffee to fully enjoy the blended flavours!
Feeling inspired?
Dreamy Creamy Toffee Cappuccino Recipe
Looking for the perfect flavour pair? Coffee and toffee are at the top of the list.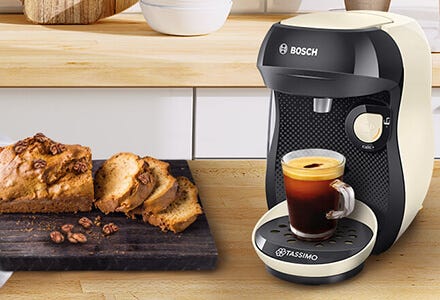 With its rich, full coffee flavor, this coffee cake is a great choice for a morning treat.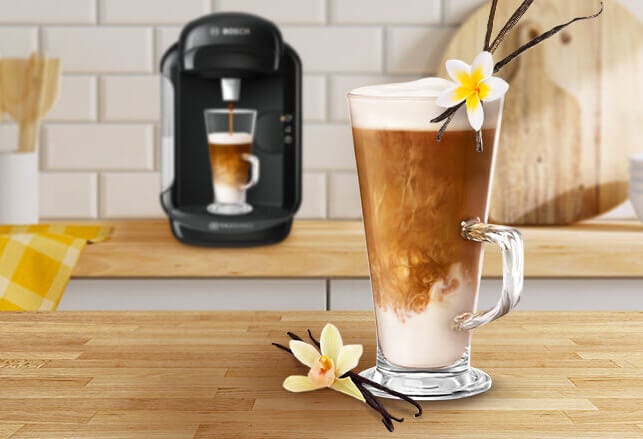 French Vanilla Latte Recipe
A luxurious pairing that blends the rich aromas of vanilla and coffee with thick, delicious whipped cream.