WHY YOU NEED A TASSIMO COFFEE SUBSCRIPTION: 5 GREAT REASONS
A SIMPLE, ECONOMICAL WAY TO DISCOVER NEW FLAVOURS
Do you enjoy a cup of coffee (or two) on a daily basis? Have you ever thought about signing up for a coffee subscription? TASSIMO coffee subscriptions make your life so much easier, and more fun! It's important to take the time to enjoy life's simple pleasures. Our simple, flexible coffee subscription plans mean that you'll always have enough coffee and that you can save both time and money while discovering new flavours.
TASSIMO offers two great types of coffee subscriptions: our Coffee Machine Subscriptions and our Coffee Pod Subscriptions. The coffee machine subscription allows you to become the proud owner of a new TASSIMO machine for just €1 and you get automatic coffee pod delivery. Do you already own a TASSIMO coffee machine? Then be sure to take a look at our great coffee pod subscription options.
You'll see the benefits of a coffee subscription plan as soon as the first package is delivered. Following are 5 reasons why a coffee subscription is absolutely worth it!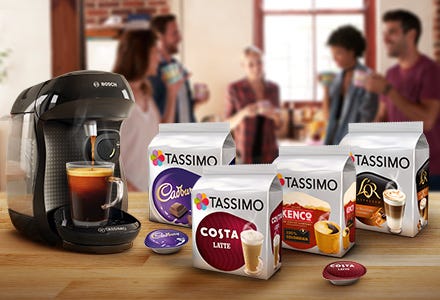 With our subscriptions you can check coffee off your weekly shopping list because your favourite coffee pods will now be delivered right to your doorstep. Save time by not having to go to the store and get your coffee delivered every 1, 2, 3 or 4 months with our coffee delivery.
2. Take advantage of great discounts & save money
If you want to save on coffee, TASSIMO's Coffee Subscriptions are a great idea. We offer two different types of coffee subscriptions. With our Coffee Machine Subscription you get a brand new TASSIMO coffee machine for just €1. Have you already got a TASSIMO coffee machine? Sign up for our flexible Coffee Pod Subscriptions and your favourite drinks will be delivered right to your doorstep.
TASSIMO stocks a broad selection of drinks. Our flexible coffee subscriptions give you the opportunity to try different types of coffee, tea and other hot drinks. TASSIMO offers no fewer than 50 different drinks from 14 famous brands. Before each delivery, you can log on to your account where you can change your selection and manage your coffee plan on the Account Details page. What a great chance to have fun and try something new!
With TASSIMO coffee subscription plans, it's easy to reschedule deliveries and change the kind of coffee you receive. You're also free to cancel at any time. Do you still have plenty of coffee? That's fine, just skip the next delivery. Choose the plan that's most in line with your coffee drinking habits. There are not usually any contractual obligations or cancellation fees for our coffee-only subscriptions; however, some plans have a set membership term. Our coffee machine subscriptions have a contract which is valid for at least 12 months, after which the contract automatically expires.
TASSIMO coffee subscriptions and machine subscriptions are perfect gifts for the coffee lovers in your life. Know someone who really enjoys coffee? What better gift than a coffee subscription. The recipient can easily go online and customise it to suit their own needs and also to schedule convenient deliveries.
Interested in more gift ideas? Take a look at our most popular coffee gifts.