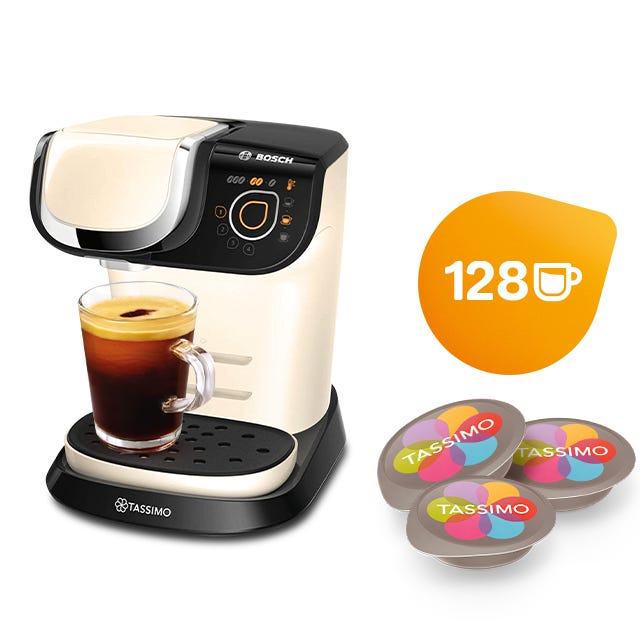 Save even more during this Christmas event! Customise Your Drink Experience with savings of 52% on this amazing bundle!

Indulge in our largest personalised selection of 12 flavours with the Tassimo My Way and Drinks Variety Bundle 2. Enjoy the boldness of Costa Americano, the smoothness of Costa Latte, and the indulgent Costa Caramel Latte. Treat yourself to the delightful Baileys Latte Macchiato, the richness of Kenco Mocha, and the captivating Coffee Shop Chai Latte. Personalise you coffee shop at home route with the ease and simplicity with the Tassimo My Way. There's finally a machine that caters specifically to you! TASSIMO My Way allows you to personalise all your drinks. An extra strong espresso? A large cappuccino? Or a hot chocolate you can drink immediately? You can adjust strength, size and temperature to create your perfect coffee, tea or hot cocoa.

Customize your drink adventure with Tassimo My Way and Drinks Variety Bundle 2. Add it to your basket and elevate your taste experience today.

Please note that due to higher demand during this Black Friday period, you may experience a delay in receiving your order. We will always endeavour to have your order with you within 3-5 days, however during this period you may see longer delivery times. Once your order is placed you will receive a tracking link to follow your order. If your order has not been delivered within 5 days of receiving your tracking link please contact us so we can assist you further.

Coffee packs included in this bundle may differ from the ones depicted in the image due to stock availability.
What's in this bundle?
My Way 2 Cream - Coffee Machine

Costa Americano

16 Servings

Costa Latte

8 Servings

Costa Caramel Latte

8 Servings

Baileys Latte Macchiato

8 Servings

Kenco Mocha

8 Servings

Chai Latte

8 Servings

L'OR XL Classique

16 Servings

Kenco Flat White

8 Servings

Jacobs Cappuccino Classico

8 Servings

Jacobs Latte Macchiato Caramel

8 Servings

Jacobs Caffé Crema Intenso

16 Servings

L'OR Espresso Splendente

16 Servings