DISCOVER OUR NEW COFFEE SHOP SELECTIONS!
Become a true home barista with our Coffee Shop Selections.
White Chocolate Coconut Latte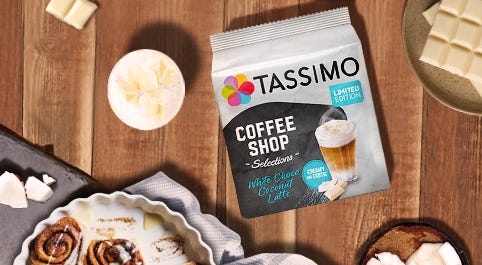 Take a break with our tasty White Chocolate Coconut Latte coffee pods. Enjoy a sweet, creamy and exotic coffee experience with a dash of coconut flavor. This latte is fast and easy to make and brings the taste of the tropics to your home. The subtle coconut flavor blends beautifully into the white chocolate notes of rich espresso.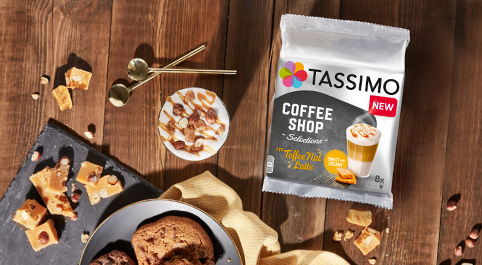 Discover our Toffee Nut Latte with its exciting combination of espresso, creamy caramel nut flavour, and soft milk foam. You no longer need to make your way to your local coffee shop to experience this sweet and creamy treat. The full-bodied taste of TASSIMO Coffee Shop Selections Toffee Nut Latte is perfect for a cosy afternoon at home.
Chai Latte is a seductive tea specialty with the taste of Indian spices, crowned with milk foam. This creamy tea transforms your daily time-out into a relaxing and exotic pleasure.
HOT CHOCOLATE SALTED CARAMEL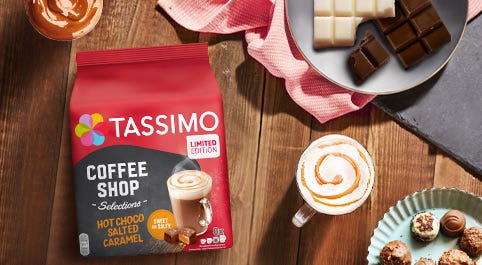 Be seduced by the combination of creamy chocolate and salted caramel. TASSIMO Coffee Shop Selections Hot Chocolate Salted Caramel is all you ever dreamed of: a chocolatey drink with salted caramel flavour, and a velvet milk foam layer.
This product will be back in autumn 2021!