White Chocolate
Cappuccino
Your favourite TASSIMO capuccino, for example our Costa Cappuccino
Take five minutes out of your day to spruce up your daily cup of cappuccino. For example with a dash of chocolatey goodness. Adding white chocolate in coffee is a perfect combination for those who have a sweet tooth.
Ingredients
For 1 white chocolate cappuccino:
1 cup of your favourite TASSIMO cappuccino, for example our Costa Cappuccino
1 tablespoon of chopped white chocolate

Looking for a vegan-proof version of this sweet coffee? Use an espresso pod such as the L'OR Espresso Delizioso, vegan white chocolate and a milk substitute of your choice.
Preparation
Grab your favourite white chocolate bar and finely chop about a tablespoon of it. Place your chopped chocolate in your favourite.
Use the coffee T DISC to brew favourite cappuccino in the same cup. We recommend our Costa espresso based cappuccino for optimal flavour.
Stir the mixture until the chocolate is completely melted.
Use the milk T DISC to top off your cappuccino.
Finish your chocolate coffee with white chocolate shavings or cacao powder.
Enjoy your white chocolate cappuccino!
Feeling inspired?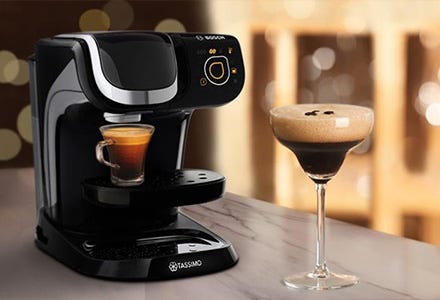 Non-alcoholic Espresso Martini recipe
Coffee cocktails are gaining popularity. No wonder: they're tasteful, energizing and an impressive appearance. Create this Virgin Espresso Martini and impress your guests.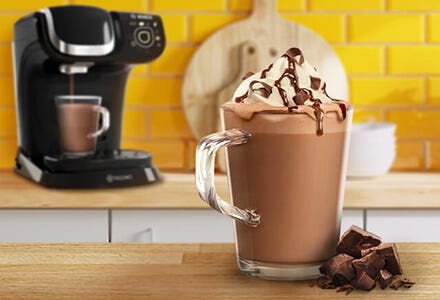 Chocolate and espresso: a match made in heaven. Who doesn't like the combination of coffee with chocolate?
Creamy Toffee Cappuccino recipe
Toffee and coffee are a match made in flavour heaven.