Cappuccino consists of two ingredients: espresso and milk. A good cappuccino has quality espresso as a base topped with velvety milk foam. Would you like a smooth, well-balanced, sweet or intense cappuccino? Find your favourite cappuccino pods at TASSIMO.
How to make cappuccino with TASSIMO?
Creating your own TASSIMO cappuccino is easy. You only need your favourite pack of TASSIMO cappuccino which contains two TASSIMO pods: a milk T DISC and an espresso T DISC.
First, find the right coffee cup for your cappuccino Take your cappuccino milk pod and insert it into your TASSIMO coffee pod machine

Close the head of the machine and at the touch of a button your TASSIMO machine will create a thick milk foam for your cappuccino

Then replace your milk pod with your espresso pod. Espresso will flow into your cup

Enjoy your TASSIMO cappuccino
Which TASSIMO cappuccino pods are available?
How to make TASSIMO Costa cappuccino?
This specially crafted blend, mixes perfectly with velvety frothy milk foam to create an authentic Costa cappuccino at home. The TASSIMO Costa Cappuccino pack holds 16 T DISCS to create 8 drinks. Take out both boxes: one holds the espresso pods, the other box includes the milk pods. First, insert the milk T DISC into your TASSIMO machine, once the milk pour is complete, replace milk T DISC with espresso pod. Take a moment and enjoy your self-made Costa cappuccino with TASSIMO.
You can enjoy all TASSIMO cappuccino varieties from Costa to Kenco, from L`OR to Jacobs preparing exactly the same way: milk pod first, coffee pod second at the touch of a button.
Would you like something else than your usual cappuccino? If you like cappuccino, you can also try one of our other espresso based milk coffee's. Try Kenco Flat White, Gevalia Café au Lait or have a look at TASSIMO Latte pods.
---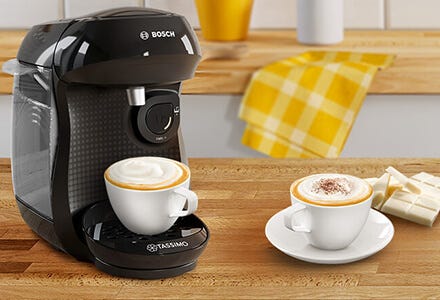 WHITE CHOCOLATE CAPPUCCINO
It only takes a few extra minutes to make your daily cappuccino extra special: just add a luscious touch of white chocolate.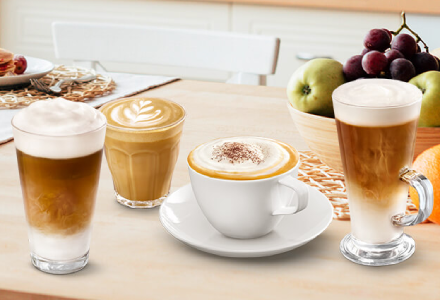 DISCOVER ALL MILKY COFFEES
We are here to help you discover the differences between the milky coffees: latte, latte macchiato, cappuccino and flat white.
CREAMY TOFFEE CAPPUCCINO RECIPE
Toffee and coffee are a match made in flavour heaven.