Deliciously Creamy Toffee
Cappuccino Recipe
Costa Cappuccino or Jacobs Cappuccino Classico
Toffee and coffee are a match made in flavour heaven. This sweet toffee coffee surprise is made with a scoop of dulce de leche. Which is literally caramelised condensed milk. This condensed milk makes this warm beverage extra creamy.
Ingredients
For 1 Toffee Cappuccino Recipe
1 serving of your favourite TASSIMO cappuccino, we recommend our Costa Cappuccino, but you can also opt for Jacobs Cappuccino Classico

1 tablespoon of dulce de leche
3 teaspoons cream
A dash of ground cinnamon to top off your coffee
Do you want to enjoy this tasty coffee in summer? Replace the dulce de leche with a scoop of caramel ice cream.
Preparation
Make a cup of cappuccino, use the coffee T DISC first. Leave the milk T DISC for later.
Scoop one tablespoon of dulce de leche in the coffee. Stir until dissolved.
Use the milk T DISC to top off your toffee coffee with a soft layer of frothed milk.
Sprinkle a dash of ground cinnamon on top of your coffee.
Enjoy your toffee cappuccino!
Feeling inspired?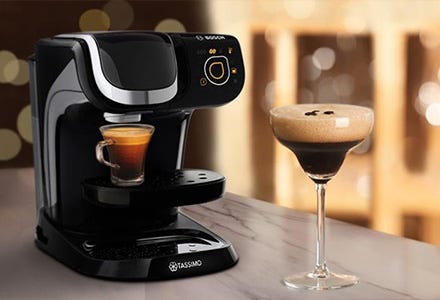 Non-alcoholic Espresso Martini recipe
Coffee cocktails are gaining popularity. No wonder: they're tasteful, energizing and an impressive appearance. Create this Virgin Espresso Martini and impress your guests.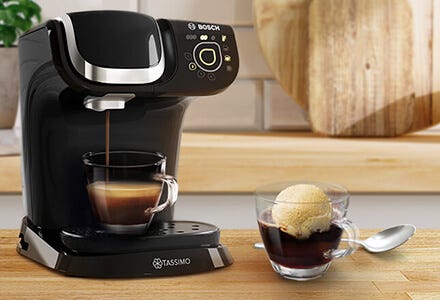 An affogato is a perfect dessert. Perfect, because it will only take you 5 minutes to prepare and your guests will enjoy every bit of it.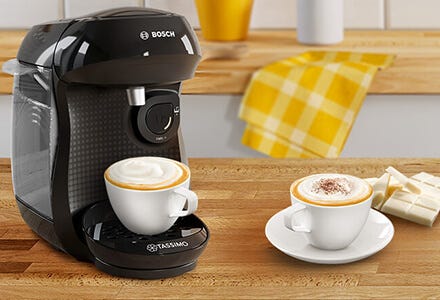 White Chocolate Cappuccino
It only takes a few extra minutes to make your daily cappuccino extra special: just add a luscious touch of chocolate.