A cup of black coffee is a regular cup of coffee, without any additions. Just coffee and hot water. Whether you use coffee beans, filter coffee, instant coffee or coffee pods to brew your cup of coffee, it can all be referred to as 'black coffee'. What do people love about it? The simplicity, pureness and the size. A plain black coffee will usually result in a large cup for you to enjoy. TASSIMO offers a broad range of coffees, so we are sure there is one you will like!
Why are there so many different black coffees?
All around the world, coffee is drunk in different ways by various cultures. Coffee is also made differently across the world: other beans, and other brewing methods are used. Taste preference is varied across the world. Taste is personal. Some like their coffee strong and bitter, while others like it smooth or sweet. Every cup of coffee can differ in taste, strength, size and looks. At TASSIMO we have over 25 black coffee variations. These can be categorized into five types of black coffee:
Espresso: This is the shortest black coffee. It is the most intense in taste with a thick crema layer.

Black Coffee: This is the cup of coffee everyone knows. Tastes just like filter coffee or drip coffee.

Caffè Crema: A lovely black coffee with a velvety crema layer. In many countries, this is what you get when you order a coffee.

Americano: This is an espresso based long coffee with a crema layer on top. It is more intense than a Lungo and long black coffee.

Lungo: A lungo, café largo or long black is prepared like an espresso but with a longer brewing time, resulting in a larger cup of coffee.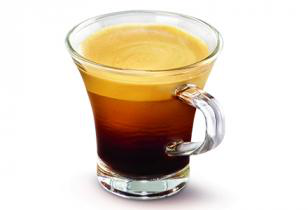 Which TASSIMO coffee pods should I buy?
With over 25 different TASSIMO black coffee pods, there is always one you will like. Discover the bestselling TASSIMO coffee pods in our T DISCs guide. The coffees differ in size and flavour. There are four sizes for our black coffee: small, medium, large and extra-large. Most coffees are medium sized and will fit in a regular cup or glass. You will recognize the extra-large coffees by the XL in the name. You will need a mug for those.
How to make coffee with TASSIMO?
Making coffee has never been easier. Simply turn on your TASSIMO coffee machine and insert the T DISC of your choice. Place a cup, press the button and watch the coffee flow into your mug or glass. Your coffee will be ready within seconds! Enjoy.