TASSIMO Coffee Pods & Machine Subscription
Enjoy your favourite coffees and drinks delivered to your door with TASSIMO Coffee Pod Subscriptions and Coffee Machine Subscriptions. Receive your customised coffee subscription tailored to your needs and get free delivery!
Already know which TASSIMO coffee subscription you want?
If you already have a TASSIMO machine
If you need a TASSIMO machine
WHY SUBSCRIBE TO TASSIMO?

Coffees and hot drinks variety
Explore over 50 TASSIMO drinks including coffee, hot chocolate and tea from 14 well-known brands.

Great value
Get your coffee to your doorstep, enjoy free delivery and access great deals.

Personalised plan
Choose the frequency of your order and adjust your drinks selection included in each order.
WHICH PLAN IS FOR ME?
Do you have a TASSIMO coffee machine?
Yes, I have a TASSIMO coffee machine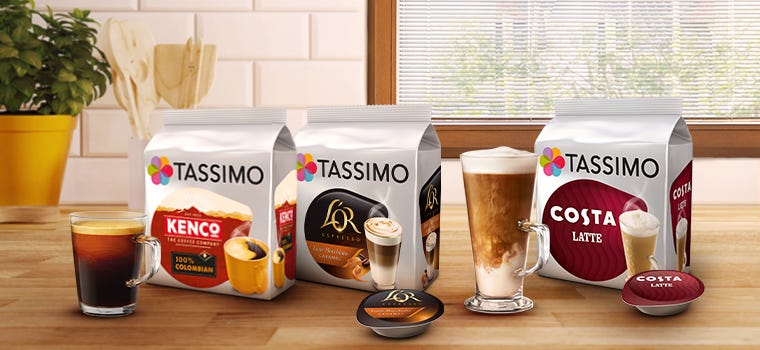 Coffee Pod Subscriptions
Personalize your plan
Based on your daily coffee consumption and your desired frequency of coffee delivery.
Access our large assortment
From coffee, hot choclate, to tea, we've got you covered with our wide range of TASSIMO coffee pods.
Enjoy flexibility
Modify your drinks selection, pause or cancel your TASSIMO coffee pods subscription whenever you want.
No, I need a TASSIMO coffee machine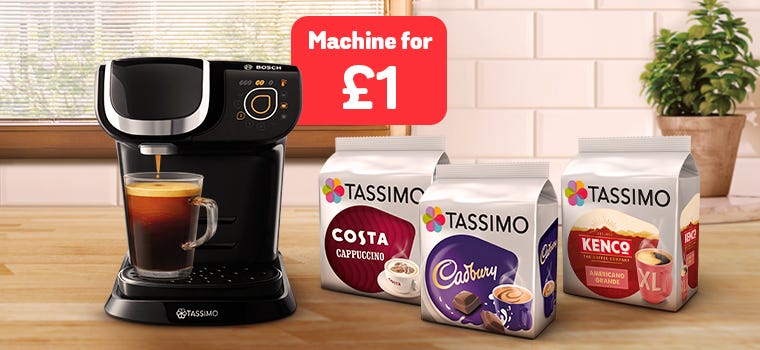 Coffee Machine Subscription
Become a TASSIMO machine owner
Receive either the TASSIMO Happy or My Way coffee machine for just £1 (one-time payment).
Choose a personalised plan
Based on how many cups of coffee your household drinks per day.
Access our large assortment
Choose your favourite drinks, from coffee, hot chocolate, to tea and change your selection per coffee delivery.