HAPPY MOTHER'S DAY
6 gift ideas for moms who love coffee
Mother's Day is the perfect opportunity to show your mom how much she means to you. Don't want to show up with a last-minute scribbled greeting card and pre-packed bonbons? Surprise her with something special she loves to drink daily. Let us inspire you with 6 perfect coffee related Mother's Day gifts.
1. Take her to a special coffee tasting
Are you and your mom adventurous types? Look for a coffee festival or local coffee bar that organizes tastings. Give her tickets and take her for an unforgettable coffee experience together. Discover new flavours, dive into surprising recipes and find new favourite coffee drinks you can share. End the tasting with a lunch and make it a day to remember.
2. Make her a personal Mother's Day coffee mug
Stop looking for Mother's Day coffee mugs online and make her one yourself that is truly one of a kind. You can write a lovely quote on it, a personal message or draw a heart or her favourite animal on the mug. Use ceramic markers for that styled effect or grab porcelain paints to make a true work of art. Fill the cup to the brim with gorgeous bonbons that complement her favourite coffee perfectly.
3. Surprise her with useful coffee accessories
A coffee lover can never have too much accessories to make the drinking experience even better. How about fun reusable stencils for cacao art on the cappuccino or latte? Or an organized T-disc holder for the kitchen counter? You can also make your mother happy with the perfect coffee glasses. Who doesn't love these gorgeous double walled glasses? Or surprise her with pretty latte macchiato glasses. Her latte will definitely taste better in a matching glass.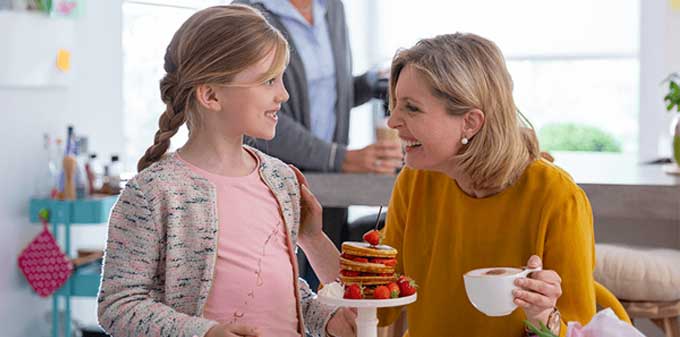 4. Prepare a luxurious breakfast featuring her favorite coffee
Nothing shows more love than preparing someone food and taking the time for each other. Let mom sleep in for a change and prepare a table full of tasty breakfast foods. You can gather your family members for some help preparing poached eggs, fresh fruits, toast and of course her favourite cup of coffee. Top off her drink with some cacao powder shaped like a heart and enjoy a slow morning together.
Is your mom always on the go? Think of a practical yet thoughtful gift for her. A travel mug that is sturdy and fits in her handbag could be just the thing she didn't even know she needed. Look for one that is stylish and preferably in her most favourite colour. We bet that she'll always think of you when she drinks from it.
6. Get her a new TASSIMO machine
Thought a new coffee machine would be too expensive? Think again! Especially for Mother's Day. The new colourful TASSIMO HAPPY machine is now on discount. HAPPY is the perfect machine for positive mums.


Wrap your gift nicely with colourful paper and some ribbon. A handwritten card is also a nice addition to your gift, as long as you take your time writing it. A pack of her favourite TASSIMO T-DISCs variant could also do the trick to make this Mother's Day an unforgettable one. Enjoy!