French Vanilla
Latte Recipe
Jacobs Latte Macchiato Vanilla
The French Vanilla Latte recipe is one of your favourites. It is a wonderful combination of rich whipped cream and coffee with a delicius vanilla aroma. It is so good, it will leave you craving for more! This recipe is so easy to make but still looks impressive. It is the perfect drink to serve at a gathering of freinds or WITH family. Enjoying it on couch BY yourself is of course also an option. TASSIMO can help you to create this easy and delicious recipe with this guide!
Ingredients
For 1 affogato
1 T DISC TASSIMO Jacobs Latte Macchiato Vanilla
3 teaspoons of brown sugar
3 teaspoons cream
A dollop of whipped cream
Some cinnamon
1 cinnamon stick to decorate (optional)
Preparation
Get cool glasses, like a glass cup with handle, also called a Mason Jar. This makes the French Vanilla Latte look cool and modern.
Make some whipped cream. Of course the homemade version is best, but the canned version will do as well.
Make a steaming cup of TASSIMO Jacobs Latte Macchiato Vanilla. Add the brown sugar and the cream and stir.
Top the coffee with the whipped cream. Sprinkle some cinnamon on it and add the cinnamon stick for the luxurious look.
Enjoy your French Vanilla Latte!
Feeling inspired?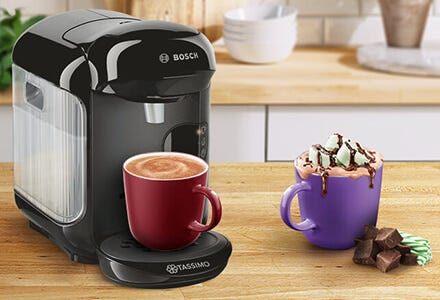 Peppermint Hot Chocolate recipe
Coffee cocktails are gaining popularity. No wonder: they're tasteful, energizing and an impressive appearance. Create this Virgin Espresso Martini and impress your guests.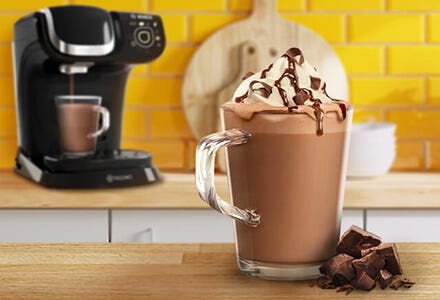 Chocolate and espresso: a match made in heaven. Who doesn't like the combination of coffee with chocolate?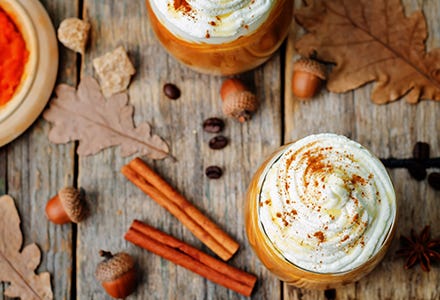 Easy Pumpkin Spice Latte recipe
Try this delicious recipe to sweeten the ever-shorter winter days. TASSIMO will show you the easiest pumpkin spice latte recipe available!