Compatible TASSIMO coffee pods
A frequently asked question is: 'Are Nespresso capsules or Dolce Gusto coffee pods compatible with TASSIMO coffee machines?'. Another question that is raised often is: 'Do Aldi, Tesco or Lidl pods work in a TASSIMO coffee machine?'. As of today, there are no other coffee pods or capsules compatible with your TASSIMO Bosch coffee machine. Only official TASSIMO T DISCs are compatible with your TASSIMO coffee machine. Including official T DISCs from Costa, Kenco, Suchard, L'OR and Jacobs.
Thanks to our smart TASSIMO Intellibrew™ technology, each T DISC is brewed to perfection. Our innovative TASSIMO T DISCs carry a unique barcode. This barcode is read by the TASSIMO machine, so the coffee machine makes sure that the brewing time, size and temperature for each drink is completely right.
These barcodes can only be used by the TASSIMO coffee machine, since they have unique and particular characteristics. They are a part of a capsule recognition system TASSIMO INTELLIBREW™, the patented technology.
Luckily for you, in the assortment of TASSIMO pods, you will find more than 80 varieties of T DISCs from over 15 different coffee brands. In addition to our best-selling, top quality coffee pods, TASSIMO also offers compatible hot chocolate capsules and compatible tea pods.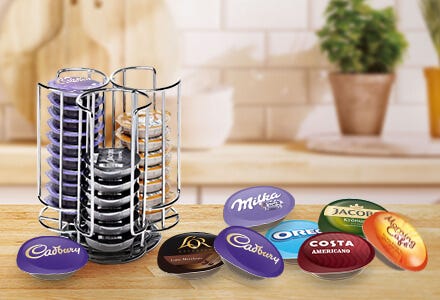 TASSIMO coffee pods are not compatible with Nespresso, Senseo or Dolce Gusto
As mentioned above, the coffee pods of Nespresso, Senseo or Dolce Gusto are not compatible with your TASSIMO Bosch coffee machine. Only official TASSIMO T DISCs are compatible with your TASSIMO coffee machine. That includes the brands below, who create delicious cups of coffee and other hot beverages.
Compatible Costa coffee capsules
In the category of most popular coffee pods you will find the Costa Americano coffee pods. These pods deliver a smooth coffee with a fine crema layer on top. Are you a fan of cappuccinos? In that case, Costa has got you covered. Enjoy the award winning* Costa Cappuccino capsules by simply inserting the TASSIMO T DISCs in your coffee machine. Discover all cappuccino coffee capsules.
Compatible L'OR coffee pods
L'OR coffee pods are also compatible with TASSIMO machines. Looking for an extra kick? We suggest the L'OR XL Intense pods. This Americano features a rich, aromatic, dark roast that creates an extra intense cup of coffee. Insert the TASSIMO T DISC pod and enjoy an extra-large cup. L'OR also offers compatible pods with a milder flavour, in case you aren't a big fan of a strong cup of coffee. Try the L'OR Latte Macchiato Caramel pods for a Caramel Latte that is a truly delicious treat!
The advantages of the TASSIMO system
Coffee subscriptions and machine subscriptions are great gifts for friends and family. If you know a person who really enjoys coffee, there is almost no better gift then a subscription. It's very easy for them to go online and tailor it to meet their own taste profile and to decide when they want their coffee delivered. Are you looking for more gift ideas? Check out our favourite coffee gifts.