10 minutes + 1 hour in fridge
1 L'OR Espresso Delizioso
Eggnog is a traditional dish that is often made at Christmas and served to your guests. We have created a vegan Eggnog recipe so that vegan guests can also enjoy this Eggnog. In addition, we have made our Eggnog non-alcoholic so that guests who do not drink alcohol can still enjoy a delicious virgin and vegan Eggnog! So, you know for sure that your guests can enjoy during Christmas.
Ingredients
For 1 Vegan Eggnog Recipe:
1 Espresso T DISC. We suggest the L'OR Espresso Delizioso
1 cup of raw cashews
1 Teaspoon vanilla extract
½ teaspoon of ground nutmeg
¼ cup sugar
¼ Teaspoon of cloves
½ Teaspoon cinnamon
3 cups almond milk
Ground cinnamon (optional)
Vegan whipped cream (optional)
Extra nutmeg (optional)
Supplies
1 Espresso pod
1 Bowl
1 Teaspoon
1 Blender
Vegan Eggnog preparation
We begin by bringing 3 cups of water to a boil.
When the water boils put it over the cashews and let it soak for about 5 minutes.
After 5 minutes, pour this off and discard the water.
Then add the vanilla, nutmeg, cinnamon, cloves, sugar and almond milk into the blender along with the cashews.
Blend this until smooth and add more sugar if you feel it is necessary.
Put it uncovered in the fridge and leave it to cool for at least 1 hour.
Put the Vegan Eggnog in glasses and fill the glass about three-quarters full.
Top with the vegan whipped cream, and garnish with freshly grated nutmeg and cinnamon.
Turn on the TASSIMO machine and insert the T DISC
Place the Espresso cup under the machine and start brewing Espresso
Replace the T DISC with a new one depending on the number of guests, for 6 guests you will need to prepare 6 Espressos.
Serve the Vegan Eggnog with the Espresso
This delicious virgin and vegan Eggnog will delight your guests at Christmas. The Espresso served next to it will complete the vegan Eggnog. Enjoy!
FEELING INSPIRED?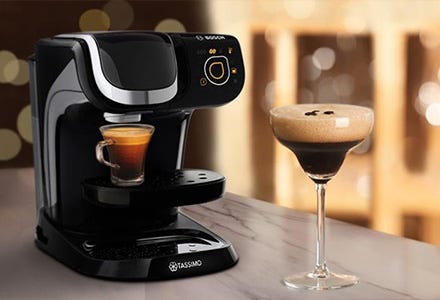 Non-alcoholic Espresso Martini
Coffee cocktails are gaining popularity. No wonder: they're tasteful, energizing and an impressive appearance. Create this Virgin Espresso Martini and impress your guests.
Creamy Toffee Cappuccino recipe
Toffee and coffee are a match made in flavour heaven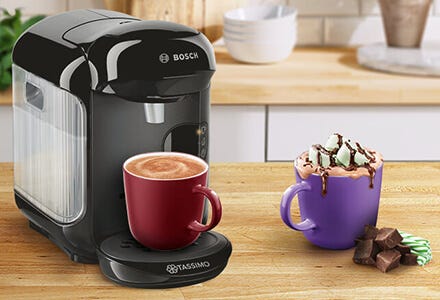 Peppermint Hot Chocolate recipe
This drink will give a festive touch to your day. Easy to prep. Beginning to feel like Christmas already?