1 Coffee pod such as Costa Americano
Do you feel like having coffee but want to give it an extra touch? Then coffee with cinnamon is a very good recipe to make it happen. During the cold winter days, cinnamon coffee is a popular recipe. This cinnamon coffee recipe is quick and easy to make but tastes delicious. You can also use this recipe to serve your guests a treat, for example at Christmas. Read the cinnamon coffee recipe below.
Ingredients
For 1 Homemade Cinnamon Coffee:
Supplies
Cinnamon Coffee preparation
Click on the button to switch on the TASSIMO Machine
Take out the mug you want to use for the Cinnamon Coffee
Put the cinnamon stick in the mug
Put the Costa Americano or the Kenco Pure Colombian T DISC in the machine
Place the mug with a cinnamon stick under the machine and start brewing coffee
Stir with the cinnamon stick while the coffee is brewing
As soon as the brewing is finished, your cinnamon coffee is ready
You can also add powdered cinnamon to the coffee if you like.
Cinnamon coffee is not only delicious to drink but it is also very good for your body. Besides making you feel warm and giving you a coffee boost, cinnamon is good for regulating your blood sugar. Cinnamon is also a source of nutrients such as fiber, calcium and iron.
Not only do you enjoy this coffee with cinnamon but you also take good care of your body - a win-win situation.
FEELING INSPIRED?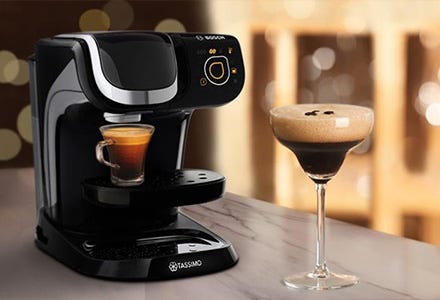 NON-ALCOHOLIC ESPRESSO MARTINI
Coffee cocktails are gaining popularity. No wonder: they're tasteful, energizing and an impressive appearance. Create this Virgin Espresso Martini and impress your guests.
CREAMY TOFFEE CAPPUCCINO RECIPE
Toffee and coffee are a match made in flavour heaven.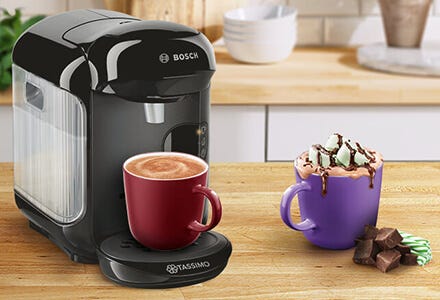 PEPPERMINT HOT CHOCOLATE RECIPE
This drink will give a festive touch to your day. Easy to prep. Beginning to feel like Christmas already?