Your favourite TASSIMO espresso, for example Jacobs Espresso Ristretto
Affogato is an Italian coffee based dessert, consisting of espresso. Its original name is "affogato al caffe", which can be translated to "drowned in coffee". An affogato is a perfect dessert. Perfect, because it will only take you 5 minutes to prepare and your guests will enjoy every bit of it. It's a combination of two delicious ingredients; ice cream and espresso that the Italians are specialists at making. The affogato might become your favourite dessert.
Ingredients
For 1 affogato
1 cup of espresso
1 scoop of vanilla ice cream or another ice cream of your choice
Optional: syrup or toppings of your choice
Preparation
Make a cup of strong espresso. We recommend TASSIMO Jacobs Espresso Ristretto pods or L'OR Espresso Fortissimo T DISCs.
Add a scoop of ice cream of your choice into a glass
Pour your cup of espresso over the scoop of ice cream
Additional: add syrup or other toppings over your ice cream
Enjoy the easiest, but at the same time one of the most delicious Italian desserts!
Like with most Italian dishes, an affogato is all about simplicity. The dessert consists of only two ingredients, but the contrast between the strong coffee flavor and the smooth, sweet taste of gelato make it a delicious dessert. An affogato is the perfect solution for your dessert-dilemma after dinner. The word 'affogato' literally means 'drowned' in Italian, which refers to the cold ice cream that's being drowned in the hot espresso.

For this dessert you can use a scoop of vanilla ice cream or any flavour of ice cream you'd like. There are also variations of affogato, where you can add your own toppings of your choice. For example, you can add a shot of liquor (amaretto or other liquors), syrup, a biscotti to dip in your coffee or add a piece of dark chocolate in the bottom of your glass. The basis remains the same: ice cream with espresso.
Feeling inspired?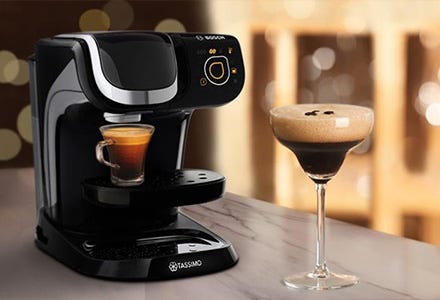 Non-alcoholic Espresso Martini recipe
Coffee cocktails are gaining popularity. No wonder: they're tasteful, energizing and an impressive appearance. Create this Virgin Espresso Martini and impress your guests.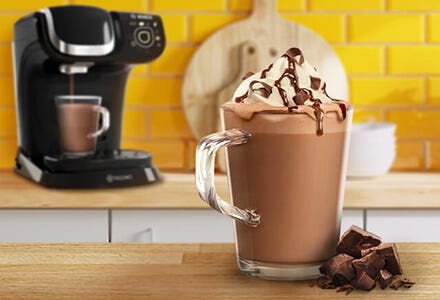 Chocolate and espresso: a match made in heaven. Who doesn't like the combination of coffee with chocolate?
Creamy Toffee Cappuccino recipe
Toffee and coffee are a match made in flavour heaven.