Flat White has become a beloved favourite in a short time. It's not another Cappuccino or Latte, even though it is also made with espresso or ristretto and milk. But the composition makes the difference in taste. The milk in a Flat White coffee is silky smooth and therefore mixes great with the ristretto.
Did you know a Flat White is called 'Flat', because of the milk blending with the coffee? There is just a super thin layer of steamed milk making the coffee look white, hence the name 'Flat White'. TASSIMO offers a lot of different kinds of coffee to enjoy at home and we are happy to explain the differences.
For many, a Flat White is the small sister of a Latte. However, a Flat White coffee is prepared differently. The milk is more velvety and less foamy, which leads to a more balanced combination of milk and coffee.
When drinking a Latte, you'll taste a lot of milk, whereas a Flat White offers a more intense coffee flavour. Latte is often served in a glass and the Flat White in a ceramic cup. The ingredients of both drinks are similar, but there are really not the same drink.
Flat white:
Is smaller than a Latte.
Contains the same ingredients.
Has a more prominent coffee flavour
A Flat White and a Cappuccino look very similar. Oftentimes you'll find both these popular, espresso-based drinks served in a ceramic cup. The biggest difference between these coffees is the composition. For a cappuccino, its three even parts espresso, steamed milk and thick milk froth. For a Flat White, you'll need a double ristretto or espresso and milk foam, (foamed for a shorter time so it remains liquid and pores smoothly). One of the nicknames of Flat White is 'wet cappuccino', as the milk runs through the coffee, whereas a cappuccino has a distinct froth layer.
Flat white:
Has a similar size
Different composition
Microfoamed milk instead of frothed milk
Cortado is a Spanish specialty coffee, combining espresso and milk. The name can be translated as 'the cut', referring the clear 'cut' between the milk layer and the coffee. A Cortado is smaller than a Flat White, resulting in a more dense milk foam. The small Cortado consists of two even parts espresso and milk, resulting in an even more balanced coffee with a more profound taste. Flat White consists of relatively more milk. If you're looking for a caffeine kick, the Cortado should be your choice.
Flat white:
Is bigger than a Cortado
Contains more milk
Has a less profound coffee flavour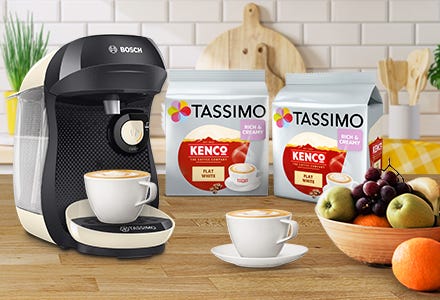 HOW TO MAKE A FLAT WHITE WITH TASSIMO?
Did you know you can create a Flat White at home with just one touch of a button? All you need is a TASSIMO machine and Kenco Flat White pods for TASSIMO. Follow the instructions on the package. You'll find two boxes of T DISCS: one with Milk pods and one with coffee pods. First insert the coffee T DISC and prepare. Then shake the T DISC for Flat White (with milk) and insert it as well. Press the button. The milk will flow and blend through your coffee. Your Flat White is now ready.