How to make a Latte Macchiato?
The latte macchiato is known for its beautiful layers. It is, just like a latte, a combination of the right division between milk and espresso. A latte macchiato shows three perfect layers: milk, espresso and milk foam. But how do you make a latte at home?
How to make a latte macchiato with TASSIMO?
TASSIMO has designed an easy way to make a latte macchiato. Have you been wondering how to make a latte at home? See the steps below.
Materials for a Latte Macchiato:


The first step is to take out a latte glass so you can enjoy the look after it is ready

After that, simply shake the milk T DISC and put it in your TASSIMO coffee machine

At the touch of a button your milk will be served in to the glass

Remove the milk pod and replace with the espresso pod

Watch as the espresso stains the milk and creates beautiful layers

Enjoy a perfect three-layered latte macchiato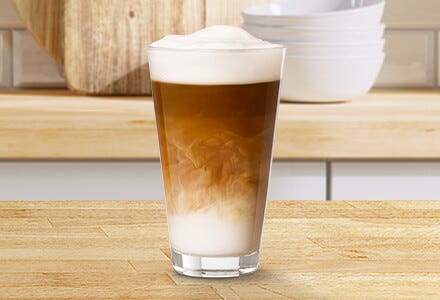 How to make your perfect latte?
Want to know how to make a TASSIMO latte? Watch the video or follow the steps above
Which variations are available?
How to make latte macchiato caramel with TASSIMO?
When you open the TASSIMO latte macchiato caramel package, you will find two different boxes. One contains 8 T DISCs coffee and the other 8 T DISCs of concentrated ultra-filtered cream, prepared with sugar and caramel flavour. With these T DISCs, you can create 8 cups of latte macchiato caramel. Just like the regular latte macchiato T DISCs, you insert the milk pod first and press the button. When you see that the milk is ready, you replace the milk pod with the coffee pod and watch how they mix together perfectly. The end result is a caramel flavoured latte macchiato, just like you wanted.
How to make a TASSIMO Baileys Latte Macchiato at home?
Make your latte macchiato special by adding a delicious cream liqueur flavour. Baileys Latte Macchiato creates a tempting instant coffee treat, combining espresso, creamy foam and the taste of Baileys. The package also has 8 T DISCs of coffee and 8 T DISCs of milk with sugar and cream liqueur flavour. Insert the milk T DISC first, when ready change for the coffee T DISC. An easy way to give your latte macchiato a different and tasty flavour.
How to make a less sweet or skinny latte macchiato?
Some prefer a latte macchiato containing less sugar or calories. With our options you're sure to enjoy your coffee! Try our L'OR Skinny Latte Macchiato, containing 46% fewer less calories than our regular L'OR Latte Macchiato. Or Gevalia Latte Macchiato Less Sweet, which you might like more. This Latte Macchiato contains 30% less sugar than the average Latte Macchiato but still tastes great. Both versions can be made very easily. Just like the other latte macchiatos, you open the package, use the milk T DISC first and then insert the coffee T DISC for a great three-layered combination. Enjoy!