Romantic Valentine's Day Ideas to surprise your lover
Are you looking for romantic Valentine's Day ideas? We have collected our favourite activities that you can do on Valentine's Day with your extra special sweetheart. Most of these Valentine ideas can be enjoyed in the comfort of your own home. No matter how you choose to celebrate, these fun and romantic ideas will help you make Valentine's Day memorable. Are you also looking for a Valentine's Day gift? No worries, TASSIMO has you covered!
Did you know coffee is the perfect drink for lovers? It's a delicious aphrodisiac. So, February 14th is a great day to share an inviting cup with the love of your life. Read ahead, grab your favourite cup of java and get inspired by TASSIMO's valentines drink ideas to win your partner's heart.
If coffee is the way to your significant other's heart, skip the fancy dinner and show him or her exactly how you feel with our valentine ideas, some tips are even inspired by coffee! You can find out more about romantic drinks to make here.
1. Start with a special Valentine's breakfast
Start the day in a loving way by preparing your lover's favourite morning treats. What does he or she like best? Is it eggs or pancakes? Smoothie or champagne? Don't forget the best part: Valentine's coffee! A coffee lover's day is never complete without a good cup of coffee. Brew up what your special someone loves to drink in the morning and bring it in a distinctive mug. What a romantic valentine coffee gift!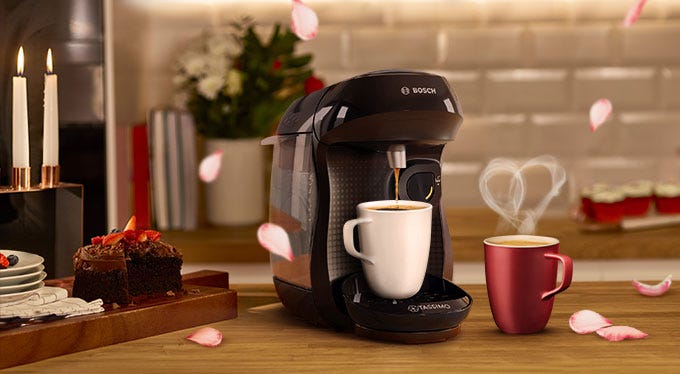 2. Valentine Coffee with a love note
Don't have time for breakfast together? Leave a love note with their favourite coffee! Does your loved one prefer to drink tea? Then surprise her/him with a valentine's day tea. Have a chance to stop by their workplace? Bring a quick coffee with a little note. A great way to make your loved one's day. Make it short but sweet (or funny). Here are a few amusing ideas:
I love you a whole latte
You're the cream in my coffee
I can never espresso how important you are to me
3. Make a gift of their favourite coffee pods
Can you ever have too much of a good thing? Certainly not if you're talking about coffee! Your coffee lover is sure to be pleased with this special coffee valentines day gift. Knowing his or her coffee preferences shows that you really care. Does your lover have a taste for adventure? Try something new with the TASSIMO Variety Box or take a look at our helpful T DISC guide.
4. Go for a hike and grab a coffee to-go
Unwind this Valentine's Day and go for a hike. Perhaps there are good hiking trails where you live, or you might want to look online and find the best hikes in your area. Afterwards go for a coffee to-go at your favourite coffee shop to warm up again!
5. Mix coffee inspired cocktails
Kick your Valentine's Day up a notch and learn how to make classic coffee cocktails. There are so many coffee cocktails to choose from! Try delicious Espresso Martini's, White Russians or a Chocolate Coffee Martini. These valentines drinks will ensure an unforgettable Valentine's Day.
6. Bake something sweet and enjoy coffee together
Try our easy coffee for valentine's day recipes to surprise your sweetheart and he or she is sure to feel extra loved. They say that the way to the heart is through the stomach. For those with a sweet tooth, a coffee-based dessert should do the trick! Try baking a coffee cake or making a quick and easy (but delicious) Affogato. Have a go at our delicious coffee-based recipes or create your own!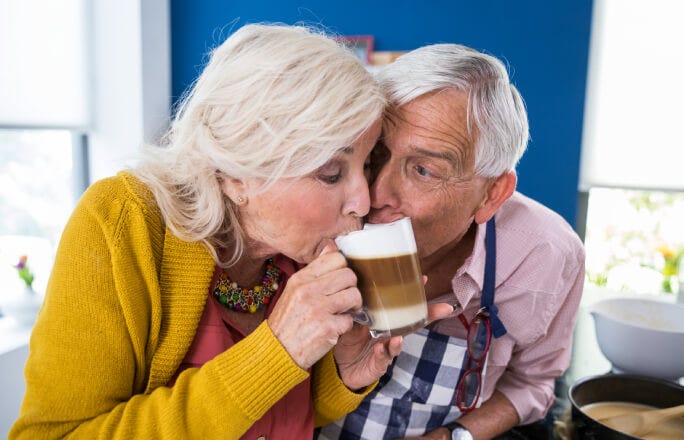 7. Coffee Tasting at home
Expand your palate by exploring new coffee flavours with a coffee tasting at home. It's a great way to explore new flavours, refine your coffee tasting skills and discover new delicious coffee blends with your loved one. These valentine's day drinks can be prepared at home with the different valentine coffee flavours from TASSIMO. Surprise your loved one with the different flavours TASSIMO has to offer. If your loved one prefers tea, you can do a Valentine tea tasting at home.
8. Cook a coffee & chocolate flavoured dinner
Food always tastes better when you spend time making it together. How about making an aphrodisiac inspired dinner? Chocolate and coffee will keep you two love birds going! From basic mole sauces and coffee rubs for meats, to delicious desserts like Tiramisu.
9. Take a 'trip' to Italy and enjoy an Italian doppio
You probably cannot take your lover on a dreamy Italian holiday right now. However, you can pretend that the two of you are visiting Rome with an Italian themed date night. Start with Italian wines, great pastas and Italian gelato for dessert. Don't forget to end the night with a famous Italian coffee.
10. Take an (online) coffee art class
Learning new skills together helps you connect even more. Ask your favourite barista from your local coffee shop to host an (online) coffee art class.
Looking for non-coffee related ideas for Valentine's day? Get inspired!
Order dinner from your favourite local restaurant

Listen to an online live concert

Try a beer or wine tasting at home

Have an at-home game night

Watch an online comedy show

Paint together & create a painting for your apartment

Give each other a massage

Take an online dance lesson

At Home Trivia Night

Take a Bike Ride with your lover

Go for an online yoga class

Have a cook-off

Try an escape room

Have a karaoke night

Play tourist in your own town and go for a scenic walk.
Valentine's Day Gift Ideas
Need some inspiration for your Valentine's Day Gifts for coffee lovers? TASSIMO is pretty good at gift giving! Here are some gift ideas for Valentine's Day.
1. Custom Gift Sets for Valentine's Day
Does your special someone have everything they need to brew the perfect coffee? Treat them with a personalised gift set that makes it all possible! There are so many options: a convenient 'to-go' cup, elegant espresso glasses, or a TASSIMO pod holder.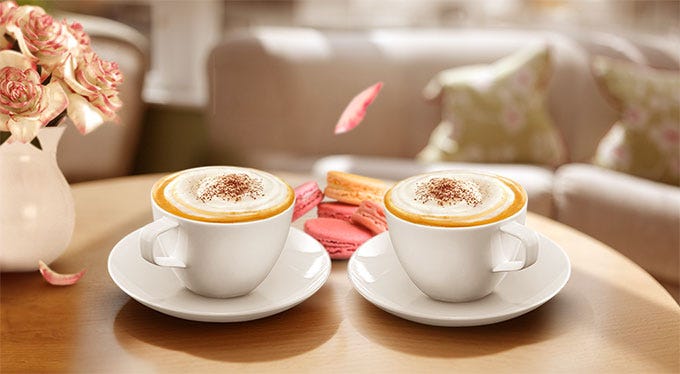 2. Give a TASSIMO Coffee Subscription
Give your loved one a TASSIMO Coffee Subscription for Valentine's Day. For just £1 you can choose a TASSIMO machine together with a subscription plan. Enjoy free, automatic coffee delivery and have the opportunity to change your T DISCs every delivery. This way your partner can explore the wide range of TASSIMO drinks. A TASSIMO machine and subscription delivered to his or her doorstep is the sweetest gift for a coffee lover.
3. Online coffee brewing and barista courses
Indulge your honey in their java obsession and surprise him or her with online coffee brewing classes. Your loved one will be inspired by the different brewing methods and techniques. Let your sweetheart master the art of making a divine coffee (the best part is that you'll benefit from this gift too)!