5 VALENTINE'S IDEAS TO SURPRISE YOUR COFFEE LOVER
Valentine's day is the perfect day to show your love. Did you know coffee enhances love? It's actually an aphrodisiac! So make sure to include some coffee on this day. Looking for ideas to surprise the coffee lover in your life? TASSIMO is here to help.
1. Start with a homemade breakfast
Getting a breakfast of your loved one is the best start of any day. Make all of his/her favourites. Pancakes, eggs, orange juice or even champagne, but don't forget the most important part: coffee. A coffee lover cannot start the day without a cup of coffee. Find out which coffee your loved one drinks in the morning and serve in a nice mug or cup. The most romantic gift!
No time for a full breakfast? Leave a coffee with a note! Or bring a coffee at work with a small note. Personal and delicious. Try something sweet or funny. A few ideas:
You're the cream to my coffee
Words cannot espresso how much you mean to me
I love you a latte
3. Get them their favourite coffee pods
There is no such thing as too much coffee. Stock up on your favourite coffee pods now! The perfect gift for a coffee lover is coffee, sure thing. Showing you know their favourite coffee, shows real love. Not sure which pods are their favourite? Have a look at the T DISCs guide or buy the Variety Box, including all kinds of TASSIMO pods.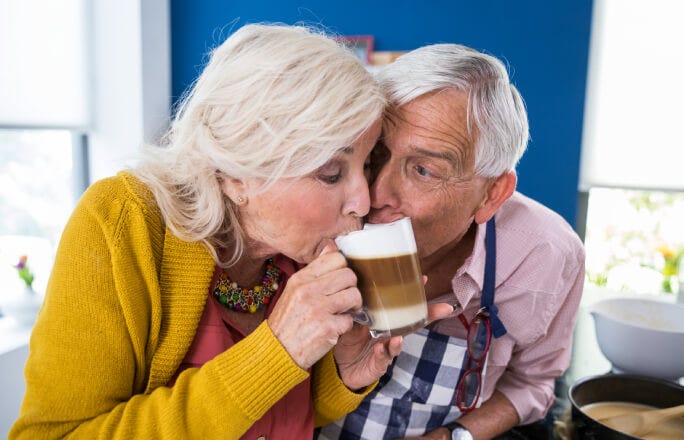 4. Or try a personalized gift set
Is your lover missing anything to create the best coffee possible? Help them out with a personalized gift set! How about espresso glasses, a TASSIMO pod holder or a coffee to go cup? Or think big and give a TASSIMO Machine. Combine coffee products to create your personal gift set.
5. Surprise the coffee lover with these recipes
The way to the heart is through the stomach. Make one of our easy coffee recipes to surprise your hubby. Believe us, he/she will be impressed. Try a coffee based dessert, such as an Affogato or bake a coffee cake. Have a look at all our recipes or create your own coffee based recipe!