TASSIMO L'OR Espresso Fortissimo or L'OR Espresso Delizioso
We think this coffee recipe will become one of your favourites, as it contains two of the best ingredients: coffee and chocolate. Both coffee and cocoa beans share a lot in common, such as the aroma. So it's no secret that coffee and chocolate pair really well together, whilst still maintaining their own unique characteristics. Have you ever tried coffee with a chocolate Easter egg? The combination of these two flavours makes for a smooth but delicious taste combination.

Over the Easter holidays you'll probably already have the ingredients in your kitchen cupboard and you can use them to create a delicious Easter treat or dessert or just a moment to yourself. So, you can decide for yourself whether you want to make a milk chocolate coffee Easter egg or a dark chocolate coffee Easter egg, both are very tasty.

Basically, an eggspresso is an espresso served in a hollow Easter egg. The chocolate will melt in the coffee, resulting in a delicious drink: coffee in Easter egg. Follow the recipe below to create your own Easter coffee egg also called an eggspresso!
Ingredients
For 1 eggspresso
1 cup of espresso, we recommend TASSIMO L'OR Espresso Fortissimo or L'OR Espresso Delizioso
1 hollowed chocolate Easter egg that fits your coffee cup
Optional: whipped cream as topping
You can use one big chocolate Easter egg or a few small chocolate Easter eggs. Use as many small dark or milk chocolate eggs as you like.
Do you like the taste of chocolate and coffee but don't have Easter eggs at home or don't feel like hassling with it? We recommend trying our chocolate mochas, like: Kenco Mocha.
Supplies:

1 knife

1 Chopping board

1 Espresso glass
Preparation
Take a hollowed Easter egg and cut the top
Put the chocolate egg in a coffee or espresso cup. We recommend a glass cup, perhaps a TASSIMO espresso glass, so you can see the delicious chocolate from the outside.
Place your favourite TASSIMO espresso T DISC in your TASSIMO coffee machine
(Try to) pour your cup of espresso in the chocolate egg
Additional: add whipped cream on top
As you sip, your espresso will melt your chocolate egg and you'll experience a warming sensation. You might want to stir your coffee with chocolate egg a bit to fully enjoy!
Apart from this coffee Easter egg made with black coffee, you can also make this recipe with other kinds of coffee. You can make an Easter egg with a latte by replacing the black coffee with a latte pod. If you prefer cappuccino, that is also no problem and you can replace the black coffee with a cappuccino coffee pod. That's how you make your own cappuccino Easter egg!
Feeling inspired?
Creamy Toffee Cappuccino recipe
Toffee and coffee are a match made in flavour heaven.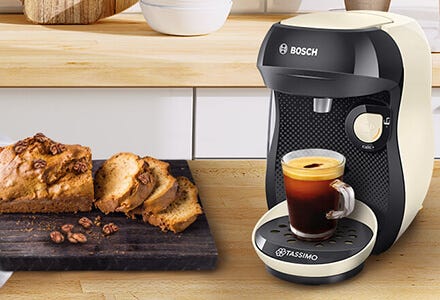 The coffee cake has a wonderful coffee note, so it's perfect to enjoy already in the morning.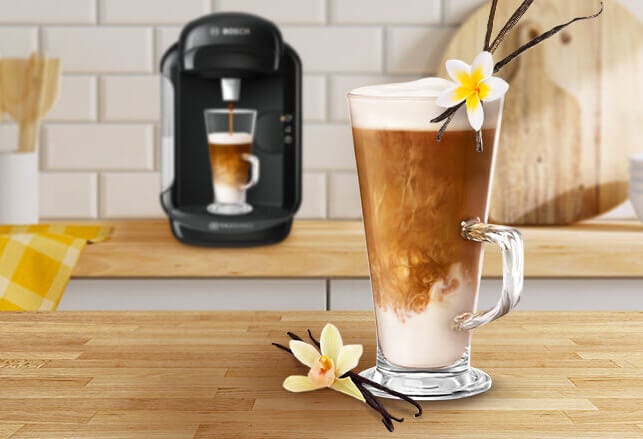 A luxurious pairing that blends the rich aromas of vanilla and coffee with thick, delicious whipped cream.