5 Reasons why you need a TASSIMO Coffee Subscription
Save time, money and explore different brews
Are you a coffee lover who needs a coffee every day? Maybe it's time for you to consider getting a coffee subscription. A coffee subscription makes your life easier in many ways. Here at TASSIMO, we want you to enjoy the simple things in life, so a coffee subscription would make your life even better. With our easy and flexible coffee subscriptions, we ensure that you'll never run out of coffee and you'll even save time and money while exploring different brews.
At TASSIMO you can choose between two types of coffee subscriptions: a Coffee Machine Subscription and a Coffee Pod Subscription. With our coffee machine subscription you will receive a TASSIMO machine for just £1 and automatic coffee pod delivery. Are you already an owner of a coffee machine? Then a coffee pod subscription would be best for you.
The advantages of a coffee subscription are obvious as soon as the first package arrives. Here are 5 reasons why a coffee subscription is definitely worth it!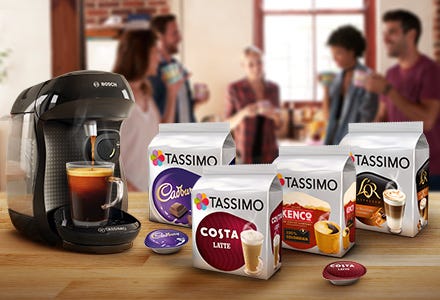 With our subscriptions you can check coffee off your weekly shopping list because your favourite coffee pods will now be delivered right to your doorstep. Save time by not having to go to the store and get your coffee delivered every 1, 2, 3 or 4 months with our coffee delivery.
2. Save money & enjoy great deals
Coffee subscriptions are great money savers. At TASSIMO you can enjoy two types of coffee subscriptions. Enjoy our Coffee Machine Subscription and receive a TASSIMO coffee machine for just £1. Do you already have a TASSIMO coffee machine? Discover our flexible Coffee Pod Subscriptions and get your favourite drinks delivered at home.
3. Discover Unique Blends
TASSIMO offers a broad range of drinks. With our flexible coffee subscriptions you have the chance to try different coffees, teas and other hot drinks. At TASSIMO you can explore over 50 drinks from 14 well-known brands. You can change your selection for each delivery and try coffee you would otherwise not try. Just login to your TASSIMO account and you can manage your coffee plan in your Account Details section.
Our TASSIMO subscription plans are flexible, you can easily reschedule and change coffee types or cancel any time. You can even skip a delivery when you still have enough coffee. Depending on your daily consumption, you can choose the plan that bests suits your needs. Our coffee subscriptions are not usually mandated by contracts and subscription cancellation fees; however, there are some that require a set membership duration. For the coffee machine subscriptions there is a 12 month minimum duration of the contract after which the contract expires.
Coffee subscriptions and machine subscriptions are great gifts for friends and family. If you know a person who really enjoys coffee, there is almost no better gift then a subscription. It's very easy for them to go online and tailor it to meet their own taste profile and to decide when they want their coffee delivered. Are you looking for more gift ideas? Check out our favourite coffee gifts.