1 Tea Time Green tea and Mint T DISC
Want to make your own homemade Christmas tea? TASSIMO helps you to make this Christmas tea. A cup of tea is delicious to drink throughout the year. Especially on cold days this is definitely something you'll make but usually you would use a teabag for this. But at Christmas, things are different, then you take fresh products and make the best Christmas tea.
Ingredients
For 1 Christmas Tea:
Supplies
1 Tea glassd
2 Knives
1 Chopping board
1 Spoon
Christmas Tea Preparation
Make sure the TASSIMO machine is warmed up
Take the tea glass you want to use for the Christmas tea
On the chopping board, cut the cinnamon stick into small pieces
Add about 3 small pieces of cinnamon to the tea glass
Then cut off about 5 cm of the peel of the orange and add that to the tea glass
Put the Tea Time Green Tea & Mint T DISC in the machine
Place the tea glass under the machine and start the machine
Use a spoon to stir tea in the glass and your Christmas Tea is ready!
Not a big fan of cinnamon? Then you can also leave it out of the recipe. Maybe you don't like the taste of orange, then it is also possible to remove it from the recipe. So, you can still adjust the recipe to the way you like your Christmas tea.
FEELING INSPIRED?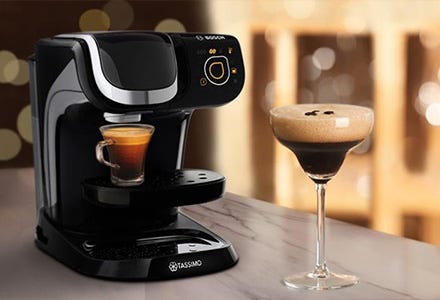 Non-alcoholic Espresso Martini
Coffee cocktails are gaining popularity. No wonder: they're tasteful, energizing and an impressive appearance. Create this Virgin Espresso Martini and impress your guests.
Creamy Toffee Cappuccino recipe
Toffee and coffee are a match made in flavour heaven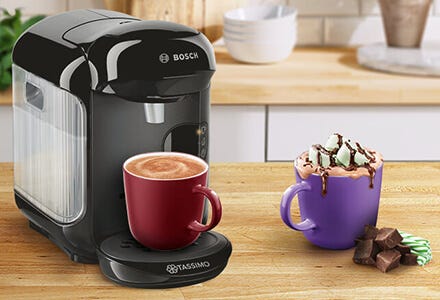 Peppermint Hot Chocolate recipe
This drink will give a festive touch to your day. Easy to prep. Beginning to feel like Christmas already?