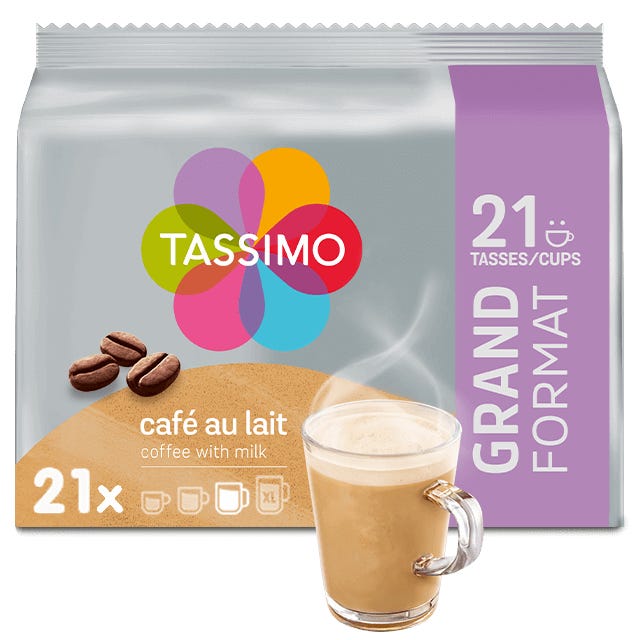 Même recette, nouveau format ! Faites-vous plaisir …. le savourer. Faites-vous plaisir avec le Café au Lait Tassimo, un café au lait juste comme on l'aime ! Bien équilibré, crémeux et avec une couche de mousse. Ce délicieux café vous offre un petit moment rien qu'à vous et du temps pour le savourer.

Une boisson = 215ml

Testez-le dès maintenant !
Informations nutritionnelles
Valeur énergétique



Energy
Fat
Of which saturated
Carbohydrates
Of which sugars
Fibre
Protein
Salt

100g



113kj/ 27kcal
0,8g
0,7g
3,9g
2,6g
0,2g
0,9g
0,03g
Ingrédients
Lait écrémé en poudre (32%), sucre, sirop de glucose, café soluble (15%), graisse de noix de coco totalement hydrogénée, protéines de lait, stabilisant (E340), anti-agglomérant (E551), émulsifiants (E471, E433).
Conditionné sous atmosphère protectrice. A conserver au sec et à l'abri de la chaleur.


Quantité nette
184g
Informations nutritionnelles