1 T DISC chocolat chaud comme le Chocolat Chaud Suchard de TASSIMO
C'est déjà la fin de l'année et le mois de décembre se place sous le signe de Noël. Il coule de source que personne ne peut manquer d'un chocolat chaud à cette occasion. Avec ce chocolat chaud maison, vous pourrez toujours offrir une petite gâterie à vos invités pour Noël. Que rêver de plus ? Pour consulter cette simple récette de chocolat chaud, faites défiler vers le bas.
Ingrédients:
1 T DISC chocolat chaud. Nous vous conseillons le Chocolat Chaud Suchard ou le Chocolat Chaud Cadbury
15 à 20 gr de marshmallows
1 cuillérée de crème fouettée (végétalien optionnel)
4. vermicelles de chocolat (optionnel)
Matériel :
Préparation du chocolat chaud de Noël
Munissez-vous du mug dans lequel vous souhaitez préparer le chocolat chaud de Noël
Allumez la machine à café TASSIMO pour insérer le T DISC
Insérez le T DISC Chocolat Chaud Cadbury ou Chocolat Chaud Suchard dans la machine et placez le mug en dessous
Dès que vous aurez fait couler le chocolat chaud, préparez la crème fouettée
Recouvrez le chocolat chaud de Noël d'une cuillérée de crème fouettée
Terminez par déposer des marshmallows sur le dessus
Si vous aimez cela, n'hésitez pas à saupoudrer de vermicelles de chocolat

Votre chocolat chaud de Noël n'attend plus qu'à être dégusté !
Sa préparation est rapide, en 10 minutes vous pourrez servir un chocolat chaud maison à vos invités. Avez-vous parfois la visite de personnes qui aiment le chocolat chaud végétalien ? Aucun problème. Remplacez tout simplement la crème fouettée par une crème végétalienne disponible en grande surface.

Il est également important de remplacer les marshmallows par des marshmallows végétaliens. Se faisant, eux aussi pourront profiter de cette recette de chocolat chaud vegan !
VOUS POURRIEZ AIMER CES RECETTES AUSSI: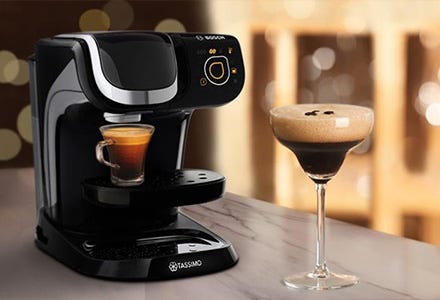 RECETTE D'ESPRESSO MARTINI SANS ALCOOL
Have you noticed that coffee-based cocktails are getting even more popular? Impress your guests with this Virgin Espresso Martini.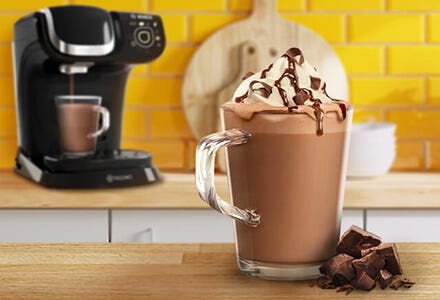 Préparez facilement un mocaccino chez vous grâce à TASSIMO. Une boisson parfaite pour les jours froids et maussades.
CAPPUCCINO AU CARAMEL DÉLICIEUSEMENT CRÉMEUX
Le caramel et le café sont deux saveurs exceptionnelles.