1 dosette de café comme le Columbus Americano
Envie de café, mais avec une petite touche supplémentaire ? Dans ce cas, le café à la cannelle est la recette dont vous avez besoin. Durant les mois d'hiver, le café cannelle est populaire. Facile et rapide à préparer, cette recette est un délice en bouche. Vous pouvez également l'utiliser pour servir une petite gâterie à vos invités. À l'occasion de Noël par exemple. Consultez la recette de café cannelle ci-dessous.
Ingrédients:
1 T DISC Coffee. Nous vous conseillons le Columbus Americano
1 bâtonnet de cannelle
cannelle en poudre (optionnel)
Matériel
Préparation café cannelle :
Appuyez sur le bouton pour allumer la machine TASSIMO
Munissez-vous du mug dans lequel vous souhaitez préparer le café cannelle
Placez le bâtonnet de cannelle dans le mug
Insérez le T DISC Columbus Americano dans la machine
Placez le mug avec le bâtonnet de cannelle sous la machine et faites couler le café
Remuez avec le bâtonnet de cannelle pendant que le café coule
Dès que votre café aura coulé, votre café cannelle sera prêt
Si vous aimez cela, n'hésitez pas à ajouter de la cannelle en poudre à votre café
Le café cannelle n'est pas seulement délicieux, il est également bon pour la santé. Il vous donnera chaud et vous permettra de bénéficier d'un boost caféiné. En plus, la cannelle est réputée pour réguler le taux de sucre dans le sang. Elle constitue également une source de nutriments tels que les fibres, le calcium et le fer.
Ce café à la cannelle est un véritable régal pour vos papilles et vous aidera à prendre soin de votre corps. Une situation win-win.
VOUS POURRIEZ AIMER CES RECETTES AUSSI: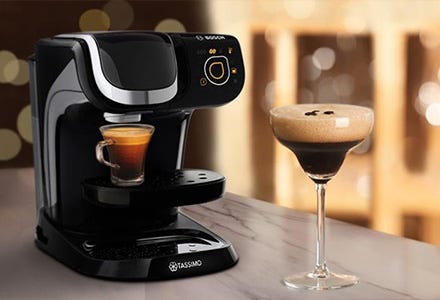 RECETTE D'ESPRESSO MARTINI SANS ALCOOL
Have you noticed that coffee-based cocktails are getting even more popular? Impress your guests with this Virgin Espresso Martini.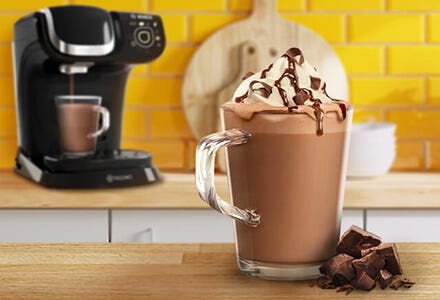 Préparez facilement un mocaccino chez vous grâce à TASSIMO. Une boisson parfaite pour les jours froids et maussades.
CAPPUCCINO AU CARAMEL DÉLICIEUSEMENT CRÉMEUX
Le caramel et le café sont deux saveurs exceptionnelles.