Romantische Überraschungen für den Valentinstag
Auf der Suche nach romantischen Valentinsideen? Wir haben ein paar unserer liebsten Unternehmungen gesammelt, die du am Valentinstag mit deinem Schatz planen könntest. Die meisten dieser Valentinsideen sind auch ganz gemütlich in den eigenen vier Wänden möglich, sollten wir uns nach wie vor im Lockdown befinden. Ganz egal, wie du dich auch entscheidest. Mithilfe dieser unterhaltsamen und romantischen Idee wird dein Valentinstag 2021 gewiss unvergesslich. Auch noch auf der Suche nach einem Valentinsgeschenk? Keine Sorge, TASSIMO hilft dir dabei!
Wusstest du, dass Kaffee das beste Geschenk für Liebende ist? Schließlich handelt es sich um ein köstliches Aphrodisiakum. Also eignet sich der 14. Februar bestens dazu, eine Tasse dieses besonderen Gebräus mit der Liebe deines Lebens zu teilen. Lese weiter, schnapp dir dein Java-Lieblingsgetränk und lass dich von TASSIMOS Ideen inspirieren, wie du das Herz deines Schatzes eroberst.
Geht die Liebe deiner besseren Hälfte auch durch den Kaffee? Dann lass das Essen sein und bringe deine Gefühle mit unseren Valentinsideen zum Ausdruck – einige unserer Tipps stehen ganz im Zeichen des Kaffees!
1. Ein besonderes Valentinstags-Frühstück
Beginne den Tag, indem du deinen Schatz mit einem absoluten Lieblingsfrühstück verwöhnst. Was mag er bzw. sie am liebsten? Eier oder Pfannkuchen? Smoothie oder Sekt? Und vergiss das Beste nicht: Kaffee! Kaffeeliebhaber können nicht ohne eine gute Tasse Kaffee in den Tag starten. Bereite morgens das Lieblingsgetränk deines Schatzes zu und präsentiere es in einer besonderen Tasse. Was für ein romantisches Geschenk!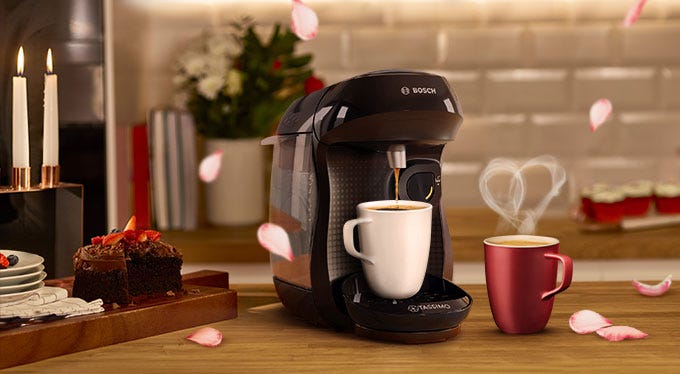 2. Kaffee mit Liebesbotschaft
Keine Zeit für ein gemeinsames Frühstück? Dann hinterlasse eine Botschaft zusammen mit dem Lieblingskaffee! Besteht die Möglichkeit, kurz auf der Arbeit deines Schatzes vorbeizuschauen? Dann bringe schnell einen Kaffee mit einer kleinen Botschaft vorbei. Eine tolle Möglichkeit, deinem Liebling den Start in den Tag zu versüßen. Fasse dich kurz, aber wähle liebe (oder lustige) Worte. Hier ein paar amüsante Ideen:
Kaffee und Liebe sind heiß am besten
Du bist die Crema in meinem Kaffee
Espresso – heiß wie die Hölle, schwarz wie der Teufel, rein wie ein Engel und süß wie die Liebe.
3. Lieblingskaffeekapseln verschenken
Kann man von etwas Gutem je genug haben? Gewiss nicht, wenn es um Kaffee geht! Dein Kaffeeliebhaber freut sich ganz bestimmt über dieses besondere Geschenk. Wahre Liebe ist, wenn du die Kaffeevorlieben deines Schatzes kennst. Steht ihm bzw. ihr der Sinn nach Abenteuer? Probiere mit dem TASSIMO Paket KAFFEEGENUSS doch mal etwas Neues aus oder wirf einen Blick in unseren hilfreichen T DISC Leitfaden.
4. Wandern mit Kaffee to go
Gönnt euch an diesem Valentinstag etwas Erholung und begebt euch auf eine Wanderung. Vielleicht kennst du in deiner Umgebung ein paar tolle Wanderwege oder du schaust mal online, was die besten Wandergebiete in deiner Gegend sind. Gönnt euch im Anschluss einen Kaffee to go in eurem Lieblingscafé, um euch wieder aufzuwärmen!
5. Inspirierende Kaffee-Cocktails
Leg diesen Valentinstag noch ein Stück drauf und erfahre, wie du klassische Kaffeecocktails zubereitest. Es stehen so viele Kaffee-Cocktails zur Auswahl! Versuch doch mal einen köstlichen Espresso-Martini, einen White Russian oder einen Schoko-Kaffee-Martini.
6. Süße Backwaren und ein gemeinsamer Kaffee
Probiere doch mal unsere einfachen Kaffeerezepte, um deinen Schatz zu überraschen, sodass er bzw. sie sich besonders geliebt fühlt. Schließlich heißt es: Liebe geht durch den Magen. Für die Naschkatze an deiner Seite könnte ein Dessert auf Kaffeebasis genau das Richtige sein! Wie wäre es mit einem Kaffeekuchen oder einem schnellen und einfachen (aber köstlichen) Affogato. Sieh dir unsere köstlichen Rezepte mit Kaffee an oder kreiere ein eigenes!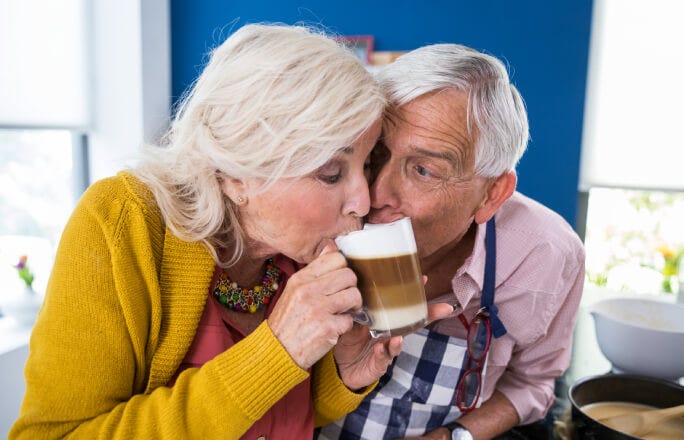 7. Ein Kaffee-Tasting zuhause
Erweitert eure Geschmackspalette durch die Entdeckung neuer Kaffeearomen bei einem Kaffee-Tasting zuhause. Eine großartige Möglichkeit, neue Geschmacksrichtungen kennenzulernen, die eigenen Kaffee-Tasting-Fähigkeiten zu verfeinern und neue köstliche Kaffeemischungen mit deinem Liebling auszuprobieren.
8. Ein Kaffee- & Schoko-Dinner
Essen schmeckt sogar noch besser, wenn man es gemeinsam zubereitet. Wie wäre es mit einem aphrodisierenden Dinner? Schokolade und Kaffee werden euch zwei Turteltauben auf Trab halten! Von grundlegenden Molen und Marinaden für Fleisch bis hin zu großartigen Desserts wie Tiramisu.
9. Ein 'Trip' nach Italien und Genuss eines italienischen Doppio
Wahrscheinlich kannst du deinen Schatz gerade nicht auf einen Traumurlaub nach Italien entführen. Allerdings könntet ihr euch vorstellen, dass ihr Zwei euch gerade auf einem Städtetrip in Rom befindet. Verabredet euch zu einem Date, das ganz unter dem Motto Italien steht. Los geht es mit italienischen Weinen, gefolgt von herrlicher Pasta und einem italienischen Eis zum Dessert. Vergesst nicht, euch nach dem Essen einen berühmten italienischen Kaffee zu gönnen.
10. Ein (Online-) Kaffeekunst-Kurs
Das gemeinsame Erlernen neuer Fähigkeiten verbindet. Erkundige dich bei deinem Lieblings-Barista aus dem Café bei dir ums Eck, ob er einen (online) Kaffeekunst-Kurs für euch veranstalten könnte.
Auf der Suche nach Ideen ohne Kaffee für den Valentinstag? Lass dich inspirieren!
Bestellt euch etwas bei Eurem Lieblingsrestaurant vor Ort

Hört euch ein Live-Konzert online an

Probiert doch mal ein Bier- oder Wein-Tasting zuhause aus

Veranstaltet einen Spieleabend zuhause

Seht euch eine Comedy-Show online an

Malt gemeinsam & kreiert ein Bild für Euer Zuhause

Massiert euch gegenseitig

Nimmt an einer Online-Tanzstunde teil

Veranstaltet einen Quizabend zuhause

Unternehmt eine gemeinsame Radtour

Nehmt an einer Online-Yoga-Stunde teil

Organisiert ein Kochduell

Wagt euch an ein Escape Room-Rätsel

Veranstaltet einen Karaoke-Abend

Spielt Touristen in eurer eigenen Stadt und geht spazieren
Geschenkideen für den Valentinstag
Benötigst du ein wenig Inspiration für dein Valentinsgeschenk? TASSIMO ist ziemlich gut im Beschenken! Hier sind ein paar Geschenkideen für den Valentinstag.
1. Persönliche Geschenksets für den Valentinstag
Hat dein Schatz alles, was zur Zubereitung eines perfekten Kaffees benötigt wird? Wie wäre es mit einem persönlichen Geschenk, das alles ermöglicht! Es gibt so viele Möglichkeiten: ein passender "To go"-Becher, elegante Espressogläser oder ein TASSIMO Kapselhalter.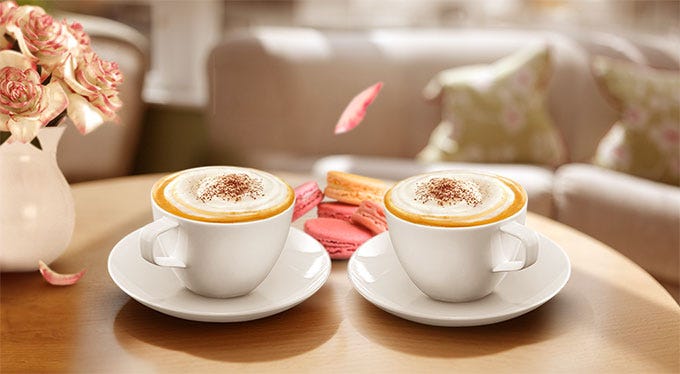 2. Ein TASSIMO Kaffee-Abo
Verwöhne deinen Liebling am Valentinstag doch mit einem TASSIMO Kaffee-Abo. Für nur €1 kannst du eine TASSIMO Maschine mitsamt Abonnement auswählen. Genieße die kostenlose, automatische Kaffeelieferung und die Möglichkeit, deine T DISCs bei jeder Lieferung zu ändern. Auf diese Weise kann dein Schatz die große Vielfalt an TASSIMO Getränken entdecken. Eine TASSIMO Maschine mit Abonnement, die direkt nach Hause geliefert wird, ist wohl das süßeste Geschenk für Kaffeeliebhaber.
3. Die Kunst des Kaffeekochens und Barista-Kurse online
Verwöhne deinen Kaffeeliebhaber und überrasche ihn bzw. sie mit einem Online-Kurs zum Thema Kaffeebrauen. So kann sich dein Liebling von den verschiedenen Zubereitungsmethoden und Techniken inspirieren lassen. Lass ihn bzw. sie die Kunst der Zubereitung eines hervorragenden Kaffee von Grund auf erlernen (und das Beste daran ist, dass du ebenfalls davon profitieren wirst)!
---
Fühlen Sie sich inspiriert?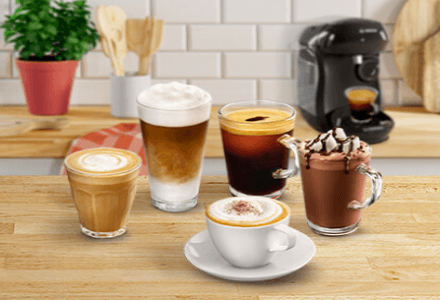 ENTDECKEN SIE VERSCHIEDENE KAFFEESPEZIALITÄTEN
Welchen Kaffee trinken Sie am liebsten? Jetzt können Sie ihn zuhause zubereiten!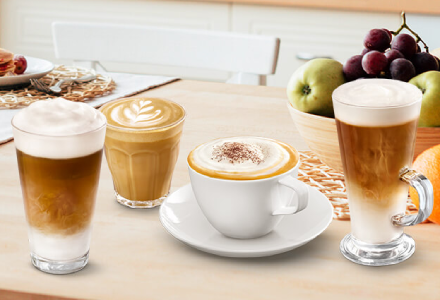 VERSCHIEDENE ARTEN VON LATTE
Nun kennen Sie die Unterschiede zwischen den verschiedenen Milchkaffees und können mit unserer umfangreichen Auswahl an Espresso- und Ristretto-Sorten Ihre Lieblingsgetränke ausprobieren.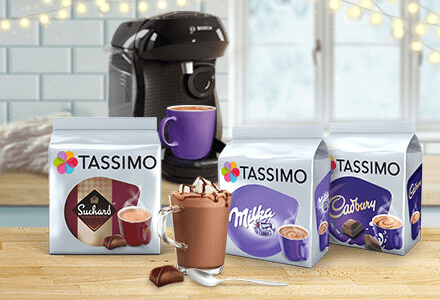 WAS IST HEISSE SCHOKOLADE?
Ein absoluter Favorit im Winter, perfekt für kalte Tage.